Good Feet stores are now found in the Seattle area and I have been asked by several of my patients to provide a Good Feet Store review.
There are many other great shoe and arch support stores in the area that I refer to every day.  These include Super Jock 'n Jill, Sole Perfection, SHOES-n-FEET and Chicks's Shoes.  All of these stores provide expert and valuable service to my patients.   I can't say that the same is true of the Good Feet stores.  In fact, it is my opinion that they provide very poor value.
Not a Good Value
The primary problem I have with Good Feet stores and the reason they have such poor reviews is that they are charging hundreds of dollars for arch supports that are, in my opinion, inferior to arch supports that will cost you no more than about $60.
In fact, for the hundreds of dollars we have seen some people spend on Good Feet orthotics you can get a custom orthotic that will almost always do more to reduce pain than any prefabricated orthotic (if the orthotic is made by a skilled and experienced practitioner).
Don't get me wrong – not everyone with foot pain needs a custom orthotic. In fact, most people will probably do fine with a really good prefabricated orthotic. But if you are going to spend more than about $100, get a custom orthotic from a podiatrist specializing in orthotic therapy.
Poor Arch Support
In addition, from my evaluation, Good Feet arch supports provide very little support of the mid-portion of the arch.  They are not bad devices, per se, but they are also not particularly effective arch supports for a majority of patients and they cost many times more than arch supports that in my opinion work much better to eliminate the most common types of foot pain.  For example brands like PowerStep, New Balance and Superfeet provide greater support and cost up to 10 times less than Good Feet. Some of our most recommended OTC arch supports are listed below.
Please read this important disclosure about the products recommended in this article.
Recommended Alternatives to Good Feet
For example, one of the prefabricated arch supports I recommend the most is the FootChair Medical Grade Orthotic. This arch support has a significantly higher arch than the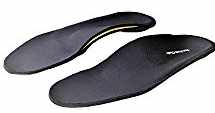 standard Good Feet arch support and it also includes pads that can be added under the cover to customize the arch height for greater comfort and support.
A number of studies have shown that orthotics with higher arches are more effective at reducing the forces that cause pain in the most common foot conditions. These conditions include:
Plantar Fasciitis: A higher arched orthotic helps prevent the arch from collapsing and in turn reduces tension on the plantar fascia. You can read here detailed information on how orthotics for plantar fasciitis should function (including the studies supporting a higher arch to treat arch and heel pain).  The FootChair orthotic mentioned above is excellent for plantar fasciitis.
 
If you prefer a shorter device the 3/4 length FootChair Slim is a very good choice. If you want a good device for women's dress shoes, see my recommendation below.
Ball of Foot Pain:  The higher arched orthotic has been shown in a number studies to more effectively transfer force off of the ball of the foot in order to reduce the pressure that causes pain under the forefoot. Read more here about orthotics for ball of foot pain. The metatarsal raise that is found on the standard Good Feet arch support is also effective at transferring pressure off of the ball of the foot but according to most of the available studies it is not as effective as the higher arched arch support. In my opinion a better choice for most people with ball of foot pain is the PowerStep Pinnacle with Metatarsal Pad. This has a higher than average arch and also has a metatarsal pad. This gives you the best of both worlds – the combination of the higher arch PLUS the metatarsal pad does a superb job at reducing pressure on the ball of the foot. You can usually find them for around $40 – which is just a fraction of the price of the most common Good Feet arch support. Currently this Powerstep with Metatarsal Pad is my favorite device for anyone with pain under the ball of the foot including those with Morton's neuroma, metatarsalgia, sesamoiditis and calluses.
Bunions and Big Toe Joint Pain:  This is the third common foot problem that current studies respond best to an arch support that conforms close to the arch of the foot. The same Footchair or PowerStep orthotics recommended for plantar fasciitis above are excellent choices for anyone with big toe joint pain. You can learn here exactly how orthotics should function to help bunions and big toe joints.
Women's Dress Shoes: If you are looking for an alternative arch support for dress shoes we usually recommend another FootChair product. The FootChair Slim Orthotic with adjustable arch support has excellent arch support with adjustable arch height and fits in both flats and heels.
A Very Similar Alternative
In a previous blog I compared Good Feet arch supports to Walkfit.  Walkfit, I find, is a very similar device in shape to the standard Good Feet arch support in that it has a fairly low arch with a large metatarsal raise.  In that blog I go into greater detail on why I give the arch supports from both Walkfit and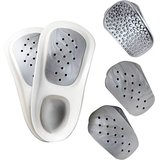 Good Feet an overall poor review.
But in Walkfits favor, in my review of the devices I find that the Walkfit are essentially the same shape (and thus the same type of support) as the GoodFeet devices at about 1/10 of the price!
In that blog, you can also read an online discussion I had with a publicist from Good Feet who tried to argue my points.
You can see the Walkfit Arch Support here.
Let the Buyer Beware
My recommendation is simply "let the buyer beware".  Do your research before buying any over the counter arch supports.  In general you can get great OTC arch supports for under $60 that we find are much more supportive than the ones from Good Feet at a fraction of the cost.
Where to Get Arch Supports in Seattle
If you are in the Seattle area you can find a great selection of what we consider much better arch supports at stores such as Super Jock n Jill, SHOES-n-FEET, Chick's and Sole Perfection. REI also has a wide selection of good arch supports.
If you have a more serious foot condition, would like information on whether custom orthotics might help you or you have tried the OTC arch supports and they just don't provide adequate relief of your pain then contact us for an appointment.
Updated List of Best Prefabricated Orthotics
I try to update this page pretty regularly, but for our always updated list of the prefabricated orthotics we currently recommend you can go to our Best Prefabricated Orthotics page.

Latest posts by Dr. Larry Huppin
(see all)