Why We Are Seattle's Best Choice for Foot Orthotics and How to Find the Best Orthotics in Your Region
If you are a candidate for custom foot orthotics, you can go many places to have them made. When you choose Dr. Hale or Dr. Huppin to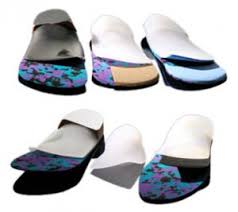 make your orthotics you are likely to achieve more pain relief, greater comfort and overall better outcomes than with other practitioners.
Evidence Based Orthotic Therapy
The primary reason for our superior outcomes is our focus on Evidence Based Orthotic Therapy – evidence based medicine (EBM) applied to orthotic therapy.
Evidence-based medicine aims to apply evidence gained from scientific studies to medical practice. According to the Centre for Evidence-Based Medicine, "Evidence-based medicine is the conscientious, explicit and judicious use of current best evidence in making decisions about the care of individual patients."
Dr. Huppin and Dr. Hale regularly evaluate the medical literature pertaining to orthotic therapy and biomechanics. This provides us with the information as to how to write orthotic prescriptions to help you achieve the best outcomes. It also allows us to provide our patients with realistic expectations about what they can expect from orthotic treatment.
As an example, many evidence based studies have shown the importance of Total Contact Orthotics for treatment of many foot conditions. Based on this, you will find that orthotics from Dr. Huppin and Dr. Hale match your foot much better than orthotics from most other clinics. Read more about Total Contact Orthotics. 
A list of medical literature about orthotic therapy can be found here.
Experience and Training
Our podiatrists' unique credentials make them some of the nation's most skilled at custom-designing these devices to precisely control function and resolve your problem. The Foot and Ankle Center of Washington is recognized nationally as a center of excellence for orthotic therapy and the doctors teach orthotic therapy to students, residents and other podiatrists throughout North America. Each doctor has over 18 years of experience and specialty practice in orthotic therapy.
Comfort Guarantee
We guarantee that your orthotics will be comfortable. If for any reason they are not, let us know so that we can fix the problem.
When properly prescribed and produced, foot orthotics are very comfortable—in fact, you should barely be aware that you are wearing them. It is our responsibility to make sure that your orthotics are comfortable and that they are providing the best biomechanical solution to your foot problem.
Dr. Larry Huppin and Dr. Doug Hale are specialists in foot orthotic therapy and, in fact, teach orthotic therapy to other doctors at seminars throughout North America. We take great pride in providing our patients with the best possible orthotics for their particular problem.
The quality of orthotic devices varies considerably and depends on many factors. The doctors are experts at identifying and fixing orthotic problems. In fact, although we of course cannot guarantee exactly how your symptoms will respond, we always guarantee that your orthotics will be comfortable.
Troubleshooting Ability
Another reason that you are likely to have much better success with orthotics from Dr. Huppin and Dr. Hale is their ability to adjust and troubleshoot orthotics. A majority of the time orthotics can be worn just as they are without adjustment. Sometimes, however, orthotics need to be adjusted to improve function, comfort or fit. Dr. Hale and Dr. Huppin are both extremely skilled in adjusting orthotic so that they provide you with the best possible outcome. It is one of the reasons we can offer our patients a 100% guarantee of comfort. 
Adjustments Performed Onsite
Over 90% of the adjustments we do can be done in our in-office lab. Less than 10% of the time do orthotics need to be sent back to the lab for adjustment. This means that you will usually have your orthotics adjusted while you wait.
Casting or Scanning by the Doctors
The position in which the foot is held while the cast or 3-D scan of the foot is taken is absolutely critical to orthotic outcome. Thus, it is our opinion that only the doctor, and not a staff member, should take the image of your foot. Before making an appointment to have orthotics made, the first question you should ask is "who will take the cast or scan of my foot – the doctor or an assistant?" If the answer is anyone other than the doctor, go somewhere else. Read more on casting of the feet for custom orthotics.
The Best Orthotic Manufacturer
There are many different foot orthotic labs (manufacturers) – and the quality between labs varies widely. We only use the highest quality labs in order to ensure that your orthotics match your feet exactly as we prescribe, that they can handle even the most difficult prescriptions and to ensure that only the best materials are used so that your orthotics will last a long time. In addition, your orthotic molds are stored digitally so it is easy to order additional pair.
We Will Help You Determine if You Need Orthotics
Not everyone needs custom orthotics. Some people simply need a better shoe, an OTC arch support or proper strengthening to feel better. We'll let you know if we feel that you do not need custom orthotics.
If you are experiencing foot or lower extremity pain and want to find out if treating your foot function might help reduce your pain, then contact us today for an appointment in our Seattle clinic.
How to Find a Podiatrist Near You Who is an Expert in Orthotic Therapy
If you are not in the Seattle area, you can ask the following questions to find a podiatrist near you who can provide you with the best orthotic therapy:
Do you have specialized training in orthotic therapy?
Can you adjust orthotics in your office or do you need to send them back to the lab? This is a really important question. Always look for someone who can adjust in the office.  How people respond to orthotic therapy is very specific to each individual and for the best clinical outcomes and the best comfort most orthotics require at least a little bit of modification. If orthotics have to be sent back each time an adjustment is made that means that the patient is not likely getting maximum benefit from the orthotic.  It is impossible for us to understand how anyone can provide effective orthotic therapy without doing any orthotic adjustments or modifications.
Does the doctor take the scan or cast of the foot themselves? The position the foot is in when the image of foot is taken is a critical component of prescribing effective foot orthotics. We recommend never going to a facility where anyone but the doctor takes the scan or cast of the foot.
Do you guarantee orthotic comfort?  Orthotics are usually just a part of a comprehensive treatment plan so it is hard to guarantee that an orthotic is going to cure a particular problem. A skilled orthotic practitioner, however, should always be able to guarantee orthotic comfort. If they cannot, go elsewhere.