Home treatment hints for ball of foot pain including neuromas, sesamoiditis, calluses and metatarsalgia
If you cannot see a podiatrist, or you want to try home treatment first, here are our suggestions on self treatment of pain under the ball of the foot. If you do not have 100% relief within 3 weeks of following all of the instructions below, see a podiatrist. And here is an important disclosure about these products.
11 Step Ball of Foot Pain Relief Plan
1. Use an arch support to transfer force off of the ball of the foot. An arch support that will not collapse will do the best job. For athletic and walking shoes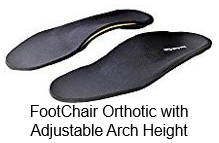 we recommend the FootChair Podiatrist Designed Adjustable Arch Orthotic. This has the best arch height we have found on an over-the-counter arch support to transfer pressure off of the ball of the foot due to adjustable arch via pads that can be inserted under the cover.
2.  The recommended OTC arch support for womens' dress shoes is the FootChair Slim Orthotic with adjustable arch support.  It's the only effective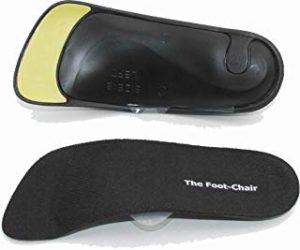 OTC arch support we have found to fit in women's heels and flats.  It has the same exceptional adjustable arch support as the full-size FootChair but with a much slimmer profile. In addition it flexes to adapt to most heel heights.
3. Use a sandal or slipper with an arch support to wear around the house. This will act to decrease pressure on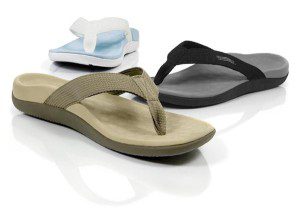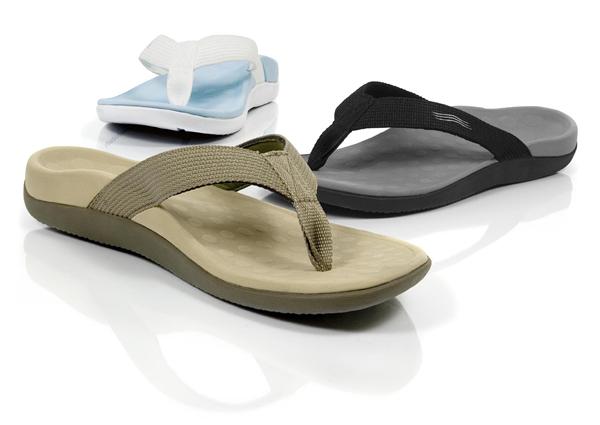 the ball of your foot. We highly recommend the Vionic Sandals and Slippers – available here. Our patients love this flip flop.
4. Wearing the correct socks can help reduce ball of foot pain. You will want to look for a sock with extra cushion under the ball of the foot. A sock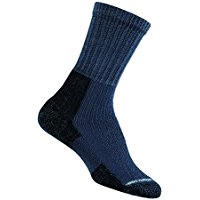 with extra cushion will decrease force under the ball of the foot by reducing velocity of the foot during gait. Choose only acrylic materials for socks. Cotton doesn't work well because of poor cushioning. Our most recommended socks for ball of foot pain are any of the Thorlo Thick Cushion socks.
5. Wear rocker soled shoes. Rocker shoes have a curved rigid sole that rocks your foot over the ball of the foot and quiate dramatically decreases ball of foot pressure and pain. Our most recommended rocker running and walking shoes come from Hoka One One. Many shoes have rockers, however, and you can find other types of rocker soled shoes including dress shoes, boots and sandals here in our list of recommend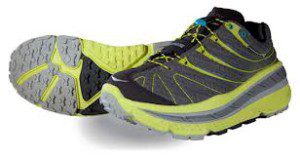 ed rocker soled shoes. On the same page you will find  a complete guide to rocker shoes therapy.
6. Use a silicone product to cushion the balls of your feet. Two that work very well are the Silipos Metatarsal Gel Strap and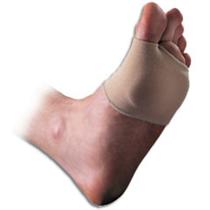 the Silipos SoftSock. Both of these devices provide a tremendous amount of cushioning.
7. For cushioning in women's dress shoes, where the Gel Strap and SoftSock would be too big, try using a Gel Metatarsal Pad.
8. Ice the painful area of your foot two to three times
each day. Each session should be 10 – 15 minutes long. Cold packs can be difficult to keep on the foot so we usually recommend the use of  the Bodyprox Foot Cold and Hot Wrap.
 If You Have Calluses
Calluses cause pain under the ball of the foot by increasing pressure. If you have calluses or dry skin under the ball of your feet, use the following products in addition to those above:
9. Urea Cream to soften the calluses.
10. Use a rotary tool such as the Beurer Electric Nail and Foot Care Kit to thin the callus. This professional quality callus and nail thinning tool allows you to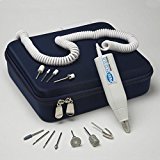 thin your nail with a tool used by podiatrists. Four speeds including 10,000 RPM that allows easy thinning of the nails with no vibration. 10 tools including long-lasting diamond burrs are included For perfectly thin nails, use this tool to grind the nail every week or so. Also good for calluses. This is by far the best nail thinning tool we have found. There are less expensive ones available, but they don't have enough power or burr quality to effectively thin the nails along with the callus.  If you have callus only, try the less expensive Amope Pedi File listed below.
11. Find a shoe store with well trained shoe fitters to fit your shoes. You can find a list of shoe stores on our Shoe List. A good shoe fitter will not only lead you to the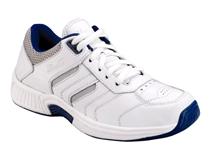 best fitting shoes, but can often modify the shoe to fit difficult to fit feet. If you don't have a good shoe store nearby, try the rocker shoes listed above or these Orthofeet Shoes for Women and Orthofeet Shoes for Men also work great for ball of foot pain as they have cushion and extra room in the toe box to fit insoles. Both casual and athletic shoes are available.
Contact us for More Help
Video: Best Prefabricated and Custom Orthotics for Ball of Foot Pain
Don't live with pain under the balls of your feet. For the most effective and long-lasting treatment make an appointment to see us in our Seattle office.