Shoes for Fallen Arches and Flat Feet
Why Do Fallen Arches Lead to Foot Pain?
Because the foot is an arch shaped structure, when your arches fall the foot gets longer on the bottom and shorter on top. This increases tension on the structures of the bottom of your foot (leading to conditions like plantar fasciitis) and it increases compression on the top of the foot (leading to conditions such as "dorsal compression syndrome" and midfoot arthritis).
What Features Should Shoes have to Prevent Fallen Arches
To help support the foot and prevent arches from flattening, shoes should have three primary features.
Firm Heel Counter:  There should be no motion of the heel when you squeeze it side to side
Torsional Stability: This means that when you twist the shoe there is very little motion
Removable Insole: The use of prefabricated or custom orthotics in your shoes will support your foot and help prevent fallen arches.  A removable insole makes it much easier to use orthotics
Natural Bend at Toes:  The shoe should still be flexible at the toes.
The video below demonstrates these important features:

Best Shoes for Fallen Arches
The following shoes offer exceptional stability and are some of our favorites for those with fallen arches. First however, here's an important disclosure about the products recommended in this article.
Best walking/running shoe for men with fallen arches – Brooks Beast : Our favorite walking and exercise shoe  for men with fallen arches and flat feet is the Brooks Beast.  This is an very controlling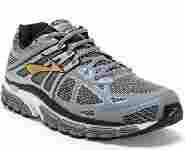 shoe that easily accommodates arch supports and orthotics. The Beast is available in several widths so there is usually no problem finding one that  fits.  You can see the Brooks Beast here.
Best walking/running shoe for women with fallen arches – Brooks Ariel:  The Brooks Ariel is the women's version of the Beast.  It's a great walking and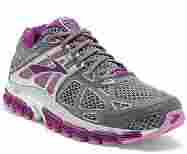 running shoe that will help prevent arch collapse. It also easily accommodates an arch support or orthotic. .  You can see the Brooks Ariel here.
Best leather walking shoe for men and women with arch collapse:  – Brooks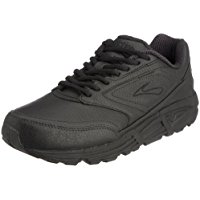 Addiction Walker: More than most any other shoe company, Brooks has made a commitment to making great shoes for those who require extra support.  If you are looking for a leather walking shoe the Addiction Walker is an excellent choice. You can see the Brooks Addiction here.
Best Women's Dress Flats and Casual Shoes for Fallen Arches: Many of my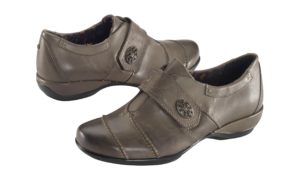 patients love Aetrex dress and casual shoes. For a women's dress shoe they are very stable – which really helps prevent fallen arches. They also have a surprising amount of room in them and it's quite easy to fit orthotics in them – although the orthotics or arch supports must be made specifically for women's dress shoes. Learn more about orthotics for women's dress shoes here.  See Aetrex dress and casual shoes for women here.
Best Men's Dress Shoes for Fallen Arches: By far my preferred men's dress shoes for flat feet and fallen arches are Ecco men's shoes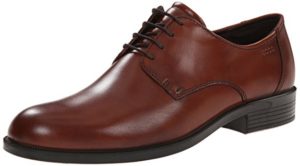 . In fact, my own dress shoes are exclusively Ecco (and I have very flat feet). Ecco shoes offer exceptional stability for dress shoes and readily accept arch supports. And in the past few years they have come out with some great looking shoes. You can see Ecco men's dress shoes here.
Best Sandals and Flip-flops for Fallen Arches: There are several sandals on the market that have built in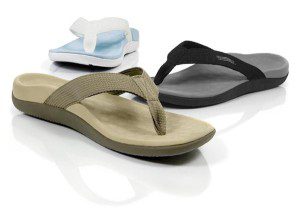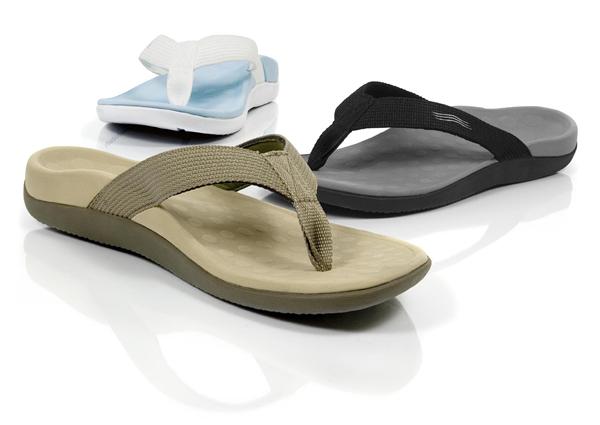 arch support and offer very good control for those with fallen arches. You want to look for sandals that conform as close as possible to the arch of your foot and are just a little wider than your arch. Vionic makes excellent arch support sandals, flip-flops and slippers for people with fallen arches. You can see Vionic sandals here.
In addition I did an extensive review of a number of sandals for people with flat feet several months back. You can find my complete review of the best sandals for flat feet here.
For What Other Types of Shoes Do You Want Recommendations?
Let us know what other shoe categories we can help you with. If you have a particular type of shoe you are looking for and want to know what the best one is for those with fallen arches then ask a question in the comment section below.  We'll do the research and get back to you soon.
You can find many more recommendations on the best shoes for fallen arches by downloading our List of Recommended Shoes.

Latest posts by Dr. Larry Huppin
(see all)