High Heel Comfort Tips
The best way to avoid foot pain and problems is to avoid high heels, but we know that many women prefer heels over more sensible shoes. High heels can lead to foot problems including pain under the ball of the foot, heel pain, bunion pain and toe pain. Those that wear high heels on a regular basis are at increased risk for these problems.
But on the flip side, high heels are fashionable choices for work and fun. If you want to get rid of the discomfort, but still want to keep wearing your heels, it just takes a little know-how and a good podiatrist to keep you comfortable in your high heels. The foot experts at the Foot and Ankle Center of Washington can help you stay comfie in your heels.
There are a several ways for you to wear high heels with more comfort:
Put something in the shoe to transfer force off of the ball of your foot
Put something in your shoe that provides cushion
Choose heels that are a bit better for your feet
High Heel Custom Orthotics
Video: Best Orthotics for High Heels

Research has shown that the most effective way to decrease force on the ball of the foot and reduce pain under the ball of the foot and heel is to use a specialized custom orthotic. Custom orthotics will transfer pressure off the painful areas of your feet and provide extra cushion under the forefoot. Not only can orthotics address your foot issues in standard shoes, but they can also help your high heels.
When you come see us for an orthotics consultation at the Foot and Ankle Center, we'll take a mold of your foot, then prescribe orthotics designed to perfectly fit your high-heel fashion shoes. Orthotics for high heels must be custom-crafted to fit the narrow specifications of heels. We'll ensure your orthotics fit your shoes perfectly. Learn more about dress shoe orthotics on our dress shoe orthotics page.
Prefrabricated Orthotics for High Heels
If you prefer to try a prefabricated orthotic for your high heels, skip the Dr Scholl's you can get at a big box store and consider a premium OTC orthotic for better results. Here are our recommendations:

Best Insert for High Heels and Boots with a back: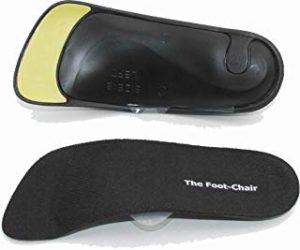 FootChair Slim Orthotic with adjustable arch height is the best prefabricated orthotic we have found for women's high heels with a heel counter. Also great for dress boots. By transferring force off of the ball of the foot and the heel, they reduce foot pain. These inserts can also reduce back and leg pain by improving body alignment and balance.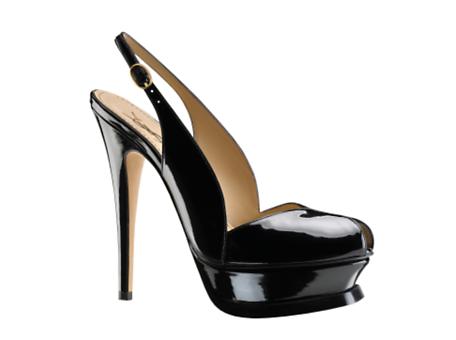 Best Insert for Slingback or Backless High Heels: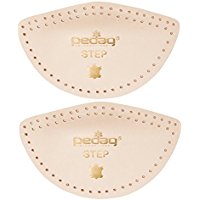 It is essentially impossible to get an orthotic of any type to stay in place in a heel with an open back unless it has some adhesive to keep it in place. These  self adhesive Pedag Arch Supports are not an orthotic but do a fairly good job of supporting the arch and transferring pressure off of the forefoot and heel.  By transferring force off of the ball of the foot and heel, they reduce foot pain.  Not a perfect solution but as good as you'll get in a shoe without a back.
Cushioned Pads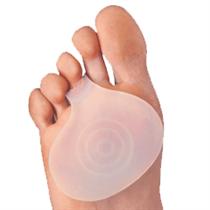 While not as effective as custom orthotics or quality over-the-counter orthotics for high heel comfort, you can also try pads that simply provide cushion under the forefoot. Although not as good as the other options, cushioned pads are inexpensive and can be a good way to start – and they're better than nothing. The best cushions are made of silicone materials. Our favorite is Gel Metatarsal Pad.
More Comfortable High Heels

One of the best ways to combat the pain associated with high heels without sacrificing your fashion sense is to make a wiser choice about the type and brand of shoes you purchase. There are several brands of high heels on the market that are both fashionable and better for your feet. If you are in the Seattle area, two shoe stores that specialize in stylish yet healthy shoes are SHOES-n-FEET and The Wooly Mammoth.
Best Brands of High Heels to Prevent Foot Pain
Some specific brands to look for when shopping for healthier high heels include Earthies and Ariat. We like Earthies because most of their shoes incorporate both a rocker sole and good arch support. These two factors work together to dramatically decrease pressure on the ball of the foot. Earthies have the best arch support and greatest comfort while offering a fashionable look.
Earthies is a whole new kind of women's footwear because every style in the Earthies® collection is about wellness. Their heels and wedges are thoughtfully designed to deliver high style without compromising on comfort. Cupped heels, graduated arch support, and cradled footbeds are all part of the healthy features. The only downside to the Earthies® is that we didn't invent them!
Check out the entire Earthies® collection here. And click here to see some Ariat dress shoes.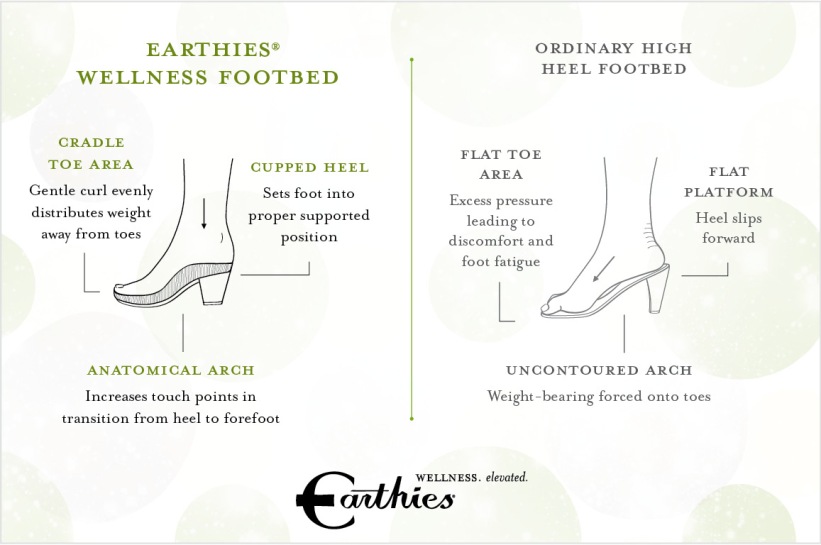 Let Us See Your Heels
The take-home message here is that you don't need to suffer for style. We can help you wear the shoes you want to wear in comfort. To get started, call us at (206) 344-3808 or click here to make an appointment in our Seattle office. Be sure to bring your favorite high heels in with you so we can evaluate how they fit your feet and make suggestions on how to make them more comfortable to wear.