10 Best Sandals and Flip-flops for Pain Caused by Flat Feet
Flat feet can lead to a number of foot and ankle conditions.  For example, when the foot flattens excessively the arch of the foot gets longer and can lead to tension on the plantar fascia and plantar fasciitis. Other problems that can be caused by flat feet include bunions, arthritis and pain under the ball of the foot. More information can be found in our Guide to Flat Feet.
If you have flat feet, there are a few things you want to look for when buying sandals. Because most sandals and flip-flops have almost no support they often magnify the pain and pathologies that are seen with flat feet. So first and foremost, we only recommend wearing a sandal that comes with a built-in orthotic footbed or has a removable footbed that allows you to insert a custom orthotic. This keeps the foot area supported and prevents the arch from flattening. This article reviews sandals that come with a built-in orthotic.
What Kind of Support is Needed in Sandals to Support a Flat Foot?
In order to provide adequate support for a flat foot and to reduce the forces that lead to flat foot pain, the orthotic portion of the sandal must include these features:
Conform very close to the arch of the foot. By conforming close to the arch the flip-flop or sandal will stop collapse of the arch and act to decrease stress on the those tissues that are being over-stressed
Be as wide or wider than the foot. Flat feet tend to be wide feet because when arch collapses, the foot splays outward. The orthotic portion of the sandal must be wider than the foot or the foot will roll into the inside edge of the sandal which will lead to irritation.
Deep heel cup. Deep heel cups help limit excessive rolling in of the heel that is common in people with flat feet.
With this type of support abnormal stress is decreased and pain is reduced. Most people notice the difference immediately. Their feet will feel more supported and stable and pain is usually reduced. The sandals listed below contain these features. These are the sandals we recommend to our patients and they are also affiliate links so we may receive a small commission if your order from the link.
10 Best Sandals and Flips-flops for Flat Feet (detailed review of each found below the chart)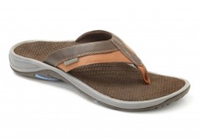 Vionic sandals are designed by a podiatrist to control excessive motion and offer exceptional support. They developed the category of "arch support sandals" and still make the best ones. All of our 5-star rated Vionic sandals have exceptional arch support but also come in a wide width. Because flat feet tend to splay out on weightbearing, a wider sandal is almost always more comfortable and more supportive. These are the sandals we recommend to almost all of our patients who have flat feet.
Pros: Exceptional arch support. Attractive. Many model and color choices. Great reviews from our patients with flat feet. Very durable.
Cons: Higher arch may take some getting used to and those with very flat feet should work into them slowly. Given that, however, our patients with flat feet do extremely well with the Vionic sandals and flip flops. More expensive then competition, but worth it.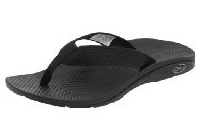 Many of our patients with flat-feet find Chaco Ecotread very comfortable as long as they ordered the wide version. The standard width was often too narrow for people with flat feet and in some cases was so tight it led to blistering.
Although the arch is not quite as high or supportive as the arch on the Vionic, this is the only other arch-support sandal that comes in the wider width that people with flat feet tend to find most comfortable.
In fact, if you have a very flat foot and have found that the arch on Vionic sandals is a bit too high for you the Chaco Ecotread (in 2E width) is our recommended sandal. Because the higher arch of the Vionic sandals is superior at reducing the forces that lead to conditions such as plantar fasciitis, ball of foot pain and big toe joint pain we do recommend that patients with flat fee try the Vionic first. But if you find the Vionic arch too high, return the Vionic sandals and try these Chaco.
Pros: Widest arch support flip-flop on the market as long as you. Excellent choice for those with the widest feet. Good arch support although not as supportive as Vionic. Good for those who feet are so flat they do not tolerate Vionic.
Cons: Arch not quite as supportive as Vionic sandals so it will not be as effective at reducing forces that lead to problems common in flat feet such as plantar fasciitis, ball of foot pain, big toe joint pain and foot arthritis.
Like all Vionic sandals these models have exceptional arch support. The only difference between these and the models we list as our #1 choice is that these are slightly narrower. Since flat feet tend to splay and widen when bearing weight the wider models are more likely to accommodate those wider feet.
Otherwise, these have the same exceptional arch support as all Vionic sandals.
It should also be noted that although somewhat narrower than the #1 rated sandals, most of our patients with flat feet who have used these models have had no problem at all.
Pros: The same exceptional arch support as found in the #1 rated Vionic orthotic sandals. Good for those with feet that are both flat and not excessively wide.
Cons: Slightly narrower arch may not accommodate feet that are both flat and wider than average.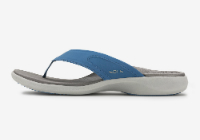 For people suffering with pain related to flat feet, we found the Sole Sport Flips to have a moderately supportive arch but overall were quite narrow and since flat feet are often wide feet, these were often too narrow. They do appear to be well made. In general, however, you can find a better Vionic sandal in the same price range.
Pros: Moderately supportive arch support. Good for narrow flat feet. Durable.
Cons: Quite narrow for many people with flat feet. This can lead to the sandal feeling too tight and the arch of the foot falling over the edge of the sandal.
This is a decent value-priced flip-flop for those with flat feet. Of the sandals we reviewed, this has the least supportive arch, but it does have the best arch support available in the $40 range. We also found them a bit narrow for most flat feet.
Pros: Best arch support for flat feet in the $40 – $50 range. Attractive sandal. Many great color choices.
Cons: Not as supportive as other choices. Softer EVA in arch susceptible to collapsing with wear. A bit narrow for many flat feet.
That's it. We could not find any other sandals or flip-flops that provide enough support to reduce pain related to flat feet. If you know of other sandals that we should evaluate please reply to this post and let us know.
Finally, it should be noted that while these sandals are the best we have found for our patients with flat feet, they are not a substitute for stable shoes and custom orthotics designed for flat feet. But for those times you want to wear sandals or flip-flops give these a try.

Latest posts by Dr. Larry Huppin
(see all)