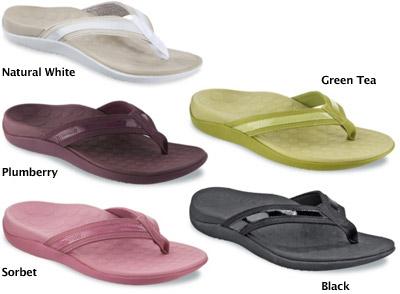 The best flip flops for people who have a neuroma are the Orthaheel orthotic flip flop sandals. They have extraordinary support to transfer pressure off the ball of the foot—and the painful neuroma.
These top orthotic flip flop choices have built-in arch supports that cup the foot and keep it from sliding to the side. Often, we hear these sandals are more comfortable than shoes because the feet are not being squeezed, which can cause inflammation.
If you have a neuroma, there will usually be pain in the forefoot, especially in the third or fourth toe. This pain may be shooting, burning, stabbing, radiating, or just an overall odd feeling in the area. Often, the pain decreases with wearing sandals and massaging the area.
However, we do not recommend going barefoot. Lack of support under the ball of the foot will only create more pressure, causing increased pain and symptoms. Orthotic flip flips with an arch support, like the Orthaheel orthotic flip flop sandals, are a good choice to relieve the symptoms—plus they give your feet a break from wearing shoes in the summer.
If you are concerned about a neuroma or ball of foot pain and want conservative treatment, there are self-treatment hints you can do from home. Wearing quality, orthotic sandals are the second step in the self-treatment hints. We highly recommend this sandal to keep your feet healthy all year long.
Click here to buy Orthaheel orthotic flip flop sandals.

Latest posts by Dr. Larry Huppin
(see all)