Fashionable Arch Support Flip Flops
The most common conditions we treat benefit from good arch support. This is easy to accomplish when you are wearing shoes through the use of custom orthotics or prefabricated orthotics.
But most people don't want to wear shoes all of the time. If you have foot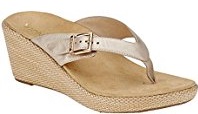 pain, or simply want a more comfortable sandal, look for sandals with great arch support.  Below are the sandals we recommend to our patients (and our families) and they are also affiliate links so we may receive a small commission at no additional cost to you if your order from the link.
The Sandals We Recommend to Our Patients
We have evaluated most, if not all, of the sandals currently on the market. The brand we have found has the best support is Vionic Sandals and Flip-flops.  We recommend Vionic daily to our patients.   For those times that you want to wear sandals,
Flip flops will never offer as much support as a stable shoe with othotics,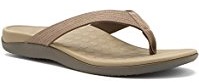 but If you are going to wear flip-flops we have found the se to be the best flip flops on the market.
How Do Arch Support Sandals Reduce Foot Pain?
We are very impressed with the height and shape of the footbed in Vionic sandals. They are supportive enough to:
Reduce tension on the plantar fascia to help treat or prevent heel pain.
Transfer pressure from the ball of the foot to the arch to reduce ball of foot pain.
Help big toe joint motion to help with bunion pain or achiness in the big toe joint.
In fact, the Vionic flip-flops (and sandals) have the best arch support of any sandal we have seen. In addition, our patients tell us that these are by far the most comfortable flip-flops and sandals they have ever worn. We recommend these arch support sandals to almost every one of our patients. You can see them for yourself using the affiliate links below.
Video: Why We Recommend Vionic Sandals with Arch Support
Wave Flip-Flops (Men / Women)
Orthaheel Lori (Women)
Kinetic Flip-flop (Men / Women)
South Beach Flip-flop (Women)
Solona Flip-flop (Women)
Tide Flip-Flop (Women)
Malibu Sandals
Malibu Sandals
ORTHAHEEL Men's & Women's Kiwi Slide Sandals-Healthy Slide Sandals
These stylish and sporty flip-flops provide great arch support and are perfect for anyone prone to foot problems such as heel pain, ball-of-foot pain, big toe joint pain, tendonitis and overall tired feet.
Dr. Hale and Dr. Huppin are experts at helping people walk comfortably. If you are having any foot or ankle trouble at all when walking make an appointment to see us in our convenient Seattle office. Be sure to bring your shoes with you.