If you have flat feet, there are a few things you want to look for when buying sandals. First and foremost, we only recommend wearing a sandal with an orthotic footbed or a removable footbed to insert a custom orthotic. This keeps the foot area supported and prevents the arch from flattening.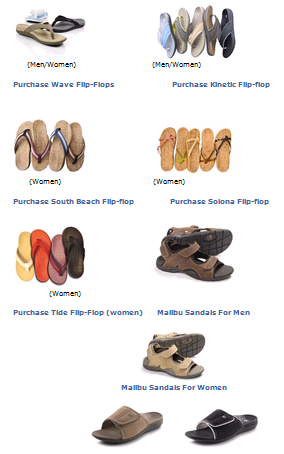 Second, you want to buy a sandal that is specifically designed for walking comfort. Most flip flops are made to be fun to wear, but to lesson your chances of foot pain (including ball of foot pain and heel and arch pain) due to flat feet, the sandal must have an orthotic. Your feet will notice difference immediately. They will feel more cushioned, stable, and realigned into their natural walking position.
The choice we recommend for people with flat feet is the Orthaheel Arch Support Sandals and Flip-Flops. These styles have superior support with a built-in orthotic and are known as being a very comfortable sandal.  Specifically, if you are looking for a casual sandal for wearing on vacation this summer or around the house, the Orthaheel Malibu has the best support we have seen in a sport sandal and the Orthaheel Wave Flip Flop has the best arch supports we have seen in a thong sandal.
Good quality orthotic sandals not only help prevent foot pain, but they keep the entire lower body in alignment. This can reduce body pain in other areas, such as they ankles, knees and lower back. If you want unbeatable comfort and support in a sandal, the Orthaheel Arch Support Sandals and Flip-Flops are a great choice for summer.
To browse all of the Orthaheel Arch Support Sandals and Flip-Flops click here.
A review of the best sandals for flat feet and the importance of buying sandals with orthotic footbeds.

Lawrence Z.Huppin, DPM is an internationally recognized lecturer and teacher on orthotic therapy and biomechanics.In his Seattle private practice his focus in on treatment of mechanical problems such as heel pain, bunions, ball of foot pain, athletic injuries and children's foot conditions.In addition he specializes in toenail problems including ingrown and fungal toenail conditions. He is always focused on helping patients avoid surgery if at all possible and keeping your medical costs as low as possible.

Latest posts by Dr. Larry Huppin (see all)