Custom Orthotic Sandals
For comfortable feet and "freedom from shoes" you can have custom orthotic sandals or custom orthotics made that fit into sandals, clogs and flip-flops. Here's how to do it:
You Have Two Options for Sandals with Custom Orthotics:
Buy sandals with removable insoles and have orthotics made OR

Have custom sandals made with your orthotics built-in
Option 1 – Buy Sandals with Removable Insoles and Have Orthotics Made for Them:
Step One:  Get custom orthotics
Once you and your podiatrist have confirmed that your prescription custom orthotics are comfortable and working correctly, you can order a pair of orthotics for sandals, flip-flops and / or clogs. If you need to be evaluated for orthotics, click here for an appointment in our Seattle office.
Step Two:  Purchase your sandals
The next step is to purchase a sandal with a removable insole. We recommend Naot and Alegria sandals—which are made especially for orthotic wearers. To purchase sandals for orthotics use these links:
Women's Naot Sandals          Men's Naot Sandal           Alegria Sandals            Finn Comfort Sandals                                                           
Step Three:  Bring us your sandal
Your doctor will write a prescription for a pair of orthotics made especially to fit into your sandals. To ensure perfect fit, we will usually send your sandals to the lab. Order sandal orthotics at this link or by calling us at 206-344-3808, ext 112.
Sandal Selection
In order to accept orthotics the sandals must have a removable insole. Naot and Alegria are our preferred brands, but any sandal with a removable insole will likely work.
Other Sandal Brands That Accept Orthotics
If you would like orthotics for sandals other than Naot and Alegria, keep in mind that they must have a removable insole. Your doctor will need to evaluate sandals other than these on a case-by-case basis to determine if they will work with orthotics.
To have specific sandals evaluated, make an appointment to see your doctor in our Seattle office.
Option 2: Have Custom Sandals Made with Your Orthotics Built-in
NOTE:  As of August 2023, custom orthotic sandals are not available. We'll update this page when they become available.
We can also make a 3D printed sandal that is custom to your foot. It is a sandal where the arch is your orthotic.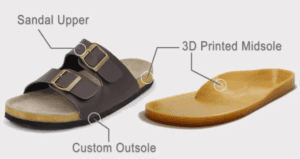 Many styles are available. You can see current available styles in our office.
You can see many of the available styles at the bottom of this page.
Frequently Asked Questions
Will my sandal orthotics fit into regular shoes?
Probably not. The insoles that come with most good sandals are very large and provide much of the stability of the sandal. Your sandal orthotics will be made to exactly fit the sandal and
will likely be too large to fit in other shoes. They will likely, however, fit into other sandals and clogs from the same company.
Can sandal orthotics be put into other sandals? 
Very likely yes. Of course, the sandal must have a removable insole.
Will regular orthotics fit into my sandals?
Probably not. The normal sandal insole is larger than your regular orthotic A standard orthotic will usually "float around" in your sandal due to the size difference.
How long will they last?
You should get at least 3—5 years of service from your sandal orthotics depending on the amount of wear and your activity. You will probably use the orthotics in several pairs of sandals before they wear out.
Can they be refurbished?
If sandal orthotics start to show cosmetic wear, often the orthotic itself is still working fine and providing you good support. In this situation, the orthotics can be refurbished very inexpensively so they look like new.
What will the sandal orthotics look like?
The sandal orthotics will look similar to the insoles that come with the sandals and are usually black in color.
Custom orthotics for sandals allow you to enjoy custom-made comfort — even when you don't wear shoes. Sandals are perfect after being on your feet all day, out on the job, or at the office.
But, when you don't wear your shoes, you don't wear your orthotics either! In fact, clinical surveys have shown that orthotic patients may gain as much as 33% or more additional orthotic therapy time by wearing sandals or clogs with custom orthotics.
So, if you wear custom-made orthotics now, or if you think you might be soon, it makes sense to consider orthotics for sandals and flip-flops.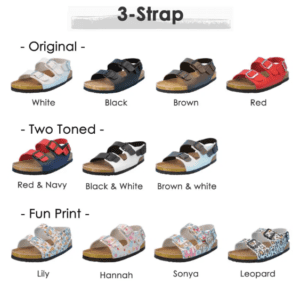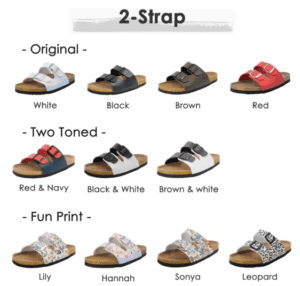 SEATTLE AREA NAOT RETAILERS: Call first to confirm sandals are in stock.
Bellevue, WA
SHOES-n-FEET
15015 Main Street, #102
Kelsey Creek Center
Bellevue, WA 98007
Phone: 425-653-2329
Seattle, WA
Sole Perfection
3409 Stone Way North
Seattle, WA 98103
Phone: 206-545-7463
Everett, WA
Sole Perfection
1203-R SE Everett Mall Way
Everett Mall Plaza
Everett, WA 98208
Phone: 425-348-7306
Shoreline, WA
Sole Perfection
20128 Ballinger Way NE
Ballinger Village
Shoreline, WA 98155
Phone: 206-957-0488
Gig Harbor, WA
Walk-in-Comfort
9814 HARBORVIEW PLACE
GIG HARBOR, WA 98332
Phone: 253-225-1767