Costco Orthotics Review
Update: Winter 2016
This is an update to a 2010 blog I wrote on orthotics at Costco. Since products available at Costco are ever-changing, from now on I'll make a point to evaluate the foot orthotic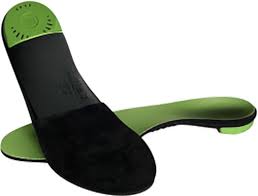 offerings at Costco every time I visit a Costco store and then post  my review of the current offerings here.
At the time I first wrote this post Costco was offering a customized orthotic device based on a black and white picture of the bottom of the foot. This was a very poor device and not up to Costco's usual standards. To their credit that device soon disappeared. In its place Costco carried a two–pack of a very good over-the-counter arch support at an excellent price. The brand name was Orthera and the device was very comparable to SuperFeet Arch Supports but at about half the price. I recommended Orthera to many of my patients as a decent arch support at a fair price. Alas, that device is also no longer available.
What Foot Orthotics are Available Today at Costco (Winter 2016)?
As of this writing, at my local stores in Seattle and online, there are no orthotic devices available at Costco stores.
If you know of any that are currently available please reply to this post and let me know in which store you found them and the brand and model of the arch supports if you know them.
If you wish to be informed when we find and evaluate foot orthotics at Costco, please subscribe to our foot health newsletter and we will let you know when new Costco orthotic reviews are available.
Alternatives to Costco Arch Supports
The best prefabricated arch supports provide excellent support to the arch of the foot and will decrease stress on the most common foot structures that become painful. They should work to reduce stress that leads to the most common foot complaints which include heel and arch pain, ball of foot pain and big toe joint pain.
In keeping with the Costco ethos they should also be a great value.  You can find some of the best over-the-counter arch supports on the market in the $40 – $70 range.  These devices can be found in running shoe stores and online.
The products below are the ones we recommend to our patients and they are also affiliate links so we may receive a small commission at no additional cost to you if your order from the link.
These provide great support at a very good price. Not quite as inexpensive as Costco, but until Costco carries arch supports again, these are the best you will find:
Best OTC Arch Support for Running, Walking and Athletic Shoes for Most People
We recommend the FootChair Podiatrist Designed Orthotic with adjustable Arch height. This is a very
supportive arch support with a cushioned topcover and adjustable arch via pads that can be inserted into a pocket under the cover.
This is about as close as you can get to a custom orthotic without actually seeing a podiatrist.
Best OTC Arch Support for Running, Walking and Athletic Shoes for People with Flat and/or Wide Feet
Powerstep Wide Arch Support for flat feet and wide feet: If you have very flat feet (or very wide feet) your arch support should be extra wide in order to provide adequate support and prevent discomfort. This Powerstep Wide Orthotic is the best we have found. If this device deosn't relieve you pain then see a podiatrist who specializes in orthotic therapy about a custom orthotic for flat feet.
Best OTC Arch Support for Smaller Shoes such as Soccer Cleats and Casual Shoes
A smaller device that still provides excellent support in smaller shoes is the Powerstep 3 3/4 length orthotic. It has a moderately deep heel cup and excellent arch for support but is made smaller in the heel and thinner to fit in smaller shoes.
Best OTC Arch Support for Women's Heels and Flats
Finally, for the smallest and dressiest women's shoes we recommend the FootChair Slim Orthotic. This unique orthotic offers good arch support but is flexible in the heel to adapt to many different heel heights. Like the full-size FootChair it has an adjustable arch height. It can be used in anything from ballet flats up to a 6 inch heel. It is cut narrow to fit in most women's dress shoes.
Previous Reviews of Costco Arch Supports
The following is my 2010 review of orthotics no longer available at Costco
If you're a Costco shopper, you may know that foot orthotics are being sold at some stores.  Since many of our patients have inquired about these foot orthotics, I'd like to explain how these are made so that you can make an informed decision.
First, it's important that if you are experiencing any foot problem, discomfort or pain, you should see a podiatrist first.  As a medical professional, the podiatrist will let you know if you would benefit from over-the-counter arch supports or custom orthotics – and help you find the best device for your foot.
A foot orthotic purchased from Costco is not customized for your foot.  You do stand on a scanning device, but this device only sizes your foot.  An arch support that matches the size of your foot is then pulled from a shelf and shipped to your Costco store for pick up.
Costco uses a scanner manufactured by PedAlign (San Diego, CA) and marketed at Costco as OrthotixRx.  Using a technology called "grayscale pixilation", the scanner takes an enhanced, two-dimensional black and white photograph of the bottom of your foot.  The scanner does not provide the 3-dimension information necessary to create an orthotic that is custom to your foot.
Although these units were marketed to podiatrists for a number of years, they could not be used to create a truly 3-dimensional custom orthotic device. The other problem with the units is that they required the foot to be weight-bearing. Several studies have shown that orthotics made from weight bearing images result in an orthotic that does not work well for the majority of problems that orthotics are used to treat. More information on this, and a list of the studies, is available here.
In my opinion, Costco's foot orthotics are 20% – 30% overpriced.  Good over-the-counter orthotics are available for $40 to $60. One of our favorite ones is the FootChair Podiatrist Designed Orthotic with adjust arch height. 
FootChair orthotics are just about the most supportive non-custom orthotics you can get due to adjustable arch using arch pads that insert under the cover and they are particularly good for plantar fasciitis and ball of foot pain.
Costco charges about $90 for the scanner based arch supports. Given that, they are not a bad over-the-counter arch support and you may want to give them a try. They are certainly a far better deal in our opinion then you get at places like Good Feet where you are charged several hundred dollars for an arch support worth about $30. When making price comparisons you should compare these to OTC devices like Superfeet, not to the custom orthotics you get from a medical practitioner.

Latest posts by Dr. Larry Huppin
(see all)