Can Wearing the Correct Socks Help with Bunion Pain?
Surprisingly, wearing the correct socks can help a lot in reducing bunion pain.  For a complete plan to eliminate bunion pain see our Guide to Bunion Treatment and our Guide to Home Treatment of Bunions.
Socks can help those of you with bunions in several ways:
Providing cushion: Some socks provide more cushioning over the bunion to protect it from the shoe.
Reducing friction: Some socks are made of materials that have less friction than others.
Straightening the big toe: A few socks even have a built-in toe straightener.
Avoid Cotton Socks if you have Bunions
Although cotton is the most popular sock material, it is not a good choice for people with bunions.  Cotton socks have a high "coefficieint of friction" – meaning they are rough and can irritate the already damaged skin over the bunion.  In addition, cotton provides no cushion.
All of the socks recommended below are made of acrylic materials
The Best Socks for Bunions
Below are our favorite socks – the ones we recommend to our patients who have bunions. First, here's an important disclosure about the products recommended in this article.
Best Overall Athletic Sock for Bunions
The brand Thorlo makes some of the best socks for people with bunions. Thor-lo makes several models that have significant extra cushioning in the area of the bunion. These are called the Thorlo Thick Cushion Socks. Thorlo makes several different thicknesses of athletic socks and if you have bunions you want to make sure you get the "thick cushion" version.
These have exceptional padding over the bunion. Keep in mind that the extra padding does take up some room in the shoe so be sure to wear these socks when you are trying on shoes. You might find that you go up a size or a width with the thicker socks. It's worth it, however, as the padding will reduce bunion pain.
Best Running Sock for Bunions
The running sock we recommend the most for our patients with bunions is the 84N Runner Sock by Thorlo. These have several unique features that help protect the bunion and make them an exceptional running sock. First is excellent padding over the bunion itself.
In addition the 84N socks are made thinner in the arch area to improve shoe fit and decrease weight. Finally they incorporate Lycra through the arch to prevent slipping and provide a bit of support.
Best Sock that Helps Straighten the Toe (women only)
The Sockwell Bunion Relief Sock is a very unique sock made specifically to reduce bunion pain. Sockwell has a cushioned toe pocket which protects toes against abrasion and helps prevent the toes from overlapping.
This is the only standard sock we have found that also helps to promote natural alignment of the big toe.  Other features of this great sock include:
A separate cushioned toe to reduce friction and encourages space between the big toe and the second toe

Seamless toe closure with no irritating toe seam

Protective lightweight cushioned pads surround the toe to minimize bunion abrasion

Mild stretch in the arch to provide support and help prevent the sock from slipping



Please keep in mind that when we say this straightens the toe that means only when you are wearing the sock. There is no evidence that using socks or any other apparatus will help permanently straighten the toe. But keeping it straight while wearing the sock can help reduce pain.
Best Hiking Sock for Bunions
If you hike and you have bunions you know that spending hours on the trail can cause a lot of trauma to your bunions. Blisters, pain,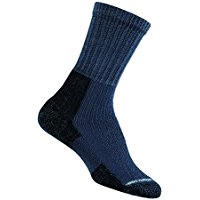 calluses and skin irritation over the bunion are all common. It is critical that the socks you use when hiking have the following features:
Padding for the bunion
Made of materials that reduce friction
Wick moisture away from the foot
Thorlo again has the best sock we have found for hiking. The Thorlo Thick Cushion Hiking Sock has all of the features listed above plus cushioning at the heel and ball of the foot and moderate cushioning at the instep to protect against boot pressure.
Best Ski and Snowboard Sock for Bunions
The only ski and snowboard sock we have found with padding for the bunion is the Darn Tough Function 5.  Darn Tough make excellent ski socks in general and the Function 5 in particular is a great sock if you have bunions.
If you still have bunion pain in your ski boots when wearing the Darn Tough Function 5, then talk to your boot fitter about adjusting either the liner or the shell of the ski boot to reduce pressure on the bunion.
Learn about orthotics for skiers along with  foot and shin problems in skiers in our Guide to Skiers and Snowboarders Feet.
What Else Must You Do to Reduce Bunion Pain?
Although proper socks can help reduce bunion pain they are not the only treatment nor the primary treatment. To both eliminate pain and prevent bunions from getting bigger you must improve motion of the big toe joint and reduce shoe pressure on the bunion itself.
You can learn about the most effective bunion treatments in our Guide to Bunion Treatment. If you want the best self-treatments for bunions then see our Guide to Home Treatment of Bunions. Be sure to read both guides before having treatment for your bunions. In particular, read them before ever having bunion surgery. While sometimes necessary, bunion surgery is chosen as a treatment too often when more conservative treatments would provide complete relief.
See Us for Bunion Treatment
If you are in the Seattle area contact us for an appointment so we can review all of the most effective bunion treatments with you. Surgery is always our last resort.

Lawrence Z.Huppin, DPM is an internationally recognized lecturer and teacher on orthotic therapy and biomechanics.In his Seattle private practice his focus in on treatment of mechanical problems such as heel pain, bunions, ball of foot pain, athletic injuries and children's foot conditions.In addition he specializes in toenail problems including ingrown and fungal toenail conditions. He is always focused on helping patients avoid surgery if at all possible and keeping your medical costs as low as possible.

Latest posts by Dr. Larry Huppin (see all)