Skiers and Snowboarders: Orthotics and Foot Pain Guide
Skiers and snowboarders can experience better comfort and performance by using a prescription ski orthotic.
If you experience pain from your ski boots or are looking for better performance while on the snow, make an appointment to see us at our Seattle foot and ankle clinic.
As experts in foot orthotics and avid skiers, we have special interest in helping skiers and snowboarders. (for the purpose of this article we will refer to both ski and snowboard orthotics as "ski orthotics").
At the bottom of this page you can find information on our recommended prefab ski orthotics.
The Problems
Ski orthotics can address many problems that skiers experience on the slopes including:
Ski Boot Foot Pain and "Hot Spots": If your ski boots are "killing" your feet and don't fit right, the problem is likely caused by how your foot is moving inside your boot. The inside of your ankle bones are a common area of pain, but "hot spots" can occur anywhere. By supporting your foot with a proper ski orthotic, we can prevent your foot from hitting the side of your boot.
Cramping Feet and Achy Feet: Foot cramps often occur when the muscles on the bottom of the foot have to work too much to maintain control of your skis. Supporting your foot with the proper custom orthotic can reduce the work the muscles are doing and relieve cramping.
Cold Feet: Cold feet often occur when you have to tighten your ski boots so much to get some control that your circulation is cut off. By using custom ski orthoitcs to support the foot, you will not need to over-tighten your boots.
Lack of Improvement: An unstable foot can make it difficult for a skier or snowboarder to maintain an edge. By providing proper foot alingnment with custom ski orthotics, we can help you maintain an edge – making turning easier and helping you to improve.
To be evaluated for custom prescription ski orthotics, make an appointment today to see us in our Seattle office. Be sure to bring your ski boots.
Detailed Information on Ski Orthotics
The forces on your feet are enormous when you make turn a ski turn. These forces cause the foot to flatten, the ankle bones to lower and the leg to rotate toward the other leg (this motion is known as excessive pronation). These motions lead to the problems listed above.
Prescription ski boot orthotics, in combination with proper boot fitting, can correct these problems. Prescription orthotics are medical devices, made by a physician, that act to correct abnormal alignment of the foot, ankle, lower leg, and knee. Ski boot orthotics are very different then a standard orthotic, so don't put orthotics made for walking or running in your ski boots.
Ski boot orthotics can relieve foot pain that ruins your winter vacation, and replace it with comfort, warmth, and better performance. Without proper support of the feet, most skier's feet tend to collapse to some extent.
A properly molded and fitted custom insole improves bone alignment, relieving the ankle's tendency to rub against the inside of the boot during edging and carving. They also help maintain proper knee alignment resulting in a greater ability to maintain good edge-hold on hard packed snow.
How Do Ski Orthotics Differ From Standard Orthotics?
Skiing and snowboarding are unusual sports in that in order to best turn the ski, your feet must be extremely stable. A stable foot allows you to transmit force to the ski rapidly and efficiently. Thus, you turn with less effort. This makes skiing easier, more fun and less tiring.
The Ski Orthotic is designed to offer maximum stability of the foot based on the specific actions of the foot during skiing and snowboarding. It is a full-length orthotic made of very thin, but high impact materials. We include an extension under the ball-of-the-foot and the toes that improves sensory feedback so that the skier has a better "feel" for the ski.
In addition, the ski orthotic is desgned to improve the efficiency of the lower leg forces on the inside edge of the downhill ski for increased stability and sharper turning. The Ski Orthotic helps to create a a flawless consistent interface between the bottom surface of the foot to the ski boot and the ski, allowing intimate contact with the snow and minimal effort.
Ski Orthotics Help Most skiers:
If a skier does not use a Ski Orthotic, their foot is fit into a generic padded boot shape. This frequently results in "hot spots" along the inside of the foot -especially the ankle bones. For skiers with flat feet, the bones are even more prominent and the pain can be disabling.
Using a ski orthotic reduces painful "hot spots" by approximately 75%. In addition to preventing the foot from pressing into the boot, comfort is further enhanced because the ski boot does not have to be severely tightened in order to maintain edge control. Most skiers report increased balance and edge control along with substantial comfort improvements.
Your Appointment:
Be sure to bring your ski boots with you when you come to our Seattle clinic for evaluation for ski orthotics. If you already own the ski boots you want to use, it will be necessary to send your ski boot bladders to the orthotic lab for production of the ski orthotics.
It usually takes 2 – 3 weeks for the completed orthoses to arrive in the office. For an additional fee, the orthotic lab can rush the orthotics and your boot bladder back to us in under a week. In addition there is an additional minimal shipping charge to ship the bladders to the orthotic lab and back.
If you are in the market to purchase new ski boots, we can make the orthotics before or after you get your boots.
Make your appointment today to be evaluated for ski boot orthotics at the Foot & Ankle Center of Washington.
Podiatrist Recommended Prefabricated Ski Footbed
If you are not in the Seattle area or are not ready to invest in custom orthotics for ski boots, we have reviewed the best prefabricated orthotics for ski and snowboarding boots and have some recommendations.  Prefabricatated orthotics do not usually provide as much control or comfort as a custom ski orthotic, but we have had success with the ski insoles listed below.
These are the products we recommend to our patients (and our families) and they are also affiliate links so we may receive a small commission at no additional cost to you if your order from the link.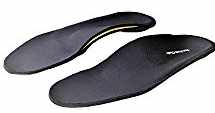 We have found the FootChair Prefabricated Orthotic with adjustable arch height. We find this to be the best choice for the most skiers and snowboarders due to the adjustable arch height.
This footbed has all of the features we look for in a ski orthotic, including:
Superior arch support to improve foot contact with the boot and improve control over the ski
Heel cup to stabilize your heel. This helps prevent hot spots that occur due to excessive pronation
Flat bottom to prevent rocking in the boot
Firm forefoot to make it easy to slide in and out of ski boots
We have recommended this ski footbed to many patients with very good success. These are the next best thing to a custom ski orthotic.
A somewhat less controlling and less expensive choice for ski and snowboard boots is the PowerStep Full Length Insole. It is a little more flexible and thus less stable than our preferred Medical Grade Orthotic. It is, however, the best ski orthotic choice in the $30 range.
Make your appointment today to be evaluated for ski boot orthotics at the Foot & Ankle Center of Washington.