The Best Running Shoe for Ankle Problems Depends on What Ankle Problem You Have
The best running shoe for bad ankles will depend first on what kind of ankle problem you have. There are three primary ankle problems that we commonly see in our practice for which the correct shoe can be helpful in reducing symptoms and I will provide recommendations for a specific running shoe for each of these problems. Those problems are:
Unstable ankles (ankles prone to sprains)
Ankles that are painful due to arthritis in the ankle
Ankles that are painful because of an overpronated (flat) foot
Shoes are Just a Part of an Overall Treatment Plan
Before we go further, however, I want to make clear that while the correct shoe can help reduce symptoms associated with ankle conditions, it is rare that a shoe alone will eliminate these conditions. In most cases the shoe is simply a part of an overall treatment plan that might include rehabilitation exercises, proper orthotics or arch supports, training modifications, shoes and other treatments.  Below I will recommend specific shoes and arch supports, but if you try these and don't have relief within a couple weeks, then be sure to see a sports medicine oriented podiatrist near you. If you are in the Seattle area make an appointment to see us.
Understand that while I recommend the shoes below on a regular basis with good success, no shoe works for everyone.  Also, here's an important disclosure about the products recommended in this article.
The Best Running Shoes for Unstable Ankles
If you have an ankle that is prone to sprains then you likely have a condition called chronic lateral ankle instability and it should be treated in a comprehensive manner.
When looking for running shoes for an unstable ankle, you need to find a shoe that is stable on the outside (the lateral side). If a shoe is firm laterally then it is less likely to allow your foot to collapse to the inside and can help prevent lateral ankle sprains.
My current favorite running shoe for prevention of ankle sprains is the New Balance 1080 series. The 1080 is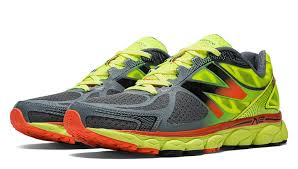 cushioned on the inside but firmer on the outside of the midsole to help prevent the ankle from going over.  Whether you've had a previous injury or if your ankles are "prone to twist or give way," the best running shoe protects, provides balance, and keeps the ankle area stable.
In addition to a running shoe with lateral stability, a number of studies have shown that the use of stable arch supports can improve ankle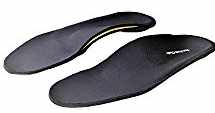 stability. The arch support we recommend most for lateral stability is the FootChair Plus Orthotic.  Not only is it the most stable OTC arch support we have found but it is also includes arch pads to allow for a customized arch fit  which provides increased stability for people with unstable ankles.
The Best Running Shoe for Ankle Arthritis
If you have arthritis is the ankle, be sure to get a doctor's ok before running on it.
If you are going to run, however, the role of a running shoe should be to reduce force through the joint by providing exceptional cushioning when your foot hits the ground and by limiting ankle joint motion with the use of a rocker sole.
My favorite running shoes, by far, for ankle arthritis are currently from Hoka One One. They have three models of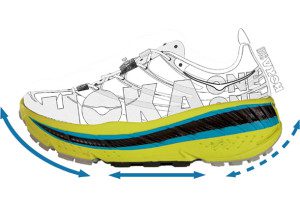 running shoes that provide an excellent rocker shoe (as shown in the picture).
Some Hoka shoes do not have this rocker so it is critical that you get the correct model. Make sure that the forefoot does not bend when you push on the front of the shoe. As of winter 2017 the following models have a rigid rocker. Other models may also, but check to make sure. You can use the links to see the shoes.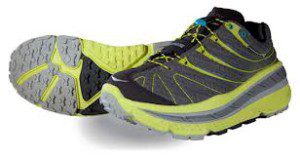 The Best Running Shoes for Ankle Pain Due to Flat Feet
If your foot is excessively flat, the rolling in of the ankle that occurs in this situation can put a tremendous amount of stress on the ankle. In this situation you will need a running shoe that helps to limit the excessive pronation.
Our favorite running shoe for runners with flat feet and ankle pain is the Brooks Addiction. Although impro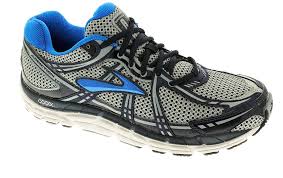 ved a bit every year, the Addition has  been around for nearly two decades and is a well-proven shoe for those who pronate excessively.
If your ankle pain is secondary to having an over-pronated foot, you will also need to use an arch support inside the shoe. Our favorite support for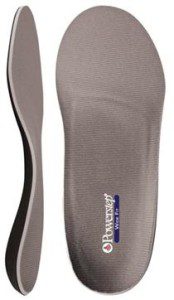 runners with very flat feet is the PowerStep Wide Orthotic. People with flat feet tend to have wider feet also and this is the only over-the-counter support we have found that has both adequate arch support and adequate width for flat feet.
Depending on the severity of your flat feet you may need custom orthotics to eliminate your ankle pain. You can learn about orthotics for flat feet here.
For a complete evaluation of your ankle pain and a plan to eliminate it, contact us for an appointment in our Seattle clinic.
Download Our List of Recommended Shoes
No shoe works for every person. For a more complete list of our currently best reviewed running shoes you can download our shoe list. It has just recently been updated with the best shoe choices in most of the major brands for people with bad ankles

Latest posts by Dr. Larry Huppin
(see all)