Best Work Boots if you have Bunions, Hammertoes or Tailor's Bunions
Having a bunion can make finding comfortable work boots difficult.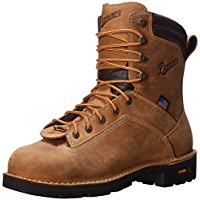 In order to protect your feet, many work boots have a fairly rigid toe box. Some even have steel or other completely rigid materials within the toe box to prevent the toes from being crushed in an accident. Since these materials don't give, they can increase bunion pressure and pain.
This article will help you find comfortable work boots to wear, even if you have a bunion. The same boots and tips will help anyone with hard to fit feet, such as those with hammertoes and tailor's bunions.
If you want to learn more about treatment of bunions please check out our Guide to Bunion Treatment and read our bunion self-treatment tips.
Please read this important disclosure about the products recommended in this article.
Features of Work Boots Needed to Eliminate Bunion Pain
Wider than average toe box
High quality leather that can be stretched if necessary (if not steel-toe)
Removable insole to allow use of a custom orthotic or prefabricated arch support
Stable shank. Stability in the shoe prevents the foot from rolling into the big toe joint and protects the joint.
What if You Need Steel-toe Work Boots but Can't Find Comfortable Ones?
Reviewed below are my recommended steel toe boots for those with bunions.
But the reality is that if you can get a work boot that can be stretched over the bunion (read here how to stretch boots) then it is easier to eliminate the painful pressure the boot applies to the bunion.
If you have hard to fit feet and just cannot find a comfortable steel toed work boot, even after trying our recommendations below, then here is something that can help:
Safety Treds Shoe Cover with Steel Toe 
If you require a steel toe, but are having trouble finding a steel toe boot that doesn't put abnormal pressure on your bunions, hammertoes or tailor's bunion, then find a more standard boot (see our recommendations below) or even a comfortable shoe and use a Safety Treds Shoe Cover with Steel Toe.
These innovative devices slip over any shoe or boot and provide it with a steel toe and non-slip tread. I treat a lot of Boeing employees who are required to wear steel toes and many of them use the Safety Treds.
Recommended Work Boots for Those with Hard to Fit Feet (Including Bunions)
Below are our recommended work boots for those with hard to fit feet. They are listed in several categories including:
Steel toe and non-steel toe
Indoor and outdoor
Lace and Slip-on (Western)
Men's boots are listed first and then women's
Best Men's Work Boots for Bunions (non-steel toe)
Danner Quarry USA AT Work Boot:  This is our overall favorite non-steel toe work boot for men and it works for both outdoor and indoor work.
We have had great success with this waterproof boot for many patients with foot deformities such as bunions and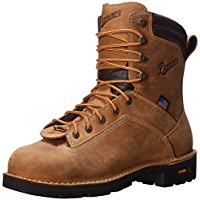 hammertoes. It has a deeper and wider than average toe box to provide room for wider feet and bunions. We do find that the 2E width works best if you have bunions. If you have hammer toes consider skipping the bottom lace holes to give more room in the toe box.
Features that are particularly good for those with bunions and other foot deformities include:
Although the toe box is very firm and offers good toe protection it does not have a steel toe and we have had success having the top-grain nubeck leather stretched for a bunion or other foot deformity.
Removable insole makes for easy use of bunion specific arch support.
Fiberglass shank for increased stability.
Available in an extra-wide (2E) width to provide extra room for bunions and tailor's bunions.
Other features include:
100% Waterproof and breathable Gore-Tex lining.
Vibram Quarry outsole features 90° heel, oil and slip resistant rubber compound.
Non-linear lug pattern for superior traction and debris release.
Alloy toe meets or exceeds ASTM F2413-11 M I/75 C/75 EH standards Electrical hazard (EH) footwear is manufactured with non-conductive electrical shock resistant soles and heels.
Best Men's Outdoor Steel Toe Work Boots for Bunions
Danner Men's Quarry USA 8-Inch Alloy Toe Work Boot: This is the steel toe version of the Quarry listed above. Same benefits with the exception that you will

not be able to stretch the boot at all.
We have had good success in getting most of our patients with bunions comfortable in this boot, but some with larger bunions cannot tolerate the pressure on the bunion. In that situation consider getting the Quarry USA AT (the non-steel toe version of this boot described above) and having it stretched and then using the Safety Treds Shoe Covers with Steel Toe as discussed above.
Best Men's Indoor Steel Toe Work Boots for Bunions
Skechers for Work – Workshire Relaxed Fit Work Steel Toe Boot: Sketchers is not a traditional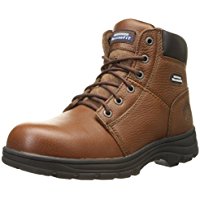 manufacturer of work boots but they have done a good job in designing this boot. This is not a waterproof boot, so it's not a great choice for heavy outdoor work.
Some features that are particularly good for those with bunions and other foot problems include:
Removable insole.
More room than average in the toe box to accommodate foot deformities.
Available in extra-wide (2E). In fact, we recommend this width if you have bunions or tailor's bunions.
Rocker type sole that helps to limit big toe joint motion and reduces bunion pain.
Best Western Work Boots for Bunions (composite toe)
Ariat Men's Wildcatter: This is a great boot if you are looking for a western type of work boot. We have had great success with it for our patients with bunions.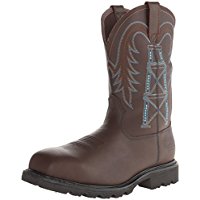 The Wildcatter is designed to protect the feet with numerous safety features and a wider than average toe box helps reduce pressure on bunions, hammertoe and other foot deformities. Composite toe is stretchable to some extent. Rigid sole helps reduce big toe motion and reduce bunion pain. Designed to withstand the harshest industrial environments.
Extra forefoot room accommodates hard to fit feet.
Available in extra wide (2E). We recommend the 2E if you have bunions or tailor's bunions.
Heavy duty flame resisting Vibram rubber outsole.
Flame resisting full grain leather.
Waterproof and oil resisting.
Moisture wicking mesh lining.
Goodyear welt construction.
Flexible panel allowing easy entry and exit for all foot shapes.
Heat resistant Kevlar thread used for welt and foot stitching. Designed to withstand high temperatures
Safety is ASTM F2413 11 M I/75 C/75 EH rated.
Best Women's Work Boot (non-steel toe)
Danner Women's Quarry: This is the women's version of the Danner Quarry described above. Danner does an excellent job of making women's boots on a last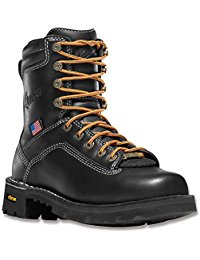 that is specific for women's feet – rather than just making a smaller version of the men's boot. Because women tend to have wide a wider forefoot relative to their heels (really women just tend to have narrower heels) having this special last helps tremendously when bunions are present.
We have had success having this boot stretched for larger bunions and other foot deformities. This can help tremendously in improving comfort. More information on stretching boots can be found below.
It also has plenty of room for an orthotic or arch support which helps in reducing stress on the big toe joint.
Some features include:
Removable insole.
Waterproof.
Electrical hazard protection.
See  the men's Quarry above for a complete.
 Best Women's Steel Toe Work Boot for Bunions
Timberland Pro Work Boot:  Finding comfortable work boots can be tough for women and if you have bunions it can be even more difficult. Women often find that shoes in general, and work boots in particular are either too big in the heel and/or too narrow in the forefoot. This is because the boots are often made off a last
This is because the boots are often made off a last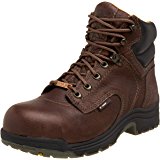 designed for a man's foot and then just sized down. In reality women should have a somewhat wider forefoot relative to the heel.
The Timberland Pro has been the best work boot we have found for patients with bunions. Specifically designed for women's feet with a wider than average forefoot, particular as compared to the heel, these boots tend to fit the forefoot (and the bunion) and still not be excessively loose in the heel.
Women's specific last was designed based on the feedback of hundreds of women in the field
Removable footbed to allow use of bunion specific orthotics or arch supports
Steel toe protection.
Waterproof full grain leather.
Oil and slip-resistant outsole.
Nylon shank for stability.
Electrical hazard protection.
Meets ASTM F2412-11, ASTM F2413-11 and ASTM F2892-11
As with any steel toed boot, these cannot be stretched. If you find this boot isn't comfortable, consider a soft toed shoe or boot and use the Steel Toe Shoe Cover described above.
It is sometimes really difficult to find a comfortable steel-toe boot if you have bunions and this shoe cover makes it much easier to find something that is both comfortable and safe.
Arch Supports or Orthotics are Necessary to Treat Bunion Pain
The use of a custom orthotic or a prefabricated arch support is crucial to eliminate the pain associated with bunions. When fit correctly, orthotics will transfer pressure off of the big toe joint and significantly reduce force on the bunion. By stabilizing the foot they also reduce motion that leads to friction that damages the skin over the bunion.
You can learn here how orthotics function to treat and prevent bunions.
Custom orthotic or Prefabricated Orthotic?
Both custom and prefabricated orthotics have the ability to reduce force on the big toe joint and reduce bunion pain. Custom orthotics tend to be more effective(if they are made correctly) because they grab the arch of the foot closer so they are better at transferring pressure off of the big toe joint.
We recommend, however,  that most people should probably start treatment with a prefabricated orthotic as they can work very well at reducing pain and are less expensive.
Best Prefabricated Orthotic for Work Boots
The prefabricated orthotic that we recommend most often to our patients for work boots is the  FootChair Adjustable Arch Orthotic. This is a very supportive orthotic that is about as close as you can come to a custom orthotic at much less cost due to adjustable arch via pads that can be inserted under the cover. If you are in the Seattle area and can see us we can even adjust them so that they work even better.
You can read about custom orthotics for bunions here.
Socks to Reduce Bunion Pain
We have an entire article on the best socks for bunion pain. Many of these socks have cushioning over the bunion. They work well but do take up a bit of extra room in the shoe so be sure to wear these socks when you are trying the boots out.
Stretching Work Boots to Reduce Pressure on Bunions
One of the other reasons we recommend high quality leather work boots for those with bunions and other foot deformities is that they can be stretched.
You always want to make sure that the boots feel overall comfortable when you first try them on. But if you have fairly large bunions you may need to have the boot stretched directly over the bunion.
You can find detailed information on how to stretch boots here. Best results, however, will be achieved by taking your shoes to a shoe repair shop. Here is how to ensure a proper stretch:
Put on the boots.
Put a piece of masking tape over the area of the bunion.
Draw an "X" on the tape directly over the bunion.
Take the shoe to the repair shop and have them stretch the shoe where it is marked. You will need to leave the shoes for at least several days in order to get the best possible stretch.
Remember, only leather boots without a steel or alloy toe can be stretched. All work boots, even those without steel toes, tend to be firmer in the toe box compared to regular shoes and thus more difficult to adjust. Find a shoe repair shop with a good reputation and experienced employees to ensure they will be able to provide you with the best outcome.
Contact us for help with your bunion
If you have a bunion, you'll notice pain in the big toe joint. The toe will point toward the second toe, causing a bump to form on the outside of the big toe. Bunions sometimes run in families, and while wearing shoes doesn't cause bunions, the wrong shoe can make the deformity more painful.
To learn more about the treatment of bunions, please check out our Guide to Bunion Treatment and read our bunion self-treatment tips. In the Seattle area, make an appointment to see us today for treatment of your bunion pain.
Our doctors, Dr. Douglas S. Hale and Dr. Lawrence Z. Huppin are expert in the evaluation and treatment of big toe pain and bunions, preventing the more severe deformity and arthritic changes that may develop if left untreated. We believe that in almost all situations surgery should only be used as a very last resort.

Latest posts by Dr. Larry Huppin
(see all)