Last week we mentioned some injuries we are seeing due to increased running and walking programs as most of us have lost the ability to go to the gym and do our standard workouts. As we mentioned these were mostly training errors.
We are seeing another type of foot injury related to the stay-at-home order, but unrelated to exercise.
Foot Pain from Walking Barefoot on Hard Floors
The other common injuries we are seeing is pain related to spending a lot more time barefoot on hard floors. Primarily this is pain on the heel, the ball of the foot and the top of the foot.
Primarily this is pain on the heel, the ball of the foot and the top of the foot.

Heel pain and ball of the foot pain occur when you are walking on hard floors as there is simply excessive pressure on these areas. This pressure leads to inflammation and pain.

Pain on top of the foot is increasing because when you walk on hard floors the foot is forced to flatten more then when in a shoe or on a softer surface. This leads to compression between the bones on top of the foot and this causes inflammation on the top of the foot. This condition is called dorsal compression syndrome.
How to Prevent Foot Pain At Home
The most important thing you can do is to wear good arch support.
An arch support that conforms close to the arch of your foot will transfer pressure off of the ball of the foot and off of the heel. This type of arch support also prevents the arch from collapsing and reduces pressure between the bones on the top of the foot.
The video below reviews some of our recommended sandals, shoes and slippers for wearing around the house.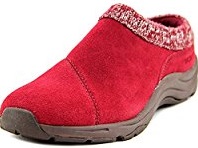 The sandal and slipper we recommend most often is Vionic. Vionic sandals and Vionic slippers have exceptional arch support and are great for use around the house.
For those that would rather wear a shoe around the house but want a shoe that is easy to slip on, Kizik shoes are really interesting.
Kizik shoes allow you to slide on and stay in your shoes with one simple motion. The back of the shoe essentially hinges downward to allow easy entry and locks your heel back into place.
If you are wearing shoes, make sure you put a good arch support or your custom orthotics in the shoe .
You can find our current list of recommended OTC arch supports here.
We are Open for In-person and Telehealth Appointments
If you experience a foot or ankle injury contact us right away so we can help you get back to activity as soon as possible.
If you have urgent or acute foot or ankle issues that require an in-person visit we are open during limited hours
Many foot and ankle problems can be helped with a telemedicine consult with one of our doctors. You can learn about telemedicine appointments here.
To schedule an in-office or telemedicine appointment call us at 206-344-3808.
We hope you remain safe and healthy. Let us know if you have any questions.

Latest posts by Doctors Hale and Huppin
(see all)