Fungal nails and thick, discolored toenails can be embarrassing and difficult to treat. These infections are common in people who wear closed-in footwear, perspire often, and who have minor skin and nail injuries.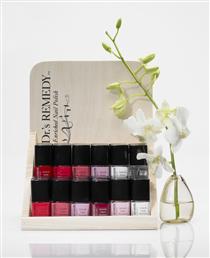 Since fungal nail symptoms can recur even after treatment (especially on the toenails), it helps to use nail polish with healing ingredients. There is also a 9-step treatment for treating fungal nails you can view here.
Most nail polishes have harmful additives that have been known to cause cancer, reproductive problems, nervous system disorders, and damage to the liver and kidneys. An alternative choice is Dr.'s Remedy Enriched Nail Polish. This nontoxic polish beautifies and heals toenails without the dangerous chemicals. It is safe for people who have fungal nails and want a polish with anti-fungal properties.
Dr.'s Remedy Enriched Nail Polish is the only polish we've found that includes:
Vitamins C and E for healthier nails.
Wheat protein (contains protein and amino acids).
Tea Tree Oil and Garlic Bulb Extract. These provide anti-fungal and antiseptic properties to the polish.
No Formaldehyde, which is the yellow tint left behind by other polishes.
Protects Nails from Fungal Diseases—such as those that produce thick, discolored, deformed, and foul-smelling toenails.
All-Natural Ingredients—created, tested, and approved by doctors.
This polish has healing properties that are actually good for the toenails. It is safe for health-conscious and pregnant women who have fungal nails and want to prevent re-infection.
For additional treatment hints, follow the complete 9-step treatment process for treating fungal nails here.

Latest posts by Dr. Larry Huppin
(see all)