Learn Everything You Need to Know About Toenail Fungus – Read This Guide Before Getting Treatment with Jublia, Lamisil, Laser or other Therapies
There is a lot of false information to be found on how to best treat toenail fungus and it can be frustrating to try to figure out the best treatment.  On this page and on our laser treatment of toenail fungus page we have gathered all the information you will need to make an educated and informed decision regarding the best treatment for toenail fungal infections and other causes of thick and ugly toenails. The information is based on the best current scientific studies and our own experience in treating thick and fungal toenails on a daily basis.
Call 206.344.3808 or use our Patient Portal to schedule an appointment for an evaluation and treatment recommendations in our Seattle clinic. 
Home Treatments for Toenail Fungus
If you are not in the Seattle area and want to try home treatments first, you can find our recommended home treatments for toenail fungus below.
Video: Advantages and Disadvantages of the Three Best Treatments for Fungal Toenails
Nail Fungus Prevention, Symptoms, and Diagnosis
Although many people think that all thick toenails are caused by fungus (Onychomycosis), in fact, there are actually many causes of thick toenails. Before we can adequately treat your thick or discolored nails, we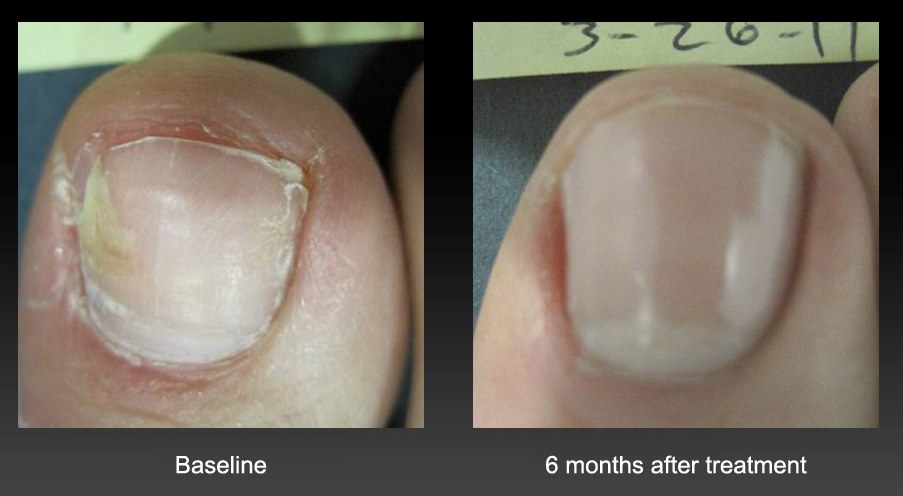 must first have an accurate diagnosis. Although most people think that their thick nails are due to a fungal infection, trauma to the nail causing a condition called "nail dystrophy" is in fact the most common cause of thick nails. Do not have any treatment for your nails until the underlying cause in determined.  To have your nails evaluated and discuss the best treatment plan for your nail problem, contact us today for an appointment in our Seattle foot clinic. 
This page and our page on laser treatment of toenail fungus should provide all of the information you need to ensure you are getting the very best treatment possible for fungal and ugly toenails. You can link to specific sections of this guide here:
What Really Causes Thick and Ugly Toenails?  Nail Fungus vs. Nail Dystrophy
There are two primary causes of thick toenails. The first is nail fungus and the second is a condition called nail dystrophy. Nail dystrophy is a thickening of the nails caused by repeated micro-trauma to the nail, for example from the nail hitting the top of the shoe over many years. The most common causes of thick, yellowed and ugly nails include: 
Nail fungus
Trauma to the nail
Shoe pressure on the nail
Poor circulation
Some disease conditions (psoriatic arthritis is one illness that can cause nail changes)
Call 206.344.3808 or use our Patient Portal to schedule an appointment for an evaluation and treatment recommendations. 
Evaluation and Diagnosis of Fungal Nails
We will first examine your feet and nails and take a history. This can help determine if you have a fungal infection or nail dystrophy. After doing a history and examination to help determine the cause of your nail changes, we may get a lab test. This involves taking a small sample of the nail and having it examined in the lab under the microscope. 
The test is called a Periodic Acid-Shiff (PAS) test which involves a stain that turns any fungi red. This will also help identify the exact type of fungi present so that we can offer you the most effective treatment. This is often the only way to determine the difference between fungus and dystrophy as they can look exactly the same.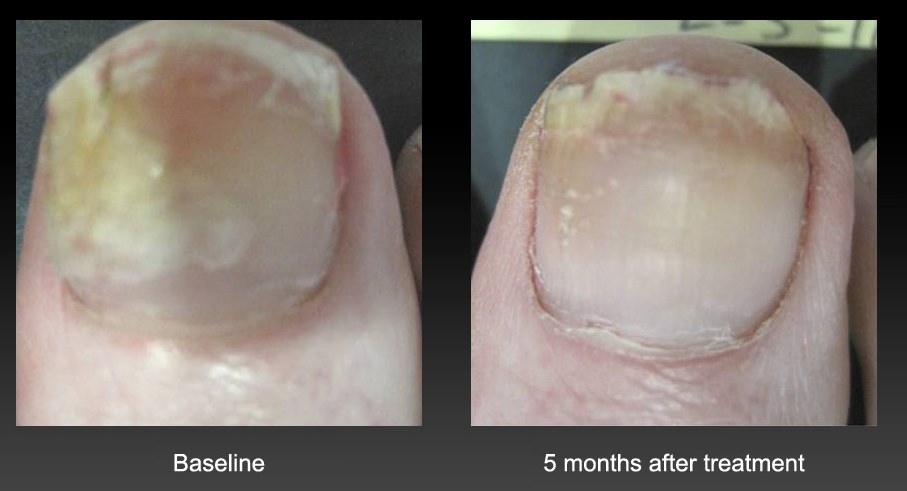 This is a critical step as we see many patients who have spent hundreds of dollars on laser treatment for nail fungus or have taken oral anti-fungal medications only to find that there is no fungus present and that there was no reason to even consider these treatments. Sometimes visual examination of the nail is adequate to diagnose toenail fungus, but many times it is not. 
During your first visit with us we will provide you with a plan of action for treating the dystrophic or fungal nails. We may be able to provide you with recommendations on the first visit but we often have to wait for lab tests to be completed. Thus, we cannot guarantee that any specific treatment will be performed during your first visit.
We treat fungal and thick nails several ways in our Seattle clinic. The best treatment depends on the underlying cause of the nail condition, the health of the patient and the patient's preferred treatment choice after we explain all available treatments.
Treatment choices at our Seattle clinic include laser treatment of fungal nails, topical treatments and oral medications. But no fungus treatment will work if the cause of your thick nail is nail dystrophy and some popular nail fungus treatments have been shown to be completely ineffective. We will help you determine the best treatment for your particular condition.
Laser Treatment of Nail Fungus
Laser treatment is used by many of our patients because it is safe, painless and has no potential liver side effects. The downside of the laser is that it is more expensive than oral medications and, while the laser is effective, it is not as well studied as the oral medications and probably not as effective (regardless of what claims you might see on other websites). We will make sure you have all the information you need to decide if this is the treatment you want to try.  Our definitive Guide to Laser Treatment of Fungal Toenails can be found here. Be sure to read this completely before you have laser treatment for nail fungus – no matter where you have it done. 
Using a combination of laser and oral medication may work better than either treatment alone according to a 2014 study.
Topical Treatment of Nail Fungus
There are three topical medications on the market that are approved by the FDA for treatment of onychomycosis – ciclopirox nail lacquer (brand name Penlac), tavaborole (brand name Kerydin) and efinaconazole (brand name Jublia). Topical treatments are safe but not very effective by themselves. In fact, when used alone, even the best topical medications only work 8 – 20% of the time. We do use these medications, however, to help prevent recurrence of nail fungus after treatment with laser or oral medications.  
Cliclopirox vs. Kerydin vs. Jublia – Which Topical is Best?
Our preferred topical is 8% ciclopirox lacquer for daily use for 12 months after laser or oral medication treatment then once or twice a week for maintenance. The advantages of ciclopirox are that it's one of the most effective topical medications (not that it works that well) and inexpensive (we have seen it for about $12) and may be covered by insurance if prescribed. The downside is that it's a hassle to apply, must be removed weekly and you can't use nail polish or other nail products while in treatment. 
Kerydin and Jublia and are newer topical medications for nail fungus and, in fact, work a little better than ciclopirox according to most studies.  In addition, they are easier and cleaner to apply. Ciclopirox goes on kind of sticky as it is oil based. Kerydin and Jublia are alcohol based and so are much cleaner to put on. Unfortunately they are much, much more expensive (close to $500 per bottle vs. $20 for ciclopirox).  There are some coupons available for the Kerydin and Jublia that can lower the cost considerably.  If you are paying for it out of pocket without a discount, however, we don't think that the the minor improvement in outcomes is worth the cost for most patients, but we do occasionally prescribe them to patients who want to avoid the mess of ciclopirox.
What the Studies Say about Topical Medications: Below are listed the three most effective topical medications with information on how well they work and how much they cost. Keep in mind you will be using them for about one year:
Ciclopirox: 8% – 11% of patients were able to achieve either a completely clear or almost clear toenail.  Cost = $5.25 per ml (about $20 per bottle – which will last about one month)
Jublia: In two studies done so far, 15.2% to 17.8% of patients had complete cure.  Cost = $120 per ml (that's about $420 per bottle and a bottle will last at most one month)
Kerydin: About 15% of patients were able to achieve either a completely clear or almost clear toenail.  Cost = $120 per ml – about the same as Jublia
Jublia vs. Ciclopirox: Ease of Use
One issue a lot of patients have with ciclopirox is that because it is oil-based, it goes on a bit sticky and takes a few minutes to dry. It will also build up and look yellowed. Jublia on the other hand has an alcohol base and goes on much cleaner and drys quicker. It also doesn't build up and look yellowed.
To summarize, the best topical medications work between 10% – 20% of the time to make the nail look better.  The new ones work a little better than the Ciclopirox, but are much more expensive, although discount coupons are currently available and they may be covered by insurance.  Of the three, Jublia probably works the best and Ciclopirox is the most cost effective. While Jublia might work a bit better, we don't feel that it offers enough of an improvement to justify the cost so we usually prescribe Ciclopirox. If a patient wants to try it, however, we will provide the prescription. We don't generally prescribe Kerydin as it is just as expenive as Jublia and from the studies we have seen not quite as effective. 
Getting a Jublia Prescription
If you are interested in getting a prescription for Jublia, ciclopirox or Kerydin, contact us for an appointment.  If you are not in the Seattle area and want to try an over-the-counter topical, our recommended OTC topical anti-fungal for nail fungus is Pedifix Anti-fungal Solution. It is not as effective as the prescription anti-fungals, but is our recommended one if you can't get a prescription right now.
Instructions for Jublia and ciclopirox use
Apply like you would nail polish to the entire nail including the underside at the end of the nail and the skin around the toenail. Apply daily. Once each week remove the lacquer build up using isopropyl alcohol, nail polish remover or a Pedinova nail grinder, trim the tip of the nail of any debris and apply new lacquer.
Video: Review of Jublia
Cost of Jublia
Like many new medications Jublia can be stunningly expensive.   A 4oz bottle that lasts at best a month will cost nearly $500 if you have to pay for it out of pocket (the cheapest we found was $460). It is recommended that Jublia be used for at least 48 weeks.  Doing the math, the best case scenario is that a course of Jublia (which remember only works about 15% of time) will cost a minimum of  just over $5000  and could cost up to $10000!
So although studies show it does work a bit better than the older topical medications, we think it is rarely worth the cost. Some insurances do pay for Jublia. In addition, the manufacturer is currently offering coupons to cover the cost of the co-pay, so some people can get it at no out-of-pocket cost (but your insurance is still paying a lot of money).
If your insurance does cover the cost of Jublia we can discuss at your appointment whether Jublia may be a better choice for you than ciclopirox. For most patients we prefer ciclopirox as it is almost as effective at less than 1/10 the cost. But for a few patients there may be some benefits in choosing Jublia. We will discuss the advantages and disadvantages of each medication at your appointment and help determine the best approach for your toenail fungus infection.
What About Non-Prescription Topical Anti-fungal Medications?
None of the non-prescription topical medications that you might buy in pharmacies, in clinics or online are likely to work better than Ciclopirox. We have seen clinics that sell topical medications with names like Formula 3. These medications sold in the clinics are less effective than the prescription medications and more expensive than Ciclopirox, so we advise against their use.  In fact, at the bottom of this page we recommend an OTC anti-fungal topical medication. We think it is as good as any you can get without a prescription, but be aware that it will not work as well as the prescription medications.
There is one nail polish on the market that has some ingredients that are somewhat anti-fungal, but are not a treatment in and of themselves. Dr.'s Remedy Nail Polish contains both tea tree oil and garlic extract, both of which are reported to have some anti-fungal properties. It is not a substitute for ciclopirox lacquer but is probably better than other nail polishes. 
Oral Medication for Treating Toenail Fungus
Oral medications are well studied and have a higher success rate than laser, but have potential side effects. Terbenafine (Lamisil), an oral medication, has been shown to clear up fungal nail infection (no laboratory signs of fungus) 70% of the time. 59% of patients had better looking nails (no laboratory signs of fungus and greater than 5mm of unaffected nail growth) and 38% had great nails (no laboratory or visual signs of nail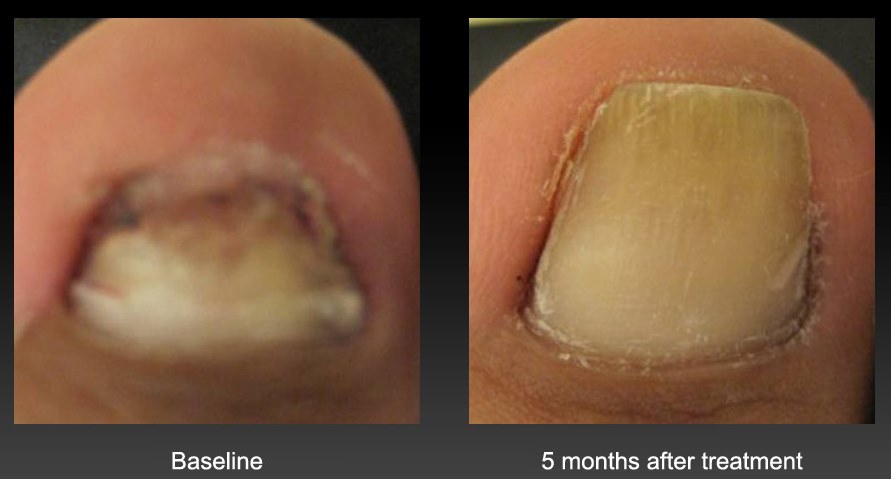 fungus).
We check liver function on our patients before starting terbenafine treatment and then six weeks after treatment starts because about 3% of patients see an elevation in liver enzymes indicating the liver may be working too hard to remove the drugs from your body. Interestingly, 1.4% of those taking a placebo developed the same problem. 
Stopping the treatment usually returns liver function to normal. Lamisil is safe for the vast majority of patients. Everyone must weigh the advantages and disadvantages and decide for themselves if they wish to take these drugs. For patient information on taking Lamisil click here. To find a LabCorp location click here. 
Combining Oral Medication and Laser Therapy
A 2014 study published in Dermatologic Surgery noted that using both laser and oral medication may work better than either treatment alone1.
In this study of 53 patients who were treated with either oral terbinafine, laser or both, the group that received both treatments had "significantly higher rates of clearance than those of the terbinfine group or the laser group at at Weeks 4, 8, 12, 16, and 24". So far this is the only study we have found that evaluates the combined treatment of laser and oral terbinafine (Lamisil).  While interesting, this is a weak study. We hope to see additional studies in the future that will back up this information.
6- Step Self-Treatment Plan for Fungal Nails
There is no perfect treatment for fungal nails. The current best treatments are laser therapy and prescription oral and topical medications. If you want to try home treatment, we have put together the following seven step program designed to kill or minimize fungus, make your nails look better and prevent re-infection.  
The products below are affiliate links so we may receive a small commission at no additional cost to you if your order from the link.
1. Use a topical anti-fungal. The OTC anti-fungal that has shown to best penetrate the nail is tolnaftate. It penetrates the nail even better as an oil based solution medication rather than a cream. Our favorite tolnaftate solution is Fungablend 10 as it also includes Urea – which has been shown to significantly help the medication penetrate the nail.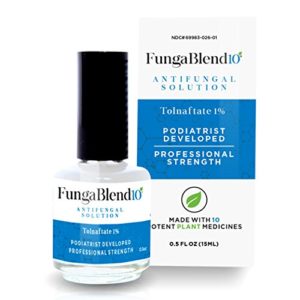 Use tolnaftate daily for six months – apply every evening before bed. Apply to the entire nail and make sure to get into the nail borders. Also apply to the front edge of the nail.
While we think this is the best OTC anti-fungal,  understand that the prescription topical medications listed above likely work better than any of the non-prescription medications. In addition, no topical anti-fungal medications (prescription or OTC) have been shown to work a majority of time at clearing the nail.  Most work about 10%-20% of time. They will help some people, however, and might help prevent spread of the fungus.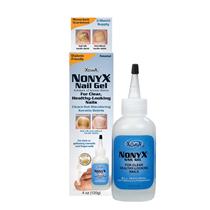 2.  Use Nonyx Nail Gel to clear up dark or yellowed nails caused by keratin debris under the nail.  NonyX Nail Gel contains an acid that breaks down and removes this yellow or darkened build-up and keeps nails looking clearer and more attractive with regular use. It doesn't kill the fungus, just helps the nails look better. Use daily for six months – apply every evening.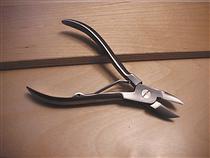 3.  Use a heavy duty nail trimmer to remove as much of the thickness of the nail as possible. These are the same trimmers we use in our office and are far more effective and easier to use than the type you buy at a pharmacy.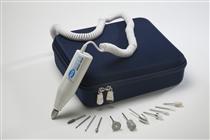 4.  Use a professional quality rotary tool such as the Beurer Electric Nail and Foot Care Kit to thin the nail. For perfectly thin nails, grind the nail every week or so (it's also good for calluses). This is by far the best nail tool we've found. Cheaper ones don't have the power or burr quality to be effective.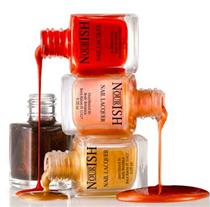 5.  For women, use an anti-fungal polish like Drs. Remedy Enriched Natural Nail Polish to help prevent new infections. It's infused with a superior blend of organic anti-fungal essential oils that promote healthy nails but does not contain Formaldehyde (a chemical which has been proven to cause cancer), DBP (a potential developmental and reproductive toxin) or Toluene (a chemical the EPA restricts because it can cause nervous system disorders and liver and kidney damage) like most polishes do.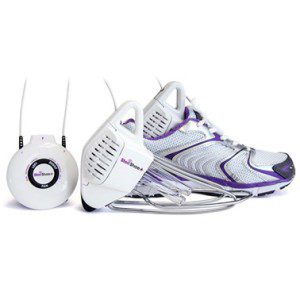 6.  A critical part of treating toenail fungus is to kill any fungus living in your shoes. If you don't kill the fungus that thrives in your shoes, the chance that your toenails will become infected again is high. The ShoeZap Ultraviolet Shoe Sanitizer has some good research to show it kills fungus in shoes. 
Also, See our six step plan below to prevent reinfection.
If you don't see improvement in 6 months, we suggest you see a podiatrist. If you are in Seattle, you can make an appointment to see us in our foot clinic.
Prevent Reinfection of Your Toenails
If your nails have been successfully treated for a fungal infection then follow these instructions given on our Guide to Prevent Toenail Fungus.
 Insurance Coverage for Fungal and Thick Nail Treatment
If you have thick, fungal or painful toenails, your evaluation visit is usually a covered benefit under most traditional insurance plans. At that visit, we can let you know if there are any services or treatments for your nails that would likely not be covered. 
Laser treatment cost and coverage information can be found on our Guide to Laser Treatment page.  
Coverage of lab testing to see if you have a fungal infection is between the lab and your insurance company.  If you would like to check ahead of time, contact your insurance carrier and ask if they cover billing code 88312 (stain and prep of the nail sample) and 88305 (microscopic examination of the sample). You will also want to find out how much of your deductible has been met.
Contact Us Today to Schedule an Appointment to Treat Your Nail Issues
Call 206.344.3808 or use our Patient Portal to see our fungal nail experts at the Foot and Ankle Center of Washington, conveniently located in downtown Seattle near Swedish Medical Center.
We will examine and diagnose your toenail issue then review treatment options with you so you can make an informed decision about choosing a treatment to help rid your nails of infection and get them looking normal and healthy again.
References:
Combined oral terbinafine and long-pulsed 1,064-nm Nd: YAG laser treatment is more effective for onychomycosis than either treatment alone. Xu Y, Miao X, Zhou B, Luo D.  Dermatol Surg. 2014 Nov

Onychomycosis: epidemiology, diagnosis, and treatment in a changing landscape

.  

Rosen T, Friedlander SF, et. al  J Drugs Dermatol. 2015 Ma

Efinaconazole

 topical solution, 10%: the benefits of treating onychomycosis early.   

Rich P. J Drugs Dermatol. 2015 Jan

Enhancing transungual delivery and spreading of efinaconazole under the nail plate through a unique formulation approach

.

  Kircik LH.  J Drugs Dermatol. 2014 Dec
Access of efinaconazole topical solution, 10%, to the infection site by spreading through the subungual space. Elewski BE, Pollak RA, Pillai R, Olin JT. J Drugs Dermatol. 2014 Nov
A comparative clinical and mycological study of Nd-YAG laser versus topical terbinafine in the treatment of onychomycosis. El-Tatawy RA, Abd El-Naby NM, El-Hawary EE, Talaat RA.  J Dermatolog Treat. 2015 Feb
Syed, TA; Treatment of toenail onychomycosis with 2% butenafine and 5% Melaleuca alternifolia (tea tree) oil in cream. Trop Med Int Health. 1999 Apr;4(4):284-7
Buck DS; Comparison of two topical preparations for the treatment of onychomycosis: Melaleuca alternifolia (tea tree) oil and clotrimazole. Dermatology, 2001
Click Here For Self Treatment Hints