Warm Weather Footwear Tips for Bunion Patients
Bunions are a progressive deformity of the big toe joint, it can lead to further complications if left untreated. Relieving the pain you feel from bunions requires reducing the pressure beneath your big toe joint when standing or walking. When you wear shoes, this is fairly simple to accomplish with either over-the-counter arch supports or custom orthotics. Increased arch support is necessary to distribute your weight more evenly, transferring your weight from your big toe joint to the arch of the foot, where it belongs.
However, it is virtually impossible to slip a pair of arch supports into your sandals or flip-flops and most sandals and flip-flops on the market today provide little to no arch support. This makes bunion problem worse.
We understand that you may prefer sandals and flip-flops in warmer weather or for convenience – the solution is to wear orthotic sandals, arch-supporting flip-flops or proper sports sandals. This comfortable footwear has enough arch support to reduce the pressure on the joint and bring you relief from pain and prevent further progression of the deformity.
Best Flip Flops and Sandals for Bunions
Disclaimer: This page contains affiliate links, meaning we receive a commission if you decide to make a purchase through our links, but this is at no additional cost to you. Our recommendations are based on experience with and knowledge of these companies and their products, and we recommend them because they are genuinely helpful and useful, not because of the small commissions we may receive. Please don't spend any money on these products unless you believe they will help you achieve your goals.  Please read our disclosure for more info
The only way flip-flops or sandals can help with bunion pain is by decreasing pressure under the big toe joint. To do this, the flip-flop sandal must include an arch that conforms close to the arch of the foot. This type of sandal with a built-in arch support can transfer pressure from the big toe joint to the arch of the foot. We have found that the Vionic® Sandals has the best sandals and flip-flops for bunions as they have an exceptional arch support. They also come in many different styles.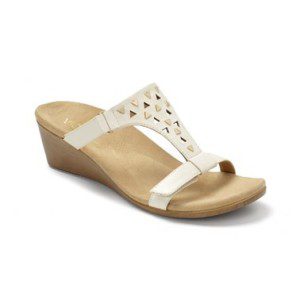 These sandals and flip-flops are designed to conform to the arch of your foot as closely as possible, providing increased support and stability, which relieves the pressure on your big toe joint.  The most effective sandals with built-in arch support we have found to relieve bunion pain are the sandals from Vionic. We recommend Vionic flip-flops and sandals to most of our patients who have bunion pain.
Flip-flop Toe Spreader for Bunions
We also found a great little gadget that makes wearing flip-flop even more comfortable – it is a sandal gel toe spreader and slips onto the flip-flop to separate the first and second toes. This little device helps people with bunions wear flip-flops comfortably.
Best Sports Sandal for Bunions
Bunions (enlargement of the big toe joint) are a painful condition. If you have a bunion, a regular sports sandal will not offer enough support and can even contribute to greater pain. Since bunions tend to get bigger over time (or the joint can develop arthritis), wearing the right sports sandal is an important part of conservative treatment.
We have reviewed the Vionic Boyes Sandal for men and the Vionic Muir Sport Sandal for women to rate how they perform for bunion patients. These sandals are stylish, sporty, and functional. The built-in orthotic will transfer pressure off of the big toe joint to help with pain associated with bunions and big toe pain.  These are very stable sport sandals and are designed to not only help the big toe joint but also will help with alignment of the feet, knees, and ankles. As sports sandals for both men and women, they are made for walking and includes many comfort features:
Straps are made from soft synthetic leather with padded linings
Hook and loop adjustment for a customized fit
Soft dense material for ease of movement and orthotic therapy
Contoured footbeds to control pronation and keep pressure off the bunion
These Vionic Sport Sandals are designed to enhance foot function and reduce pain by transferring pressure off of the bunion. Our conclusion is that this is the best sports sandal to buy for bunions.
Best Women's Sandals for Bunions
Women are particularly prone to pain from bunions due to the types of shoes they wear. Stylish shoes with high heels can place excessive pressure on the big toe joint. The higher the heels, the more pressure created. This is what leads to the development of the foot deformity known as a bunion. It's a lump that develops at the big toe joint, as the big toe is forced inward, toward the other toes.
While women generally enjoy a wonderful variety of stylish footwear choices, including stylish sandals and flip-flops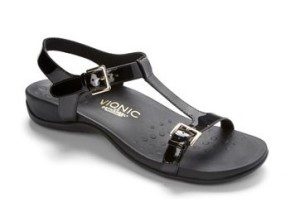 , the unfortunate truth is that these choices do not usually account for the needs of women with bunions. In fact, many of the most stylish shoes designed for women merely exacerbate the problem. For women who choose to wear sandals during warm weather, this is especially true because most sandals and flip-flops provide no arch support whatsoever.
Orthotic sandals for women have come a long way in recent years, providing excellent support and relief from buni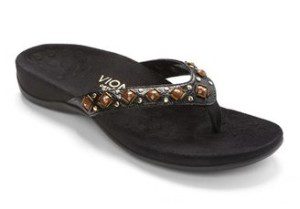 on pain while also being quite stylish. We have found that the arch support in Vionic Sandals does a great job of transferring pressure off of a painful bunion.
To see more styles, please visit the Foot and Ankle Store for Vionic Sandals for Women.
Custom Orthotic Sandals for Bunions and Big Toe Joint Pain
If you have a bunion that is very large or you have big toe joint pain that continues even when using one of the sandals above, you may require a sandal that can accept a custom orthotic. Custom sandal orthotics will do more to reduce pain in the big toe joint because they can conform closer to the arch of your foot and will more effectively reduce force in the big toe joint and do a better job of transferring pressure off of a bunion deformity.
You can learn more about orthotics for bunions here.
Sandals With Removable Insoles to Allow Custom Orthotics
If you want to have custom orthotics made to fit inside a sandal, you first have to purchase a sandal with a removable insole. After doing an exam and taking the cast or image of your feet, we then write an orthotic prescription and send the sandals to the orthotic lab to have orthotics made specifically for your sandals. Here are our favorite sandals with removable insoles:
Naot: Many Naot sandals have a removable insole. This allows us to make you a custom orthotic that will fit perfect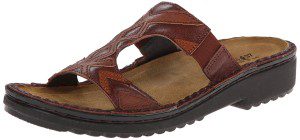 ly in the sandal.  You can see a selection of Naot sandals here.
Alegria:  Most Alegria sandals have removable insoles so that you can have a custom orthotic made to fit in place of the manufacturers insole.  Another nice feature of Alegria is the rocker sole that acts to limit motion of the big toe joint. Thi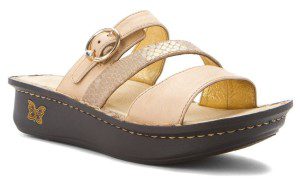 s rocker action can do a lot to reduce bunion pain.  You can see Alegria sandals here.
Finn Comfort:  Finn makes both men's and women's sandals with removable insoles. The size of the Finn insoles makes these sandals just about perfect for fitting a custom orthotic. Also Finn tend to run a little wider than the other sandals which is great if you have a bunion that is causing the front of your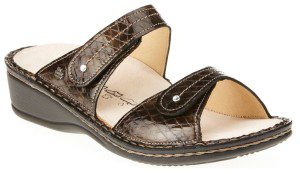 foot to be wider than average. You can see a full selection of Finn Comfort sandals here. 
If you think you would benefit from sandals with custom orthotics then make an appointment to see us in our Seattle clinic. If you are not in our area you should try to find a podiatrist who is an expert in orthotic therapy. A fairly small percentage of podiatrists specialize in orthotic therapy so make sure you do your research well. We have a list of some of those podiatrists in other states here.
Video: How Orthotics Should be Made to Relieve Bunion and Big Toe Joint Pain
Contact the Foot and Ankle Center for Bunion Pain Relief
Dr. Larry Huppin and Dr. Doug Hale are nationally recognized experts in orthotics and foot biomechanics. Both are highly trained and experienced foot and ankle physicians.
Bunions be quite painful but and, left untreated, can also lead to progressive deformities and chronic foot problems including hallux rigidus (arthritis in the big toe joint) and hallux limitus (big toe joint pain).
The doctors at the Foot and Ankle Center of Washington are experts in the treatment of bunions, including pain relief and prevention of further progressive deformities which can result from bunions and poor footwear choices.
For more on the progressive nature of bunions and related chronic conditions, please visit our bunion page then read all of our bunion home treatment hints. If you live or work in the Seattle area, make an appointment today at the Foot and Ankle Center of Washington for treatment and relief of your bunion pain.

Latest posts by Dr. Larry Huppin
(see all)