If you have bunion pain, it can be difficult to wear dress boots or high heels. Bunions can limit the types of shoes women can wear, especially high heels and dress boots. There are some options, however, to allow women with bunions to wear dress boots and high heels.
Features of Dress Boots and High Heels to Eliminate Bunion Pain
There are four features that help ensure that dress boots and high heels will be comfortable for women with bunions. These are:
Platform to limit big toe joint motion
Wider than average toe box
High quality leather upper (so the boot can be stretched)
Room for an orthotic or arch support
Platforms and Rocker Soles on Dress Boots Can Reduce Bunion Pain
Wearing dress boots and shoes with a platform can substantially reduce bunion pain. Any dress shoe with a platform will have a "rocker" feature so that the big toe joint doesn't bend and the shoe "rocks" the foot forward.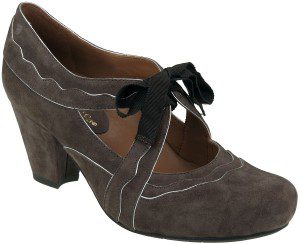 High-heeled shoes can strain the motion in the big toe joint and cause the arches to collapse. Since we know that many women wear high heels on a daily basis, we wanted to recommend a high heel that is fashionable and comfortable. Please read this important disclosure about the shoes below.
Best Dress Boots and Heels with Platform Rocker
One brand of attractive dress shoe and boot that has many models with a good rocker is Earthies. Earthies high heels are some of the best high heels for preventing bunions and big toe joint pain.
Many Earthies shoes are helpful for bunions because they have a rocker sole that prevents motion at the big toe area. They also have exceptional built-in arch support. In fact, these heels have the best arch support we've seen in a dress shoe. As a bonus, they have many models that are extremely attractive.
Recommended Dress Boots for Bunions
High-heeled dress boots that fit tightly put pressure on the big toe joint, limiting the motion of the foot and causing increasing pain. A better choice is to wear a dress boot that fits the contour of the foot and reduces the pressure on the ball of the foot. Earthies dress boots are some of the best boots for bunion pain. These shoes are not only fashionable but also are designed for optimal comfort and stability.  To help with bunion pain many Earthies have:
A rocker platform sole
Easy to stretch leatner
Easily accommodate orthotics and arch supports (see below)
A cupped heel to enhance arch support and lower body alignment.
In general, Earthies are the most impressive fashion shoe we have found that are also good for your feet.
You can see a wide variety of Earthies dress boots and heels here. Earthies shoes are both high heeled and high fashion and fit feet up to size 12. Reviewers of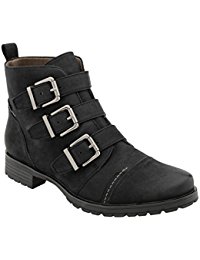 the shoes have called them "stylish AND comfortable," "supportive," "stunning" and "beautiful." Earthies heels and boots are available here.
Arch Supports and Orthotics to Treat Bunion Pain
The use of an arch support or orthotic is critical when treating bunions. An arch support that conforms very close to the arch of the foot will act to transfer pressure off of the bunion. Over time this reduces pain and helps prevent growth of the bunion.
Standard orthotics, however, will not fit into dress boots or high heel shoes.
To fit into these smaller shoes an orthotic must be cut narrow and also be flexible in the heel so it will adapt to different heel heights. This type of orthotic is shown in the picture.
Custom orthotic or Prefabricated Orthotic?
Both custom and prefabricated orthotics can help to reduce pressure on the ball of the foot. Custom orthotics usually work better because they conform closer to the arch of the foot so they take more pressure off of the ball of the foot.
Most patients, however, should probably start treatment with a prefabricated orthotic as they work for many people and are much less expensive.
The prefabricated orthotic for dress shoes and boots that we recommend to our patients is the FootChair Slim Orthotic. This is a very supportive orthotic that fits into almost all women's dress shoes regardless of heel height. It also has a unique adjustable arch height.
You can read about custom orthotics for dress shoes here.
Stretching Dress Boots to Accommodate Bunions
One of the other reasons we recommend Earthie boots for those with bunions is that Earthie uses quality leather that can be stretched.
You always want to make sure that the boots feel good right out of the box. But if you have fairly large bunions you may need to have the boot / shoe stretched directly over the bunion.
You can find detailed information on how to stretch shoes here. In general, however, you will get the best outcome by taking your shoes to a shoe repair shop. Here is how to ensure a proper stretch:
Put on the boots
Put a piece of masking tape over the area of the bunion
Draw an "X" on the tape directly over the bunion
Take the shoe to the repair shop and have them stretch the shoe where it is marked. You will need to leave the shoes for at least a couple days in order to get an adequate stretch.
Contact us for help with your bunion
If you have a bunion, you'll notice pain in the big toe joint. The toe will point toward the second toe, causing a bump to form on the outside of the big toe. Bunions sometimes run in families, and while wearing shoes doesn't cause bunions, the wrong shoe can make the deformity more painful.
To learn more about the progressive nature of bunions and related conditions, please check out our bunion page and read our bunion home treatment tips. In the Seattle area, make an appointment today at the Foot and Ankle Center of Washington for treatment of your bunion pain.
Please read this important disclosure about the products recommended in this article.

Latest posts by Dr. Larry Huppin
(see all)