Preventing Zumba Foot Pain and Injuries with the Correct Shoes
We treat a lot of patients who participate in Zumba, Brazilian butt lift, and other dance based exercise routines. One problem I have seen a lot of lately is patients complaining of foot or knee pain that is associated with the shoes that they are using during Zumba.

Best Shoes for Zumba
Because these activities involve pivoting on the ball of the foot, standard athletic shoes are often not appropriate for Zumba-type workouts. Standard athletic shoes soles can catch when you try to pivot and that can increase stress on the knee and the rest of the lower extremity. Because of this, many Zumba participants use dance shoes or shoe marketed exclusively for Zumba. Unfortunately, these shoes tend to be extremely unstable and for many people this leads to excessive collapse of the foot during the activity and excessive rotation at the knee. To prevent these types of problems, these people should wear more stable shoes.  Unfortunately, it is almost impossible to find shoes that are stable but also provide the non-stick forefoot sole that is necessary for Zumba.
The perfect shoe for these patients would be a stable cross-trainer type athletic shoe with a low-friction sole on the forefoot (like a dance shoe). We have not found this type of shoe on the market but we have come up with several solutions to create the perfect shoe for Zumba.
To get the perfect shoe for Zumba, first get one of the cross trainer shoe we recommend on our recommended shoe list. Then use of the devices listed below.
The products below are the ones we recommend to our patients and they are also affiliate links so we may receive a small commission at no additional cost to you if your order from the link.
Shoe Devices for Zumba and Dance
You can make a cross trainer or other athletic shoe a viable dance option and much safer for your knees by adding a "Slip-on Dancer". These slip over the rubber sole of your athletic shoes to make the sole on the front of the shoe slick such as you would find on a dance shoe. This great device allows you to use a stable athletic shoe for dance activities like Zumba.   You can find the Slip-on Dancer here.
Another brand we like is called DanceSocks. These are a little less expensive as they do not have the strap that goes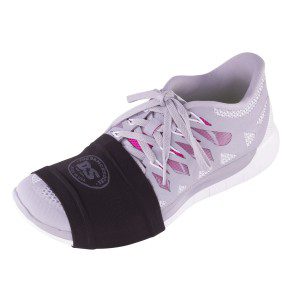 around the heel. Because of this they seem a little more likely to slip off.
Regardless of which one you buy, we highly recommend one of these devices for anyone who is wearing standard athletic shoes for dance activities such as Zumba. By decreasing forefoot friction they help protect your knees.
Shoe Modifications for Zumba
If the Slip-on Dancer doesn't work for you for any reason, an athletic shoe can be modified to make it work for Zumba and other dance activiies. I have found it very effective for to have patients get a stable cross-training shoe, and then I write a prescription to have it modified with a dance shoe sole under the forefoot. You can find suggestions on the best Zumba cross trainers on our recommended shoe list.
Before having the shoe permanently modified, we will often have patients use a Slip-on Dancer or apply a temporary low friction material to the sole of the shoe under the ball of the foot and have my patient try that in Zumba for one or two sessions. In most cases, this eliminates the pain these patients were having.  If this works well for the patient, then we will write the prescription directing a shoe repair shop on how to make the permanent modification to the shoes.
If you are in the Seattle area and are having foot pain related to Zumba or other dance type activities, make an appointment to see us. Please be sure to bring two your visit any shoes or arch supports that you are currently using on a regular basis, particularly those you were using for exercise activities including Zumba.
Arch Supports for Zumba
We feel every good shoe needs an over the counter or custom orthotic to help prevent problems that my slow or stop your work out. Research has shown that orthotics must be made from non-weightbearing casts of your feet and tightly conform to your arch to provide the best function of your joints.  This is called a "total-contact orthotic".
However, if you are not able to obtain a custom orthotic we suggest the FootChair Podiatrist Designed Adjustable Arch Orthotic.
This has the best arch height we have found on an over-the-counter arch support to transfer pressure off your joints as it is the only OTC orthotic to have an adjustable arch.
The arch can be adjusted for maximum support and comfort via pads that can be inserted under the cover.
What are the Most Common Zumba Foot Problems?
Here are some of the most common Zumba foot problems from your Seattle Foot Doctor:
If you've already checked with your physician before beginning a new exercise program, congratulations for being conscientious. Now it's time to make an appointment with us, so we can help you prevent the most common Zumba footproblems.

Latest posts by Doctors Hale and Huppin
(see all)