Come See the Flat Feet Specialists at the Foot and Ankle Center
Dr. Huppin and Dr. Hale of the Foot and Ankle Center of Washington are specialists in treating flat feet and are dedicated to helping you eliminate any pain associated with this condition. Our doctors have national reputations as experts in treating flat feet, always use the most effective yet most conservative treatments possible and rarely have to resort to surgery to eliminate flat foot pain. Flat feet is the most common foot deformity and 60 million Americans suffer from flat feet[1].
If you have flat feet and need an evaluation and recommendations on the most effective treatment options, call (206) 344-3808 or click here to schedule online.
Some of these people have no problems as a result of their flat feet and can run marathons or play in the NBA. But others may struggle. The good news is, most patients require only conservative, non-surgical treatment, if any at all, especially children with flat feet. But for some, flat feet can lead to a variety of problems including heel pain, tired feet, bunions, knee pain, back pain and arthritis. In fact, several medical studies point to a close relationship between flat feet and arthritis of the foot and ankle.
What are the Types of Flat Foot?
There are two major categories of flat feet – congenital and acquired flat feet. Congenital flat foot is a condition that one is either born with or is predisposed to at birth. This type includes the completely pediatric flexible flat foot with no symptoms – by far, the most common form of congenital flat foot [2]. With this condition, an arch is present until weight is put on the foot, at which time the arch disappears. This type may or may not cause problems later in life.
Acquired flat foot develops over time and is more likely to cause pain and other symptoms including arthritis in the feet. Factors that contribute to development of flat feet include:
A child's sitting or sleeping positions or shoes they wear
Compensation for abnormalities further up the leg
Severe factors such as ruptured ligaments or tendons in the foot
Tight Achilles tendon
Severe flat foot conditions are rigid and there is no arch with or without weight on the foot and there are noticeable symptoms. Luckily, these conditions are much less common and can usually be identified and treated by specialists. With a tight Achilles tendon, the foot points down (or plantarflexed) like when you step on the accelerator of your car. The body tries to compensate by pronating, or flattening out the arch, thereby flattening the foot and causing damage.
Posterior Tibial Tendon Dysfunction [3] develops as a result of repetitive stress on the main supporting tendon of the arch. As the body ages, ligaments and muscles can weaken, leaving the job of supporting the arch all to this tendon. But the tendon can't hold the weight for long, and it gradually gives out, leading to a progressively lower arch. This often causes pain radiating behind the ankle along the posterior tibial tendon. This is also called "adult acquired flatfoot".
What Causes Flat Feet?
The human foot was not originally designed to withstand the types of terrain and forces it is subjected to today. Nowhere in nature do you see the flat hard surfaces that we now commonly walk on in present times. Walking on these surfaces continuously puts unnatural stress on the arch. The fact that the average American is overweight does not help the arch much either.
Obesity is a leading cause of flat feet as the arch collapses under excessive body weight. Further, the average life span has increased dramatically in the last century, meaning that not only does the arch deal with heavy weight on hard flat ground, but must do so for longer periods of time. These are all reasons to take extra care of your feet now in order to prevent problems later.
What Are the Treatment Options for Flat Feet?
Before determining a course of treatment, it's important to determine the exact type or underlying cause of your flat feet. Dr. Hale and Dr. Huppin will diagnose you by a thorough clinical examination sometimes combined with imaging studies (X-rays, CT and/or MRI). Just as there are many different causes of flat feet, there are also many different treatment options.
Conservative treatment is effective in the vast majority of flat foot cases, and may include orthotics, splints, manipulation, casting, shoe recommendations, anti-inflammatory measures and special strengthening exercises. Surgery is rarely required and is reserved only for the most severe types of flat foot that do not respond to conservative therapy.
Treatment for a tight Achilles tendon may include some combination of stretching and strengthening exercises or possibly physical therapy and orthotic devices. If Posterior Tibial Tendon Dysfunction causes your flat foot, conservative measures may include rest, immobilization, shoe gear modifications, orthotics, bracing, and anti-inflammatory medications.
Depending on the severity, we may recommend casting your foot while the tendon repairs itself. Because Posterior Tibial Tendon Dysfunction is progressive, it is essential to seek medical attention early, as conservative measures tend to fail in the later stages of dysfunction.
Here's a look at some of the other treatment options for flat feet:
Custom Orthotics for Flat Feet
For detailed information, see our complete guide to orthotics for flat feet. Many people who have flat feet have tried both over-the-counter and custom orthotics in the past with poor outcomes. Standard orthotic devices do not provide enough control to support a flatfoot and tend to be either uncomfortable or  ineffective – sometimes both. But medical studies have shown that if made correctly,  custom orthotics can be very effective at relieving symptoms associated with flat feet.
Video: Orthotics for flat feet

It is critical that orthotics for flat feet have the following features to control this foot type:
They must be as wide as the foot (figure 3). Many orthotics made for flat feet are too narrow and end up being uncomfortable because the patient is irritated by the

edge of the orthotic under their foot. Note that you can see the edge of the orthotic just slightly wider than the foot in figure 3. We see many patients for second opinions on orthotics for flat feet. The most common error we see is that the orthotics are simply too narrow for the foot and then they fail to support the foot enough to relieve pain.

Orthotics for flat feet must conform very close to the arch of the foot in order to prevent collapse (figure 4). Note how

the orthotic conforms very tight to the arch in figure 4 and how it gaps in figure 5. The orthotic in figure 5 will not adequately support the arch of the foot.

They must be firm enough not to collapse under the foot. If the orthotics are overly flexible they will not prevent the collapse of the arch that leads to pain.
When the experts at the Foot and Ankle Center craft custom orthotics for you, we ensure effectiveness and we guarantee comfort. Proper orthotics can help prevent further flattening of the foot and the need for surgery. Depending on your condition, we may recommend OTC orthotics or specialized custom functional orthotics for flat feet. In some more severe cases, an ankle-foot orthotics may be necessary.
Read more here in our guide to orthotics for flat feet about why our orthotics tend to work better.
Over-the-counter Orthotics for Flat Feet
While we do recommend OTC orthotics for many foot problems, they typically do not provide enough support to relieve the pain associated with flat feet. A very specialized custom orthotic is usually required to support the tremendous forces applied by the flat foot. If, however, you are not able to make it in to see us and want to try a prefabricated orthotic, our recommended over-the-counter arch support for flat feet is the FootChair Podiatrist Designed Adjustable Arch Orthotic. The FootChair insert provides more support and comfort via adjustable arch pads.
Ankle Foot Orthotics for Flat Feet
More severe cases of flat foot may require the use of ankle foot orthotics (AFOs). One benefit of this treatment is that several studies have shown that, after a period of wearing the AFO, many patients improve to a point that they will later only need foot orthotics.
Strengthening Exercises for Flatfoot
We will prescribe specific strengthening exercises for your particular condition and symptoms.
Flatfoot Surgery
Flat feet that do not respond to conservative therapies, generate ongoing pain, and/or continue to cause other problems, may require surgery. The surgical procedure recommended will depend on the type and severity of your flat foot, as well as your age. However, we will not consider surgery until all conservative treatment options have been exhausted.
Shoes for Flat Feet and Fallen Arches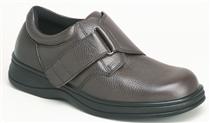 In addition to the above treatment options, we will recommend specific shoes that offer greater support for the flat foot. Just like high arches, flat fleet pose problems when it comes to finding a good fitting shoe. The shoes should treat the symptoms, such as over-pronation in flat feet, and provide greater stability. By doing this, the flattening of the foot and strain on the muscles will be prevented.
Shoes for flat feet need to do two main things:
Prevent the arch from collapsing
Prevent the heel from rolling inward
The wrong shoes might not necessarily cause problems, but you are more likely to experience pain associated with flat feet if your feet are not supported properly. Even if you aren't experiencing problems right now, flat feet can sometimes cause these conditions to develop overtime. We can help you find everything from athletic shoes to dress shoes. And, don't worry, they don't have to be ugly.
In addition to orthotics for fallen arches to keep the feet functioning correctly, we have reviewed the best shoes for fallen arches. Our winner, the Orthofeet Shoes for Women and Orthofeet Shoes for Men. Orthofeet has a wide variety of shoe choices from dress shoes to athletic shoes and casual wear. They are specifically designed to relieve foot pain and provide adequate support for fallen and flat arches.
Orthofeet shoes are unique in that they are very comfortable, stylish, and have an adjustable customized fit. They are made for sensitive feet and designed by biomechanical engineers. These shoes include the following features:
Extra depth for a roomier fit with a wider toe box
Soft leather padding with polyurethane foam
Seamless breathable lining to control odor and enhance walking comfort
Ergonomic cushioning sole and an orthotic-friendly design
To see the Orthofeet Shoes that work well for fallen arches, visit the Orthofeet Shoe overview page.
Best Flip Flops and Sandals for Flat Feet
When warm weather rolls around, you may want to wear sandals or flip flops. But most flip flops and sandals do not provide adequate support and stability. Sandals and flip flops with built-in orthotics are ideal for wearing around the house as opposed to going barefoot in the winter and for outdoor wear in the summer. These can help keep foot pain away.
If you have flat feet, we only recommend wearing a sandal with an orthotic foot bed or a removable foot bed to insert a custom orthotic. This keeps the foot area supported and prevents the arch from flattening. The flip flop or sandal should also be specifically designed for walking comfort. Most flip flops are made for fun or style.
But to lessen the chances of foot pain (including ball of foot pain and heel and arch pain) due to flat feet, the sandal must have an orthotic. You and your feet will notice the difference immediately. They will feel more cushioned, stable, and realigned into their natural walking position. We like the Vionic Arch Support Flip Flops and Sandals.
Good quality orthotic sandals not only help prevent foot pain, but they keep the entire lower body in alignment. This can reduce body pain in other areas, such as they ankles, knees and lower back.
Contact the Foot and Ankle Center for Help With Your Flat Foot Pain
The best way to treat acquired flat foot is to never acquire it in the first place. Choosing proper, well-made and well-fitting shoes can help. And arch supports – either over-the-counter or custom – can also help prevent the onset of the adult flatfoot. If you already have flat foot, you don't have to live with the pain. Call the Foot and Ankle Center today for an appointment at our convenient Seattle office on First Hill near Swedish Medical.
Call (206) 344-3808 or click here to schedule online.
References
1. JA Sullivan, "Pediatric flatfoot: evaluation and management," Journal of the American Academy of Orthopaedic Surgeons 7(1) (Jan 1999): 44-53.
2. RL Blake, H Ferguson, "Foot orthoses for the severe flatfoot in sports," Journal of the American Podiatric Medical Association, 81:549 (1991).
3. K Rome, CL Brown, "Randomized clinical trial into the impact of rigid foot orthoses on balance parameters in excessively pronated feet," Clinical Rehabilitation, 18 (2004): 624-630.
4. KA Kirby, "Conservative treatment of posterior tibial dysfunction," Podiatry Management, 19 (2000): 73-82.
5. DR Kuhn, NJ Shibley, et al, "Radiographic evaluation of weight-bearing orthotics and their effect on flexible pes planus," Journal of Manipulative and Physiological Therapeutics, 22(4) (1999): 221-226.