Just how many layers can you cram into your boots? Tights or stockings alone don't work, because your toes get cold. Socks alone don't work, because your legs get cold. Wearing your tights under socks doesn't work, because the socks keep slipping and bunching about your toes. Enter Boottights, perhaps the coolest, and warmest, new idea to come along in a very long time.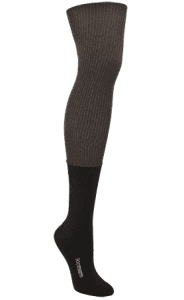 Every woman who loves to wear boots in winter has had this problem, trying to keep her toes warm. Every woman who's had this problem has also tried to figure out her own solution, as well. Boottights solves the problem for you, by combing socks and tights in one stylish piece of clothing. They are wonderfully practical, warm, stylish solution to this nagging problem.
Available in a variety of styles and colors, Boottights are the perfect under-boot accessory for any occasion. From ankle to mid-calf, Boottights offers warmth and comfort for any height boot. From black to argyle, from pinstripe to sheer to flannel, Boottights offer styles for any occasion; from work to dinner out, and for a night out on the town.
New to the market at the beginning of 2011, Boottights have been receiving plenty of attention, not the least from Oprah Winfrey, as one of Oprah's Must Have items for 2011.
The design of Boottights is simple yet effective. A quality sock, designed for comfort and made with moisture wicking fibers, is sewn to a high quality tight. This is the only product on the market designed especially for wearing with boots. You will reduce snags in your stockings, and you will finally avoid having to cram layer after layer of – something – into your boots.
Boottights are available here. Boottights are the best invention to come along in quite some time. Just how many layers can you cram into your boots? With Boottights, the answer is ONE.
If you continue to have problems with cold feet even after using Boottights, there may be a condition which requires medical attention. If this is true for you, make an appointment today at the Foot & Ankle Center of Washington for an examination, diagnosis, and treatment.

Latest posts by Dr. Larry Huppin
(see all)