Many people have flat feet and need pain relief. Also called "fallen arches" or overpronation, flat feet can cause discomfort and lead to other foot and lower body problems. Flat feet result in collapse of arch and an inward tilting of the heel, resulting in a tremendous force on the arch, balls of the feet, tendons and the top of the foot. When flat feet are not supported, there may be heel and arch pain, ball of foot pain, tired feet, bunions, knee pain, back pain and arthritis.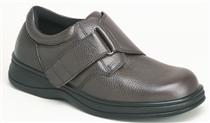 Don't take foot pain on your next trip. Our doctors have national reputations as experts in flat feet—and especially the pain associated with it. We have reviewed the best shoes and supportive devices that relieve pain.
Travel shoes for flat feet should offer stability, good arch support, and removable insoles. The Orthofeet Orthopedic Shoes have both casual and dress shoes for travel and improve the performance of flat feet. This shoe is great for travel with a number of causal and dress styles for men and women.
Additionally, investing in a quality arch support like the Powerstep Medical Grade Orthotic will instantly transfer the force off the balls of the feet. For an even better fit in an orthotic, visit a podiatrist who is skilled in custom orthotics using the latest technology. Custom orthotics have the best arch support for flat feet, but if you want to try an OTC arch support first, try the Powerstep Medical Grade Orthotic.
Are you traveling with children who have flat feet? Read more here…

Lawrence Z.Huppin, DPM is an internationally recognized lecturer and teacher on orthotic therapy and biomechanics.In his Seattle private practice his focus in on treatment of mechanical problems such as heel pain, bunions, ball of foot pain, athletic injuries and children's foot conditions.In addition he specializes in toenail problems including ingrown and fungal toenail conditions. He is always focused on helping patients avoid surgery if at all possible and keeping your medical costs as low as possible.

Latest posts by Dr. Larry Huppin (see all)