Check Out our list of Best Shoes for Nurses to Get You Pain Free in No Time
Are you a nurse dealing with foot pain from standing all day? Today we take a look at the best shoes for nurses that can save your feet, reduce pain, and allow you to focus on patient care rather than your own aches and pains.
We treat many medical professionals in our Seattle Foot and Ankle clinic that suffer foot pain from being on the go all day long. Nurses often deal with foot and ankle problems, knee and back pain, and other ill-effects from standing, running, and being on the go constantly at their jobs.
Nurses, in particular, should think long and hard about their shoe choice because they are prone to overuse injuries thanks to their busy job.
#1 Consider rocker shoes
If you have existing foot pain in your big toe or the ball of your foot, opting for a rocker shoe can address these issues. Because they have thicker and rounded soles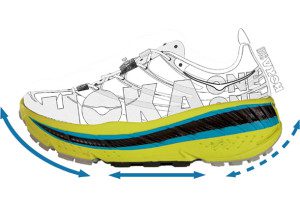 , rocker shoes make up for lost functionality that can be caused by a stiff big toe joint, range of motion difficulties and other ailments.
Rocker shoes are not only one of the best shoes for nurses, they are also good for anyone with foot or ankle arthritis or bunion sufferers. Just know there is a learning curve when you first try a rocker shoe. These shoes alter your center of balance and will change how you step, but they can greatly alleviate certain types of foot pain and wear and tear from standing all day.
Some rocker shoe brands that nurses tend to like include (these are affiliate links to shoes we recommend to our patients):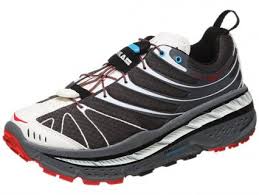 #2 Be careful with clogs
A common footwear choice for nurses are clogs. They are easy to slip off and on, come in some really cool designs, and may feel comfortable at first. But if they are not designed for heavy usage, clogs can cause you serious foot problems. Clogs with no heel coverage, in particular, are problematic.
Clogs with higher heels, no rubber on the bottom, those that are too loose, poorly fit or are low-quality can cause stress fracture, foot pain, back aches, shortened Achilles tendon and sore legs. Invest in clogs that are designed for and specifically state that they are intended for all-day wear while standing. Some high-quality clogs to consider include those made by Dansko which is endorsed by the American Podiatrical Medical Association (AMPMA).
#3 Rethink what "orthopedic" means
When you hear the term "orthopedic shoes", you probably get a vision of 1960s era white lace-ups that nurses in crisp white uniforms and the funny little hats wore. That is not true of today's orthopedic shoe options. An "orthopedic" shoe is simply footwear made to address a particular foot or ankle issue.
If you are a nurse that is on your feet all day and have a chronic foot or ankle condition, this is an option to consider for your daily footwear. These shoes will have more padding, greater support, and should conform to your feet to keep them happy and healthy all day long.
Some stylish orthopedic brands to consider include: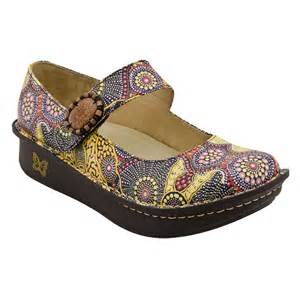 Orthofeet (check out the memory foam models)
Alegria (see the cool Mary Jane styles)
PW Minor (for hard to fit feet. Tons of size options available)
#4 Since you run all day, why not running shoes?
Nurses may feel like they are quite literally on the run all day – so running shoes are another great option to keep your feet supported and in tip-top shape. Running shoes can keep your feet stable, your ankles and arches supported, and can be purchased in wider widths to accommodate your foot shape.
If you have problems with your ankles rolling, cross trainers can be a good option since they rise up higher on the ankle. Walking shoes are NOT as good as running shoes because they have thinner padding. To add more relief, consider over-the-counter or custom orthotic inserts for your trainers.
Some running shoes to consider include: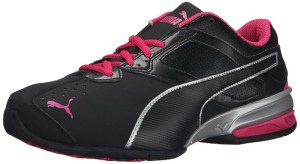 #5 Consider inserts in your shoes for better support
If you have very high or very low arches (or non-existent arches), you may want to invest in inserts for your shoes. You can try high quality over-the-counter ones that have excellent arch support.
Our most recommended prefabricated orthotics for nurses and others who spend a of time on their feet are the FootChair Podiatrist Designed Orthotic with adjustable arch height.
FootChair orthotics provide excellent support in the arch plus the arch height can be adjusted via pads that can be inserted under the cover. These arch supports are designed to be as close as possible to a custom orthotic. Skip the Dr Scholl's orthotic kiosk – those are about the same cost as the FootChair Adjustable Arch Support and provide almost no support.
If a pre-made orthotic doesn't address your foot aches, consider coming in to our Foot and Ankle Center in Seattle for a foot evaluation and custom orthotics consultation. Custom orthotics are more costly, but they last longer and can often reverse foot and ankle ailments suffered by nurses who stand all day.
#6 Proper socks are a critical component of foot comfort
Socks are also an important consideration that busy nurses may not stop to consider. Cotton is not a good choice because it soaks up moisture, can bunch, and rub your feet raw. Compression socks can be a good choice to keep your circulation going while you stand for hours.
New Balance, Smartwool, Swiftwick and Drymax are all brands to consider. One of our favorite brands is Thorlo as they provide superior cushion at the forefoot and the heel. You want a padded, snug sock that won't bunch or ride down under your heel, that wicks moisture, and won't rub blisters onto your feet. Also, throw out socks that have worn spots or holes as soon as you notice the excess wear.
#7 Put your shoes on a replacement schedule
One of the most common reasons we see patients with foot pain is that they simply wore their shoes past the point they were excessively worn. Consider purchasing several pairs of shoes that work for your feet and rotate between them (one pair of orthotics can be moved from shoe to shoe) and, if you wear the same pair continuously, replace them every six months or so because the stabilizing and supportive materials will break down.
If you're a nurse with achy feet, ankles, toes or back from long days on your feet, come see us at the Foot and Ankle Center of Washington near Swedish Medical in downtown Seattle. Call 206.344.3808 or make an appointment online in our patient portal to discuss your foot issues – let us help you get pain-free today.

Latest posts by Doctors Hale and Huppin
(see all)