Are you preparing for a trip to Europe? If so, you've likely to spend a lot of money on your trip, so don't forget to invest a little in your feet. Travel to Europe often means doing a lot of walking and standing. You don't want to end up spending your trip in your hotel room with foot pain.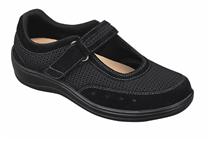 To prepare, the best shoes for European trips we recommend are the Orthofeet shoes for travel (here is the link for women's shoesand the link for men's shoes). We like these shoes because they help prevent one of the biggest complaints of travelers: top of foot pain.
This pain tends to happen because the foot is flattening too much and the arches are not supported. To prevent pressure on top of the foot, a shoe that is a little deeper than average in the toebox is helpful.  The Orthofeet shoes are made to be deeper but still look good. These are not your grandma's orthopedic shoes!
Here are some must-have guidelines for travel shoes:
Support and prevent pressure. Travel shoes should have a firm heel and torsional stability. This means the shoe shouldn't twist when you grip it in your hand and it should stay firm if you try to bend the heel area. Stability is important as you are uneven surfaces are common, such as pebble-lined streets in European cities.
Choose a removable insole. If you decide to buy the Orthofeet shoes for travel, it's best to remove the insoles before your trip as they're not very stable. Instead, immediately replace the insole with a high quality extra stable arch support, such as the FootChair Podiatrist Designed Orthotic with adjustable arch. The FootChair has the best arch height we have found on an over-the-counter arch support to transfer pressure off your joints as it is the only OTC orthotic to have an adjustable arch.
Wear a black or brown shoe made of leather. The darker color helps the shoe to be appropriate for sightseeing, day hikes, and evening restaurant outings. A stretchable leather shoe gives you feet more room, if necessary. Remember, feet tend to expand and swell after a day of walking or standing.
Combine the perfect shoe with correct socks. A good shoe should be combined with the correct sock—otherwise, blisters can ruin a vacation. Wearing noncotton socks prevent this problem as they wick moisture away from the feet and cause less friction. Black Juzo Socks are a perfect choice for European travel and we highly recommend these to our patients.
Plus, as a bonus, if you are walking around Paris carrying your Rick Steves' guidebook, you probably don't want to look like a typical American tourist. Dark socks and shoes help you blend in and travel in Europe like a pro!
Try the Orthofeet travel shoes – available here.

Latest posts by Dr. Larry Huppin
(see all)