Sandals with Proper Arch Support Can Relieve Knee Pain
Did you know that knee pain is often related to foot dysfunction? This means that proper footwear could have dramatic effects on bad knees. Below you will find recommendations on sandals that have adequate arch support to treat knee pain such as runners knee and knee arthritis.
It is very important to keep in mind that not all knee pain is related to foot function. If stable shoes, orthotics and the sandals listed below do not help, be sure to contact us for an appointment or see your primary care doctor.
You can find detailed information on how foot function can affect knees and how correcting foot function can cure knee pain on our orthotics for knee pain page or by watching the video below:

Best Sandals to Relieve Knee Pain
There is a lot of evidence that orthotic devices can help to re-position the foot so that in many cases they reduce or eliminate pain in the knees. But if you are not wearing shoes it can be difficult to wear orthotics. Luckily there are several sandals on the market that have exceptional arch support and can help prevent excessive foot pronation that leads to knee pain.
What Kind of Support is Needed in Sandals to Reduce Stress on the Knee
In order to help reduce painful stress on the knee the orthotic portion of the sandal must support the foot in such a way as it stops the knee from rotating inward excessively (as shown in the right hand figure). The goal is to keep the knee functioning straight ahead when you walk. To accomplish this the sandals MUST  include these two features:
Conform very close to the arch of the foot. By conforming close to the arch the flip-flop or sandal will stop excessive pronation that leads to collapse of the arch, rolling in of the heel and rotation of the lower leg. This rotation is what causes the knee to go out of alignment and can be seen in the figure.
Have a Deep heel cup. A deep heel cups help limit excessive rolling in of the heel. It is when the heel rolls in that the knee rotates to the inside and goes out of line.
With this type of support the knee is kept in better alignment, abnormal stress is decreased and pain is reduced.  The sandals listed below contain these features. These are the sandals we recommend to our patients and they are also affiliate links so we may receive a small commission if your order from the link.
Sandals with Built-in Arch Support 
There are actually very few brands of sandals on the market that have the features necessary to prevent excessive foot pronation that leads to knee pain. The sandals listed below are ones we have found to have both exceptional arch support and a deep heel seat. These will provide the type of foot support that helps most patients with foot related knee pain. Keep in mind that not all knee pain is related to foot function. If your knees don't feel better when wearing these sandals be sure to contact us or your primary care doctor.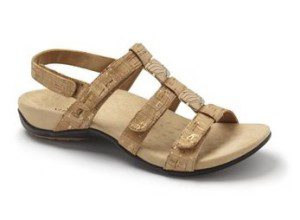 Our favorite sandals and flip-flops are from the company Vionic. These sandals come in many styles but all of them have exceptional arch support and a deep heel cup.  You can see many models of Vionic sandals here.
All of these casual summer sandals provide arch support and help for bad knees. They come with a build-in orthotic footb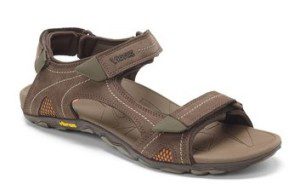 ed that is designed to conform closely to the arch in addition to a deep heel seat that limits foot pronation. This helps keep the knees, feet, and ankles in alignment.
Sandals with Removable Insoles to Allow a Custom Orthotic
There are also sandals for bad knees that are dressier that allow the insertion of a custom or doctor-prescribed orthotic. This is a prescription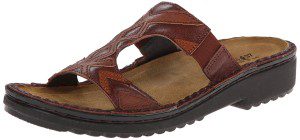 medical device that is designed to fit the arch of your foot perfectly. If you have bad knees and want to wear sandals or clogs, be sure to purchase a sandal with a removable insole, such as the Women's and Men's Naot Sandal. These are stylish, comfortable and supportive.
In order to get custom orthotics for sandals you first have to purchase a sandal with a removable insole. We find that the Naot have the best shaped insole to replace with a custom orthotic. Then make an appointment to see us in our Seattle foot and ankle clinic so we can evaluate you for orthotics, take an image of your feet and have your orthotics made. We will need to send your sandals to the orthotic lab to ensure a perfect fit. If you are not in the Seattle area try to find a podiatrist who specializes in orthotic therapy to help you get your orthotics. Not every podiatrist is an expert in orthotic therapy so do your research to make sure you find one who is an orthotic expert. That is is the only way to ensure you get the best orthotics to help your knee or foot pain.
If you have bad knees and want summertime footwear, try our orthotic sandal suggestions, and make an appointment with a local podiatrist to get evaluated. If you live in the Seattle area and want to visit with Dr. Huppin or Dr. Hale, click here for an appointment.
This video from Vionic shows in more detail how Vionic sandals can help knee pain:


Lawrence Z.Huppin, DPM is an internationally recognized lecturer and teacher on orthotic therapy and biomechanics.In his Seattle private practice his focus in on treatment of mechanical problems such as heel pain, bunions, ball of foot pain, athletic injuries and children's foot conditions.In addition he specializes in toenail problems including ingrown and fungal toenail conditions. He is always focused on helping patients avoid surgery if at all possible and keeping your medical costs as low as possible.

Latest posts by Dr. Larry Huppin (see all)