If you Have High Arches, Your Flip-flops Should Have High Arches Too
Video: Best Sandals and Flip-flops for High Arches

High arched feet have a number of challenges. Since the weight of the foot is primarily concentrated in only two areas (the ball of the foot and the heel), there can often be localized pain and decreased stability.
The challenge if you want to wear flip flops is to spread the weight over a larger portion of the foot. For those people who have high arches, wearing an orthotic flip flop with a very high arch support is ideal. This allows the orthotic to better match the arch of the foot and have proper weight distribution.
Flip-flops and Sandals for Higher Arches
Our favorite brand for people with cavus feet (high arches) is Vionic. Vionic sandals have the highest arch support of any flip flop or sandal currently on the market.  There just isn't any other brand currently on the market that comes close. They are the most supportive flip-flop and a good alternative to going barefoot. You can see all of the Vionic sandals here.
Here are a few specific Vionic sandals to choose from.
Sport Sandals for High Arches
The Vionic Muir for women and the Vionic Boyes for men have excellent arch supports and strapping that will hold your foot in place on uneven ground. Like all Vionic sandals they have an arch support high enough to help people with high arches.
The Muir and Boyes provide orthotic treatment to reduce foot pain associated with high arches. They have motion-control footbeds to absorb shock and stress on feet.
Dress Sandals for Women with High Arches
Vionic also makes a dress sandals with the same excellent arch support.  You can see a number of different dress sandals for high arches here.
Sandals for the Super High Arch – Custom Orthotic Sandals
Vionic offers the highest built-in arch on the market. If your arch is so high, however, that Vionic isn't high enough to relieve your pain then you can get a sandal that has a removable insole and we can make a custom orthotic to fit your sandal. First, you can learn more about orthotics for high arches here.
In this situation you need to find a sandal that has a removable insole and then make an appointment to see us in our Seattle clinic (or another podiatrist who specializes in orthotic therapy) so that we can make you a custom orthotic to go inside the sandal. This orthotic should be made so it conforms extremely close to the arch of your feet. This is called a total-contact orthotic.
There are a several brands of sandals that have removable insoles and will accept a custom orthotic. Those include:
Naot: Many, but not all, Naot sandals have removable insoles and will allow the use of a custom orthotic. You can see a selection of Naot sandals here.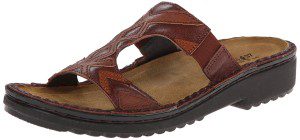 Alegria:  Again, most of the Alegria sandals have removable insoles to allow us to u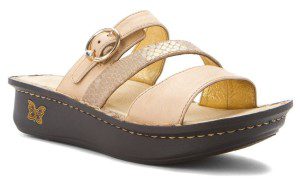 se a custom orthotic. They also have a rocker sole that can help with problems such as ball of foot pain and heel pain. You can see Alegria sandals here.
Finn Comfort:  Finn makes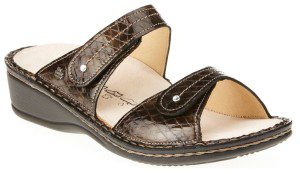 both men's and women's sandals with removable insoles. You can see a full selection of Finn Comfort sandals here. 
All of these sandals are available for both men and women.
If you are in the Seattle area and need custom orthotics for these sandals, make an appointment to see us and be sure to bring the sandals with you. If you are not in the Seattle area find a podiatrist near you who specializes in orthotic therapy. This is a fairly small percentage of podiatrists who specialize in biomechanics and orthotic therapy so be sure to do your research so that you can have the best chance of getting the best orthotics for your feet. We do have a list of good podiatrists in other areas here.

Latest posts by Dr. Larry Huppin
(see all)