Best Basketball Shoes for Weak and Painful Ankles
If you have weak ankles, you will want to ensure that your basketball shoes help to stabilize your ankles. You should look for several features: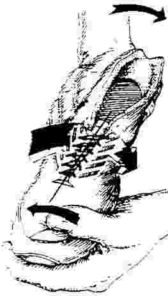 Shoe Features that Improve Ankle Stability
Torsional stability: This means that the forefoot portion of the shoe should not easily twist on the rearfoot (see figure 1). Grab the heel of the shoe and hold it firmly. Try to twist the front of the shoe clockwise and counter-clockwise. There should be very little movement. This is the most important feature that improves ankle stability.
High top:  High top shoes in general offer more ankle support than low-top shoes. This isn't always the case as a torsionally stable low-top shoe provides  more ankle stability than a torsionally unstable high top. But given the same torsional stability the high top is a better choice. More information on high top shoes can be found below.
If you have weak or painful ankles be sure to get an ok from your doctor before playing basketball. You can learn more about ankle conditions at these links:
Replace Basketball Shoes OFTEN for Best Ankle Protection
More important than getting any specific shoe is to replace your basketball shoes very regularly if you have ankle problems. Basketball shoes can wear out really fast and when they wear out even a bit you put your ankles at risk.
How often should you replace basketball shoes if you have bad ankles? Probably more than you think.
According to the American Academy of Podiatric Sports Medicine (AAPSM), the best basketball shoes for bad ankles are the shoes that are replaced regularly. AAPSM suggests replacing shoes once a month for high school athletes, and even more frequently for college and professionals.
Due to the unusual stress that is placed upon a basketball shoe, the pounding and increased lateral movement, as opposed to running for example, the shoe will tend to break down more quickly than other types of athletic shoes. The leather upper will stretch, reducing ankle support, and the cushioning will become less effective. As a result, even the best basketball shoes should be replaced more frequently than these other types.
High Tops are Best if You Have Ankle Pain or Weakness
With 68% of NBA players using high-top basketball shoes for improved ankle support, AAPSM also recommends these shoes over mid-rise or low-rise shoes.
"'Basketball requires a lot more side-to-side motion than other sports, like running,'" said Daniel Nguyen, a physical therapist with Memorial Hermann Sports Medicine and Rehabilitation in Texas. "'That makes ankle support more critical, so many people prefer a high-top shoe.'"
"Anyone who has weak ankles or has previously sprained their ankle should definitely wear a high top, added Nguyen. However, someone who plays basketball occasionally might be fine with a mid-rise or low-top shoe, particularly if that person is looking for a shoe that is more versatile for other sports than a high top" (Excerpted from, "Get the Best Hops for Hoops: Comfort, Stability Important in Basketball Shoes, Experts Say". Excerpt here.)
Our Recommended Basketball Shoes for Bad Ankles
Here are our current recommended basketball shoes if you have problems such as weak ankles (again, get a full evaluation before playing if you have weak ankles. The right shoes can help but you will likely require a complete treatment plan).
These all are among the current most stable high top basketball shoes. We try to update this list every few months as basketball shoe models tend to change rapidly.
Download our free Recommended Shoe List (which includes basketball shoes).
If you are in the Seattle area and have ankle problems, contact us to make an appointment. Be sure to bring your shoes with you for an evaluation of the fit and support.

Latest posts by Dr. Larry Huppin
(see all)