Every year Seattle residents come out in force to support the Susan G. Komen Race for the Cure, which takes place in early spring, to support breast cancer research. In the fall, the Komen organization also promotes the Susan G. Komen 3-Day, a fund raising, team building event in which participants walk 60 miles over three days to support the cause.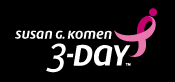 While we are extremely proud of our fellow Seattle residents for supporting this great cause, each year we are visited at our foot and ankle center by patients who were not ready for the 3-Day and who come to us with some sort of foot injury.
Common injuries from a long distance walking event such as this may include blisters, calluses, heel pain, arch pain, shin splints, and ankle sprains. By being prepared for the stress this event may cause your feet, these injuries can be easily avoided. To prevent injury from your participation in the Komen 3-Day walk this September 20-22, follow these easy but critical steps:
A good pair of shoes will make all the difference. Do not go cheap for a marathon walking event like this.
Take the time to break in a new pair of shoes before the 3-Day begins.
Fit…Fit…Fit is the key to an enjoyable experience. You will need good arch support, a stable heel, and a well-cushioned sole. Check out our Free Recommended Shoe List and our Shoe Fitting Tips.
Check the toe box for roomy fit, allowing the toes to flex.
Avoid wearing brand new stuff, like shoes and shorts. Stick with something that is broken-in and comfortable.
Wear quality socks, like moisture wicking athletic socks. Cotton will be too abrasive over such a great distance, so wear some "modern" socks.
Trim those toenails.
Take off your foot jewelry – especially do not wear toe rings.
While the goal of the Komen 3-Day is noble, the experience should also be enjoyable for the participants. With some training – beginning as soon as you can – along with proper foot care and a good pair of shoes, your walk for a cure for cancer will be just that.
If you have never done the 3-day walk before, make an appointment to see Dr. Huppin or Dr Hale prior to the walk.  Preferably, we would like to see you several months before the event.
Also, if you are unsure whether your feet will withstand the Komen 3-Day experience, or if you have a foot condition which might prevent your participation, make an appointment with your Seattle podiatrist today at the Foot & Ankle Center of Washington so that we can help you be ready by the fall.
Latest posts by Dr. Douglas S. Hale
(see all)