One of the most common foot complaints is pain in the ball of the foot. Neuromas usually occur in the area of the 3rd or 4th toe. Wearing high heels can increase the pain since heels cause increased pressure on the ball of the foot. When there is too much pressure on the ball of the foot, the symptoms of a neuroma can increase.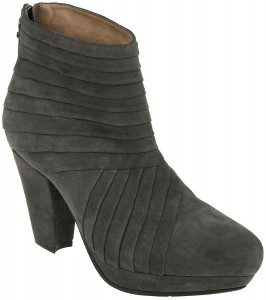 Wearing a high heel that has a built-in orthotic will transfer pressure off of the ball of the foot and give the foot more protection and comfort. This can help with a number of foot problems, and especially for ball of foot pain and neuromas. We have reviewed many high heels and one of our favorites is the Earthies High Heels. There are dozens of styles to choose from in this brand of fashionable, healthy high heels.
When choosing a high heel to wear with a neuroma, it's important to have a sole that supports the arches. This helps to prevent motion and pressure in the area of the forefront of the foot. A supportive, high heel cradles the foot with a contoured footbed or rocker sole. It is also helpful to choose a high heel with a wider toe box.
The Earthies High Heels and Boots are dress shoes that can help with pain associated with a variety of foot problems. If you have a neuroma or difficulty wearing high heels, these high heels are worth a try.
Buy a pair of Earthies High Heels and Dress Shoes here.

Lawrence Z.Huppin, DPM is an internationally recognized lecturer and teacher on orthotic therapy and biomechanics.In his Seattle private practice his focus in on treatment of mechanical problems such as heel pain, bunions, ball of foot pain, athletic injuries and children's foot conditions.In addition he specializes in toenail problems including ingrown and fungal toenail conditions. He is always focused on helping patients avoid surgery if at all possible and keeping your medical costs as low as possible.

Latest posts by Dr. Larry Huppin (see all)