People with flat feet tend to have arches that collapse (sometimes called fallen arches or pronation). This is a common foot problem and while in most cases the flat foot itself does not need to be corrected, it is possible to alter the painful symptoms, including heel pain and ball of foot pain.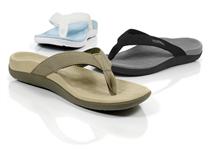 One way is through wearing orthotic flip flops sandals, rather than going barefoot. Supportive flip flops transfer force and decrease pressure off the ball of the foot. If your feet are hurting and you would rather not wear shoes with orthotics when it's hot outside, orthotic flip flops are a good alternative for summer.
The best flip flops for flat feet are the Wave Flip-Flop Sandal – available here.This is a doctor-recommended flip flop that is also stylish, sporty, andbuilt to cushion the arch of your foot. It has deep heel cups that stabilize, support and realign the foot back into its natural position. The technology in the sandal is also clinically proven to reduce excess pronation. Plus, a fully waterproof design makes this an ideal beach and pool flip flop.
Click here to see additional recommended Orthaheel orthotic flip flop sandal choices that are similar to the Wave Flip-Flop Sandal.
Watch a 3-minute video about flat feet and how to correct the problem using orthotics.
Latest posts by Dr. Douglas S. Hale
(see all)