Best Children's OTC Orthotics
There are several prefabricated orthotics (often called arch supports) that we often recommend for children. We use them most often for treating flat foot, heel pain, tired feet and growing pains. Although usually not as effective as custom orthotics, prefabricated orthotics are much less expensive and often provide good results.
In many cases we will begin treatment with a prefabricated orthotic and use custom orthotics only if those do not provide adequate support.
If you have any concerns about your child's feet, contact us today for an appointment.
We have evaluated many over-the-counter children's orthotics and these are the ones we recommend the most to our patients. The first one is available only from physicians. The others can be purchased online. Please read this important disclosure about the products recommended in this article.
Our 3 Favorite Arch Supports for Kids
P3 Kiddythotic:
Ages:  1 – 7
Review: This is the best OTC arch support we have found for treating children's heel pain and flat foot. It incorporates many features usually found only in custom orthotics including a deep heel cup, a medial flange (extra wide arch), rearfoot post (stabilizer on the heel) and a higher arch.
If your child is a patient in our office, this is the arch support we recommend the most.
Cost: P3 Kiddythotics cost about $65 per pair and are currently only available directly from medical professionals.
Ages: 1 – 7
Review: Although not quite as supportive as the P3, this is the a very good OTC arch support for the price. This device is probably best for kids with mild – moderate pain and a fairly normal arch.
Children who are very flat footed will do better with the P3 orthotic above but this is the best one we have found that can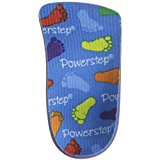 be purchased without seeing your doctor.
We recommend PowerKids for children up to about age 7.
Cost: PowerKids run just over $30 and you can get PowerKids here.
Ages:  7+
Review: Like the PowerKids, these are not as supportive as the P3 Kiddythotics, but for kids over age 7, they are the best OTC devices we have found that can be purchased online.
Cost:  Superfeet Junior cost about $40 and can be found here.
We specialize in children's foot conditions
If you are in the Seattle area and you have any concerns about your child's feet, bring them in for a foot check-up. You can make an appointment for your child here.
If you are outside of Puget Sound, try these arch supports for about 3 weeks. If your child is not feeling better, see a podiatrist in your area who specializes in kids feet.
Video: Flat Feet in Kids – What Parents Need to Know