The problem: a callus or numbness on the side of the big toe, leading to pain or a feeling of numbness or tingling.
The cause: a stubborn, inflexible big toe that forces the foot to roll to the inside during walking. This can result in calluses and pinched nerves, causing pain and numbness.
Want a home remedy? Try our 6-step home treatment plan.
Video: How to Treat Big Toe Numbness and Callus Formation
A common big toe problem is a callus and/or numbness on the side of the big toe. This can cause pain on the side of the big toe along with a feeling of numbness and tingling.
Try the 6-step home treatment plan below for three weeks.  If your pain, numbness and callus are not gone, call 206.344.3808 or use our Patient Portal to make an appointment.
What Causes Calluses and Numbness of the Big Toe?
A callus, pain or numbness of the big toe is caused by a jamming of the big toe joint during walking. This is called hallux limitus. When the big toe cannot move fully as you step forward, you are forced to roll off of the side of the toe. This pinches the skin and causes the callus. It can also irritate the nerve in the toe and cause numbness and pain. This condition is called "compressive peripheral neuritis", which is an inflammation of the nerve in the toe due to excessive compression of the nerve.
Numb big toes and calluses on the big toe are also very common in patients with bunions. In fact, these problems are present in most patients with bunions. This is because patients with bunions are forced to roll over the side of the big toe – this pinches the skin causing the callus and numbness. But you don't have to have a bunion for these problems to occur.
What is the Most Effective Treatment of Big Toe Calluses and Numbness?
Since a lack of motion of the big toe joint causes the big toe corn or callus, the best way to treat it is to use shoes and orthotics that enhance big toe motion. You want to use stable shoes (available on our shoe list). Custom orthotics can be prescribed specifically to give the big toe joint maximum motion in order to eliminate or reduce callus formation. For very best results and reduction of the callus, this requires a very specific orthotic called a "total contact orthotic". Several studies have demonstrated that they can improve big toe motion. To be evaluated for orthotics to treat your big toe callus, make an appointment to see us in our Seattle foot and ankle clinic.
It is critical that any orthotic used to treat numbness or callus of the big toe works to enhance motion in the big toe joint. This is the only way to effectively reduce pressure on the medial side of the toe. The video below provides a full explanation of what either a custom or a prefabricated orthotic must do in order to treat this problem. (Note: This video was produced as an educational video for podiatrists and so it may be a bit technical).
What are Home Treatments for Big Toe Callus and Numb Big Toe?
Home treatments for calluses and neuritis of the big toe are focused on improving motion of the big toe joint and getting rid of the pressure on the side of the toe that leads to callus formation and numbness due to pressure on the nerve.
To improve motion of the big toe, you must support the arch and transfer pressure off of the big toe joint (see the video above for details on how this works).
The products below will help you prevent and treat the callus. 
Disclaimer: This page contains affiliate links, meaning we receive a commission if you decide to make a purchase through our links, but this is at no additional cost to you. Please read our disclosure for more info.
Try the following 6-step treatment plan for three weeks.  If your pain, numbness and callus are not gone, call 206.344.3808 or use our Patient Portal to make an appointment or find a podiatrist in your community who specializes in biomechanics and orthotic therapy.
1. Use an Arch Support in Your Shoes
This will act to improve motion of the big toe joint so that you are less likely to roll of over the side of the toe.  OTC arch supports will not work as well as a custom orthotic because they don't conform as close to your arch (see video), but will help.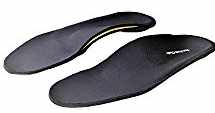 For full size shoes the one we have found has the best ability to reduce pressure on the big toe is the FootChair Orthotic with adjustable arch height.  FootChair has excellent arch support so it is very effective at transferring pressure off of the big toe joint  region and improving big toe joint motion. Plus it comes with pads that can increase the arch height if necessary to further improve big toe joint motion.  This reduces the pressure and frictions that leads to numbness and callus formation.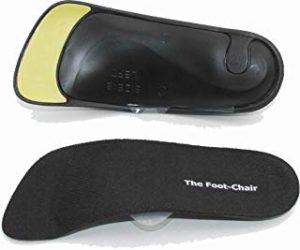 For women's dress shoes including flats and high heels  we recommend the FootChair Slim Orthotic with adjustable arch height.  de4It also has excellent adjustable arch support but is made to fit in women's flats and heels.
For soccer cleats and men's dress shoes we also recommend the FootChair Slim Orthotic.
2. Use Arch Support Flip Flops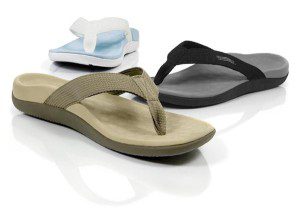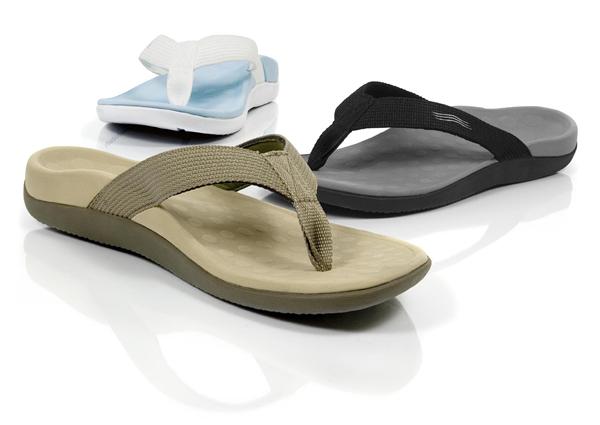 Around the house, don't go barefoot. Use a sandal with an arch support. This will act to decrease pressure on your big toe joint. We recommend the Vionic Flip-flops and Sandals for its superior arch support.
3. Wear a Stable Shoe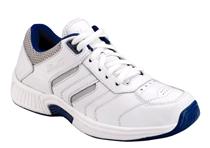 This will help prevent your foot from rolling into the big toe. These Orthofeet walking shoes are good examples. This brand is exceptional in the support they provide. 
4. Grind Away the Callus with an Electric Grinder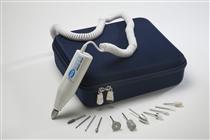 Grinding away the callus will decrease the pressure that leads to pain and numbness. The easiest way is to use a electric grinder like Brurer Electric Nail Grinder. Use it after a bath or shower when the skin is soft.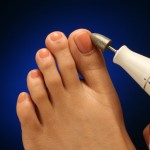 We have tried many of these grinders and find that many are under-powered and stop turning when a little force is applied. This one is salon grade and will give you the smooth feet you want. 
Instructions for Grinding Callus to Get Smooth Skin:
First take a bath or shower or soak your feet
Use the Large Sapphire Cone Bit (Figure 6) included with Beurer Electric Nail Grinder, to grind the thickened skin on the side of the toe or at the big toe joint.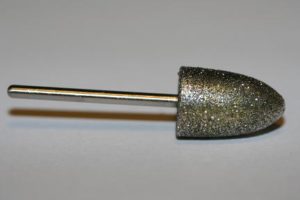 Use gentle pressure and grind it thinner until it is normal thickness and smooth or starts to get warm.
If it gets warm, stop and then do a little more later or the following day.
Continue grinding a little each day until the callus is gone and the skin is smooth.
5. Buff away the callus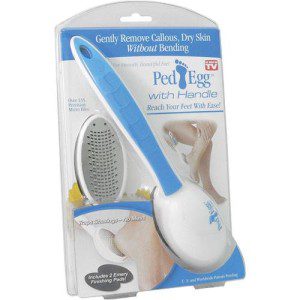 Another option to get rid of the callus on your big toe is a exfoliating tool such as the Ped Egg. This takes longer than the Pedinova grinder, but it is less expensive.
6. Use an Exfoliating Cream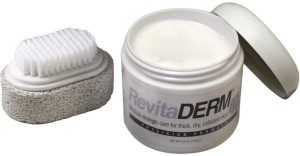 An exfoliating cream will help get rid of the thickened skin that is causing pain and numbness of the big toe. Put this on each night after you use the grinder or Ped Egg on your callus. The cream we most often recommend to our patients is Urea 40% such as this Urea Cream 40.
7. Use a Callus and Blister Prevention Patch on the Insole of Your Shoe.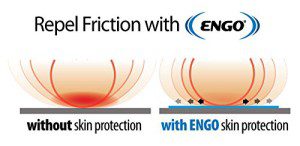 These callus and blister prevention patches are made of a material called Polytetrafloroethelene or PTFE. PTFE has an extremely low coefficient of friction so it can dramatically decrease the friction forces that lead to callus formation.
In fact, PTFE was developed originally as a suture material for fragile structures like blood vessels and nerves. Because it causes so little friction it doesn't harm these very thin and fragile structures.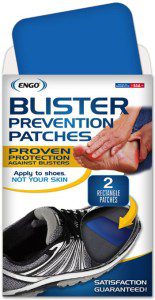 PTFE is also available in a self-stick patch under the brand name Engo. Engo patches can be applied to the insole of the shoe or on top of an orthotic right under the big toe.
Applying these patches will help to decrease friction and by doing so will help prevent the formation of calluses and blisters.
Engo PTFE patches can also be applied inside the shoe in areas at risk of blistering. Just cut out the shape you need and then peel and stick. The Engo patch should extend about 1/4 inch beyond the edge of the of the callus. You can get Engo PTFE patches here.
 Video: How to Treat Pain in the Big Toe Joint