Traveling over long distances can be tough on the feet. Sitting for long periods, whether in a car, bus, or airplane, can cause swelling and poor circulation, resulting in discomfort and foot pain. Especially for those already suffering from plantar fasciitis, heel spurs, bunions, hammertoes, corns, Morton's neuroma, and swollen feet and toes, long distance travel can be particularly problematic – and painful.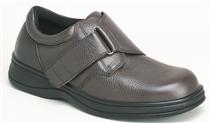 Orthofeet Men's Shoes
Finding a comfortable shoe for traveling when you are already suffering from these conditions can be problematic at best, while seeming impossible at worst. We have a solution for you, our most recommended brand of men's shoes, Orthofeet men's shoes.
The Orthofeet men's shoes line of products is very stylish and comfortable. In fact, they include all the comfort and protection features necessary to treat sensitive feet: extra depth, soft leather padded with foam, a seamless breathable lining, an ergonomic cushioning sole, orthotic friendly design, and more.
The Orthofeet line is quite stylish and comes in a variety of widths, including XX Wide (or 2E) in some styles, and up to a Men's size 15. Some models of Orthofeet shoes are also designed with unique, revolutionary closures, including the Tie-Less Lace and Slip-On closure systems. Orthofeet shoes are also available at very competitive prices. Orthofeet shoes come with a 100% Satisfaction Guarantee, offering relief from foot pain. Use this link to see all of your Orthofeet Men's Shoes choices.
From casual to dress shoes, from sport casuals to athletic and walking shoes, from hiking boots to slippers, sandals, flip flops or therapeutic shoes, the Orthofeet men's shoes line of products has every style you may be looking for. Stylish yet comfortable, supportive yet affordable, Orthofeet men's shoes are the perfect choice for travelers, or anyone seeking relief from chronic foot pain.
For more information on travelling shoes for men, feel free to take advantage of our Free Recommended Shoe List, as well. Register here to receive our free List of Recommended Shoes.
Beyond a good pair of shoes, however, relief from chronic foot pain can be found with treatment for your foot condition at The Foot & Ankle Center of Washington. Contact us today for an appointment.
Latest posts by Dr. Douglas S. Hale
(see all)