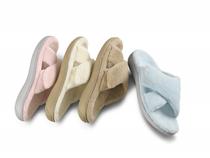 If you have plantar fasciitis or heel and arch pain, supporting the arches is important for treatment. For many patients, we recommend wearing supportive footwear with orthotic foot beds while at home. These keep the arches from continuing to collapse, reducing the intense heel pain and chance for the treatment to fail.
When the heels and arches are supported with orthotics, the plantar fasciitis will decrease in tightness and release. Orthotic slippers and sandals are a comfy alternative to assist in this process. They provide the benefits of arch and heel support without being cumbersome to wear.
We have reviewed the best slippers and sandals for this purpose. These are some of the podiatrist recommended options we suggest to patients:
Orthaheel Women's Relax Slippers: These are our favorite arch support slippers for women. They are podiatrist-designed with orthotic foot beds that help stabilize, support, and realign the feet back to their natural position.
Orthaeel Men's & Women's Kiwi Slide Sandals: These sporty sandals can be worn as a supportive shoe at home, while allowing your feet room to breathe. They are extremely comfortable with added orthotic midsoles and adjustable strap.
Visit the Foot and Ankle store for a complete list of podiatrist recommended products.
Douglas S. Hale, DPM, is an advisor for the International Foot & Ankle Foundation for Education and Research. He graduated with honors from both Tulane University School of Engineering and the Dr. William M. Scholl College of Podiatric Medicine. His engineering background gives him a unique perspective treating your problem biomechanically or surgically and believes in doing what is best for your medical condition. If all options for treating your problem "biomechanically" are exhausted, he provides the same level of capability and experience with surgical solutions.
Latest posts by Dr. Douglas S. Hale (see all)