We like to do product reviews, especially during the holiday season when more people are prone to wearing dress shoes. High heeled shoes are hard on the feet and uncomfortable. They can cause ball of foot pain, heel pain, bunion pain and toe pain.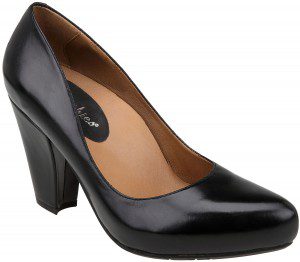 If you want to wear high heels this season, it's important to choose healthy ones that keep the foot supported and in alignment. For a high heeled shoe that is attractive, comfortable, healthy try the Earthies Talera High Heel. This fashionable shoe has high reviews for comfort thanks to the support features.
It's rare to find a high heeled shoe that is actually helpful for ball of foot pain. The Earthies Talera High Heel is unique because it has a rocker platform that transfers pressure off the ball of the foot. The extraordinary built-in arch support cushions the foot, while also allowing even weight distribution. These closed-toed high heels will also keep feet warmer during the cold season.
For more high heel options for people with ball of foot pain, try a pair of dress shoe orthotics. These are insoles that are designed to fit into a pair of high heeled shoes or boots. Several types are available to reduce pain and even help back and lower leg pain by keeping the body in alignment. Check out the options for dress shoe orthotics.
Order a pair of Earthies Talera High Heels here.
Latest posts by Dr. Douglas S. Hale
(see all)