The foundation of any field sport is, of course, the feet. On a golf course, this is especially true. The golf swing begins at the feet and anything which interferes with this, especially foot pain, will ruin what may have been a great day outside with four friends.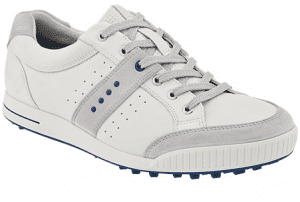 Sports and foot pain do not mix. Overcoming foot pain and enjoying a day on the links can be accomplished. The new ECCO Golf Street shoe can help relieve bunion pain while still providing a solid foundation for your swing. The shoe is a great choice for the golfer with bunions due the lack of traditional cleats, which helps to relieve pressure on the foot, as well as quality leather construction which makes it easier to stretch the shoe over the bunion.
In fact, the shoe is so comfortable, it can be worn as a street shoe; hence the name ECCO Golf Street.
"Showcased by ECCO Staff Player Fred Couples this past weekend, the Golf Street Premier is designed specifically to be worn both on and off the course. This tremendously versatile shoe features full-grain leather uppers, a sleek PU midsole and pre-molded traction bars which provide players with ideal traction, stability and comfort." ~ Reviewed by Sean @ deeprough.com.
What a wonderful way to combine style, functionality, and pain relief, making sports and foot pain, if not a thing of the past, at least a manageable concern.
Angulation of the first toe of either foot toward the second toe, a natural process of the need to relieve excessive force in the joint, causes the toe to develop a bump. This bump is known as a bunion and it can be quite painful. When playing golf, with the need of the golfer to pivot the feet during the swing, the pain can become severe.
A well-designed, well-made golf shoe can relieve the pressure and resultant pain caused by the pressure the golf swing creates on the bunion. If you are still having pain and are in the Seattle area, contact us for an appointment. Be sure to bring your golf shoes with you.  Proper treatment by an experienced podiatrist may be called for but, in the meantime, grab a pair of ECCO Golf Street shoes, reducing the problem of sports and foot pain for golfers, and let yourself enjoy your golf game once again.

Latest posts by Doctors Hale and Huppin
(see all)