As golfers, we like to watch what the pros do and follow suit. So when professional golfer Fred Couples stepped out on the course at the 2011 Masters wearing the ECCO Golf Street Shoe, we were curious about why he chose this particular shoe. Fred has had chronic back pain for years and needed a comfortable shoe that gave him a good grip and supported his back. We were surprised to this shoe does not have spikes and resembles more of a sneaker than a traditional golf shoe.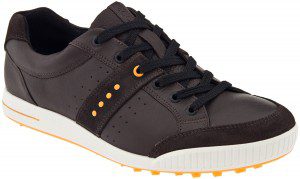 Golfers who have back pain need a supportive shoe to play a pain-free game. It turns out the ECCO Golf Street Shoe has stability and comfort features to not only set up for a good golf game, but to also support a bad back. It is designed with a durable and breathable textile lining with a microfiber heel grip.
Order the ECCO Golf Street Shoe here.
If back pain is a problem, we also highly recommend wearing an arch support. While a custom orthotic will have the best fit and support, the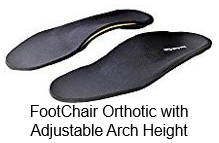 FootChair Podiatrist Designed Orthotic with adjustable arch is the top of the line OTC choice. FootChair orthotics have a stable arch to start with plus they come with additional pads that can be added (up to two) to a pocket under the cover. This allows the arch to be increased for more support.  It can be inserted in any golf shoe and can help to improve alignment and provide a pain-free golf game.
For more products we've hand picked, visit our self-treatment center.
If you live in the Seattle area and want a custom orthotic, request an appointment online.

Latest posts by Doctors Hale and Huppin
(see all)