Guide to the Best Socks for Your Feet
People often spend plenty of time looking for the perfect shoe.  But few take the time to find the perfect sock.  That's too bad, because if you don't pair the proper sock with your shoe, you'll increase your risk of blisters, foot fungus, odor, discomfort and toenail problems.
When shopping for socks keep the following in mind:
Synthetic Fibers Keep Your Feet Cool and Dry
Any sock made of synthetic fibers will keep your feet cooler and drier than cotton.  Studies have shown these fibers were better at wicking, cooling and drying. Synthetic fibers include Acyrlic, CoolMax and Teflon.  There are many good brands but the original manufacturer of healthy socks is ThorLo and we think they are still the best. Everything from athletic to dress socks are available and all have the best fibers to protect your feet. You can see a selection of ThorLo socks here.
Extra Padding Reduces Ball of Foot Pain, Heel Pain and Prevents Blistering
Studies show that thicker sock with special padding like Thorlo are most effective at reducing pressure under the ball of the foot and the heel and preventing blistering.  So if you have pain under the heel or ball of your foot or tend to blister opt for socks with extra thick padding.  If you don't, then choose thick or thin depending on which feels best to you. Again, ThorLo does the best job with extra forefoot padding. You can see the ThorLo socks with the best cushion here. Keep in mind that the extra padding does add to the bulk of the sock, so make sure you are wearing them when you try on shoes. If you try to use them in shoes that you normally wear with standard socks, the shoes will likely feel too tight.
The Problem with Cotton
Avoid cotton socks if you have any problems such as ball of foot pain, blistering, sweaty feet, hot feet, toenail conditions or foot fungus.  Once cotton gets wet, it stays wet, bunches up and can cause blisters.  Cotton doesn't hold up well to washing, easily loses its shape and becomes abrasive.
Special socks for the Person with Diabetes.
The key features in a sock designed for diabetics are a flat, soft toe seam; moisture wicking capability; antifungal / antibacterial treatments; fit and comfort; white color.  A  good example of such a sock is the SmoothToe. These socks have a bit of compression plus they have no seam in the toe that can irritate the sensitive skin of people with diabetes.
When Exercising, Socks are Essential Equipment
The right socks are essential equipment in any exercise program.  Not only do protective socks prevent many problems such as blisters and fungus,  but they will help keep your feet comfortable by ensuring that they stay dry and well cushioned.  Quality exercise socks such as Thorlo will also help regulate foot temperature.
Socks if Your Feet are Smelly or Sweaty or You Have Athlete's Foot
If you have feet that tend to sweat a lot or have a problem with foot odor, then look for socks that are manufactured with copper fibers. These fibers help with killing bacteria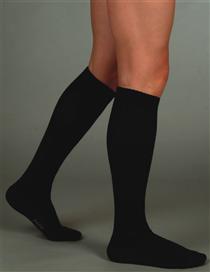 that lead to odor.
There are also several studies that have demonstrated that copper infused socks can help kill or prevent the fungus that causes athlete's foot and toenail fungus. (1, 2)
For this issue the brand of the sock we most recommend to our patients is the Kodal Copper Infused socks. These socks have tremendous advantages over regular socks, including:
Powerful antimicrobial and odor elimination system. These socks naturally and safely eliminate common bacteria, fungi, and odors.
Copper fibers efficiently transfer heat, keeping you cooler in the summer and warmer in the winter.
"Pillowed Sole" provides added cushion to reduce blistering, callus buildup, and fatigue.
References
Copper-impregnated socks: A novel therapeutic option for combating occupational dermatophytosis  Med J Armed Forces India.  2021 Oct
Treatment of tinea pedis with socks containing copper-oxide impregnated fibers.  The Foot.   Volume 18, Issue 3, September 2008, Pages 136-141