What is EPAT Radial Shockwave Therapy for Heel Pain and Other Musculoskelatal Conditions?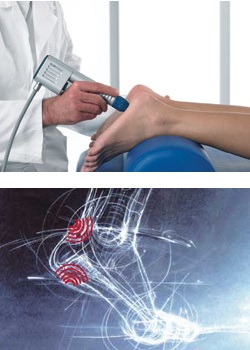 Extracorporeal Pulse Activation Treatment, also known as EPAT, is a non-invasive, non-surgical treatment option for treatment of ligament and tendon injuries.
We most commonly use EPAT for heel pain associated with plantar fasciitis and Achilles tendonitis,
There is also evidence it may be helpful for some types of shin splints, sesamoiditis and other tendon injuries.
"Extracorporeal" means "outside the body". "Pulse Activation" is a type of shockwave, also known as pressure or sound waves.
These shockwaves are generated from the EPAT device and focused onto the painful heel tissue. The shockwaves trigger the body's repair mechanisms.
The concept behind shockwave therapy in orthopedic disorders is that the shockwave stimulates and reactivates healing to encourage new blood vessel formation and other elements necessary to advance normal tissue healing.
Additionally, shockwaves help to over-stimulate pain transmission nerves, which can lead to a reduction in sensitivity and pain.
Why Consider Non-Invasive EPAT Treatment for Heel Pain and other Musculoskelatal Conditions?
EPAT has been shown in a number of studies (see below) to be an effective treatment for heel pain on both the bottom and the back of the heel.
EPAT is completely non-invasive and has no dangerous side effects.
Video: See the shockwave therapy procedure

How Long Do the Treatments Take and How Many Will I need?
Treatments take approximately 15 minutes. Generally 3 treatments are necessary at weekly intervals. Patients are evaluated for success at 12 weeks after the first treatment.
What Results Can I Expect?
In general it takes 10 – 16 weeks to see initial improvement
Maximum improvement is usually seen at about 12 weeks after the final session
Keep in mind that this isn't like a steroid injection where rapid results can be seen. What shockwave does is stimulate the bodies healing process, so it takes a number of weeks to see results.
Most of the best studies we have found show about 70% of patients with chronic heel pain due to plantar fasciitis or Achilles tendonitis will find relief with EPAT therapy.
In general we see about one third of patients have excellent results, one third see moderate improvement and about one third see no improvement. And although some patients don't see improvement we have seen absolutely no complications from the procedure.
How is the Shockwave Treatment Performed?
Coupling gel is applied to your foot in the area requiring treatment. EPAT pressure waves are then released via the applicator while moving it over the treatment area.
Is it Safe?
Yes. There are a tremendous number of clinical studies and tests that have confirmed its effectiveness and safety. In fact, for most patients EPAT has virtually no side effects, risks or complications.
Who should receive EPAT  Shockwave?
People with the following conditions can often benefit from shockwave therapy:
Plantar Fasciitis:
EPAT treatment has been shown to be one of the most effective treatments for plantar fasciitis with the highest level of medical evidence for treating this condition.
EPAT is about 70% effective in relieving plantar fasciitis pain and has no side effects or complications.
EPAT is done in combination with treatments to decrease load on the plantar fascia which might include orthotics, walking boots, activity modification and weight loss.
In years past, surgical intervention for chronic plantar fasciitis was required when these other treatments had failed. Today, EPAT is available as an alternative, non-invasive treatment option.
Achilles Tendonopathy / Tendonitis:
Current studies show that EPAT should be incorporated as an initial treatment along with eccentric exercise and reducing tension on the tendon. Go to our Achilles Tendonitis Treatment Guide for detailed information.
Shockwave has been shown to be effective for Achilles pain in the tendon itself and at the Achilles tendon attachment on the heel bone. In fact there is Level 1 evidence (the highest level of medical evidence) showing:
Medial Tibial Stress Syndrome (Shin Splints)
Three studies have been done on the use of shockwave therapy for treatment of medial tibial stress syndrome. Two of those were very positive for the use of shockwave therapy in relieving shin splint pain. One of the studies was inconclusive.8-10
Sesamoiditis
A preliminary study has shown very good results for treating sesamoid pain with shockwave therapy. Larger studies are ongoing. Results so far are very promising13.
Peroneal Tendonitis, Posterior Tibial Tendonitis and Capsulitis
There are no studies we have found on using EPAT for other types of tendonitis and ligament inflammation of the foot. The effects, however, should be the same on other tendons and ligaments and the treatment can be done on these areas also as long as the patient understands that we do not have the same quality studies as we do for plantar fasciitis and Achilles tendonitis.
Who should not receive EPAT Shockwave treatment?
Your health history will be reviewed by your doctor to see if this treatment is appropriate for you. EPAT is not recommended for patients with certain conditions. Patients with pacemakers and patients taking medications that may prolong or interfere with blood clotting (Coumadin) are not candidates for EPAT. Also, children or pregnant women are not considered appropriate candidates for EPAT.
EPAT is usually not needed for patients who have had plantar fasciitis for a very short period of time as those patients usually respond to less expensive treatments.
What are the side effects of EPAT?
EPAT has virtually no serious side effects, especially when compared to surgery and even injections. Also, it has a much shorter recovery time than surgery.
The most common patient complaint is some minor pain or discomfort during and after treatment. Other side effects might include minor skin bruising, reddening, or swelling of the treated area. However, these possible occurrences usually resolve within a few days. The risks associated with surgery and general anesthesia are eliminated. EPAT is FDA cleared and is used all over the world.
How Does EPAT Work?
For over thirty years, extracorporeal shockwave lithotripsy (ESWL), a non-invasive procedure, has been successfully used in the treatment of kidney stones. As the force of a shockwave causes the disintegration of the kidney stone, so does the acoustic energy promote healing in the distressed tissue.
Shockwave therapy produces a regenerative and tissue-repairing effect in musculoskeletal tissues,
The shockwave stimulates and reactivates healing through revascularization (creation of new blood vessels), differentiation of stem cells (creating more of the cells that cause tissue to heal) and other elements necessary to advance normal tissue healing.
This article reviews the biologic healing effects of shockwave therapy.
Insurance Coverage for EPAT
Insurance does not cover the cost of the EPAT procedure.
If you have a Flexible Spending Account (FSA) through your employer, you can usually use FSA funds to pay for the EPAT procedure. This can be confirmed with your plan administrator.
How Much Does EPAT Shockwave Cost?
EPAT shockwave costs $450.  This is for three sessions, 3 weeks in a row.
Most studies recommend a series of three – five sessions for best clinical outcomes.
We will do follow-up visits to check progress and review and/or update your treatment plan at 3 weeks and 6 weeks after the third session and you will be charged a regular office visit charge (usually covered by insurance) at those visits.  We will also do another shockwave session at no cost other than the office visit at those visits
We will see you back 16 weeks after the first shockwave session for a regular office visit.  At that time you should see maximum benefit from shockwave.
The cost for two feet at the same time is $650.00.
According to most studies, EPAT is successful about 70% of the time. Payment is due prior to the procedure being performed.
Is EPAT safe for pregnant patients?
EPAT is a safe treatment, but has never been tested on pregnant patients. We advise that you wait at least 3 months post partum before treatment, as many foot pains subside after weight loss and hormonal equilibrium is reached.
Benefits of Non-invasive EPAT Shockwave Therapy.
Over 70% successful in relieving pain of plantar fasciitis and Achilles tendonitis.
Patients can bear weight immediately. No need to wear a walking boot after the procedure.
No surgery or the risks of surgery.
Patients can return to work immediately.
Most patients return to strenuous activity after 4 weeks.
Completely non-invasive so there is no future treatment options are not affected.
Cost effective.
Reduces need for other treatments.
Helps patients return to activity faster.
Fast, safe and effective.
No anesthesia required.
References
Chew KT. Comparison of Autologous Conditioned Plasma Injection, Extracorporeal Shockwave Therapy, and Conventional Treatment for Plantar Fasciitis: A Randomized Trial. nPM R. 2013 Aug 22.
Saxena A, Fournier M. Comparison between extracorporeal shockwave therapy, placebo ESWT and endoscopic plantar fasciotomy for the treatment of chronic plantar heel pain in the athlete. Muscles Ligaments Tendons J. 2013 Jan 21;2(4):312-6.
Kudo P. Randomized, placebo-controlled, double-blind clinical trial evaluating the treatment of plantar fasciitis with an extracoporeal shockwave therapy (ESWT) device: a North American confirmatory study. J Orthop Res. 2006 Feb;24(2):115-23.
Al-Abbad H, Simon JV. The effectiveness of extracorporeal shock wave therapy on chronic achilles tendinopathy: a systematic review. Foot Ankle Int. 2013 Jan;34(1):33-41.
Moen MH. Shockwave treatment for medial tibial stress syndrome in athletes; a prospective controlled study. Br J Sports Med. 2012 Mar;46(4):253-7.
Saxena A. Extra-corporeal pulsed-activated therapy ("EPAT" sound wave) for Achilles tendinopathy: a prospective study. J Foot Ankle Surg. 2011 May-Jun;50(3):315-9.
Furia JP. High-energy extracorporeal shock wave therapy as a treatment for insertional Achilles tendinopathy. Am J Sports Med. 2006 May;34(5):733-40.
Newman, P. Shockwave treatment for medial tibial stress syndrome: A randomized double blind sham-controlled pilot trial. Newman P, et al. J Sci Med Sport. 2016
Winters, M. Treatment of medial tibial stress syndrome: a systematic review.  Sports Med. 2013
Moen, et al. Shockwave treatment for medial tibial stress syndrome in athletes; a prospective controlled study. Br J Sports Med. 2012
Rompe JD, et. Al  Eccentric loading versus eccentric loading plus shock-wave treatment for midportion achilles tendinopathy: a randomized controlled trial.  Am J Sports Med. 2009
Rompe JD.Eccentric loading compared with shock wave treatment for chronic insertional achillestendinopathy. A randomized, controlled trial.J Bone Joint Surg Am. 2008
Saxena, A. Radial Soundwave for Sesamoidopathy in Athletes: A Pilot Study.  Journal of Foot and Ankle Surgery. 2016