Healthy, Comfortable Flip-flops and Sandals
Flip-flops don't offer enough support to be considered "healthy", but If you are going to wear flip-flops we have found the best flip flops on the market. These comfortable Flip Flop Sandals are created for walking comfort with built-in orthotic footbeds to help reduce and prevent foot pain. In fact, the Orthaheel Wave Flip-flop has the best arch support of any thong sandal we have seen. In addition, our patients tell us that these are by far the most comfortable flip-flops they have ever worn.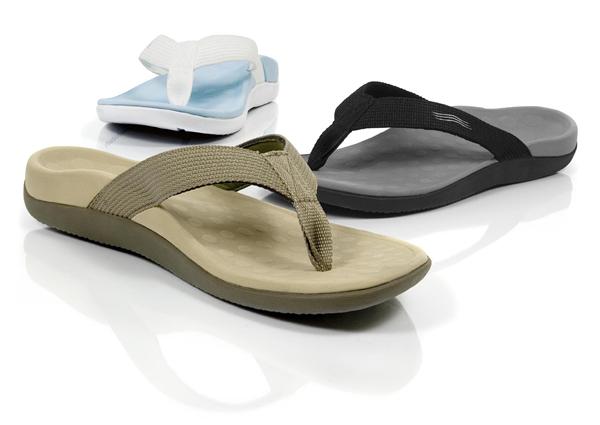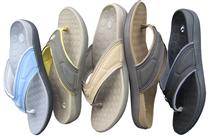 (Men/Women) Women's (Men/Women)
Wave Flip-Flops Orthaheel Lori Kinetic Flip-flop
South Beach Flip-flop Solona Flip-flop
Tide Flip-Flop Malibu Sandals
ORTHAHEEL Men's & Women's Kiwi Slide Sandals-Healthy Slide Sandals
These stylish and sporty flip-flops provide great arch support and are perfect for anyone prone to foot problems such as heel pain, ball-of-foot pain, big toe joint pain, tendonitis and overall tired feet.

Even these healthy flip-flops are not "good" for your feet, but if you are going to wear this type of sandal we recommend the Orthaheel Wave. Order at the links above.

Dr. Hale and Dr. Huppin are experts at helping people walk comfortably. If you are having any foot or ankle trouble at all when walking make an appointment to see us in our convenient Seattle office. Be sure to bring your shoes with you.


WEBSITE DISCLAIMER
For website errors ONLY email webmaster at WEBMASTER
All pages on this website © 2005-2013
Douglas Hale, DPM & Lawrence Huppin, DPM
Foot and Ankle Center of Washington, Seattle
The material provided on this web site is for informative purposes only.
If you need specific medical advice, please contact the office for an appointment.