Podiatrist Recommended OTC Runners Footbed
Running often places severe force on the feet and legs. If you have abnormal biomechanics, then injury can easily occur. Many runners benefit from biomechanical evaluation and the use of custom or prefabricated foot orthoses to normalize foot function and help prevent injury.
If you are in the Seattle area, make an appointment for a runner's evaluation in our clinic. If you are outside of the Seattle area, we have a recommendation on the best prefabricated orthotic we have found for runners. Prefabricated orthotics are not nearly as effective as correctly made custom devices, but these are the best over-the-counter arch supports we have found.
Our recommendation for an OTC footbed for runners is the PowerStep Medical Grade Orthotic. This Powerstep footbed has all of the arch support features we recommend to our running patients , including:
Excellent arch support to improve foot contact and spread force over a large surface area
Deep heel cup to stabilize the heel and limit excessive pronation
Good metatarsal support
Good results in relieving the pain of plantar fasciitis, ball of foot pain, neuroma pain, shin splints and knee pain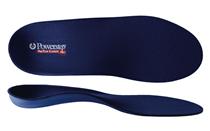 Purchase PowerStep Medical Grade Orthotic – $65
We have recommended this running footbed to many patients with very good success. These are the next best thing to a custom orthotic.
For a somewhat less expensive arch support, and a little less controlling, Powerstep also makes PowerStep Full Length Insole. It is a more flexible and thus less stable than our top ranking Medical Grade Orthotic. It is, however, the best runners prefabricated orthotic choice in the $30 range.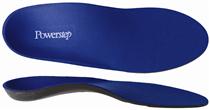 Purchase PowerStep Full Length Insoles – $32.95
Click here for information on running.
Make your appointment today to be evaluated for running orthotics at the Foot & Ankle Center of Washington.