Prevention and Treatment of Metatarsal Stress Fractures
Disclosure: This page contains affiliate links, meaning we receive a commission if you decide to make a purchase through our links, but this is at no additional cost to you. Our recommendations are based on experience with and knowledge of these products, and we recommend them because they are genuinely helpful and useful, not because of the small commissions we may receive. Please don't spend any money on these products unless you believe they will help you achieve your goals.
On this page we are going to provide some prevention and treatment options for metatarsal stress fractures that may be prescribed by your doctor.
Before we start, however, we want to advise anyone who thinks they might have a stress fracture to have it evaluated by a podiatrist or orthopedist. Stress fractures that are not treated correctly can lead to more serious fractures that might require long-term immobilization or even surgery.  Also,please read this important disclosure about the products recommended in this article.
We don't recommend home remedies for stress fractures – see your doctor if you think you might have a foot fracture of any kind. 
Video: Diagnosis and Treatment of Metatarsal Stress Fractures

If You Think You Have a Stress Fracture
If you think you might have a stress fracture protect it in a walking boot until you can get it evaluated by a doctor. Your doctor will likely prescribe a  walking boot (removable cast) anyway, so you might as well get started now so you prevent further injury. We recommend the United Walker Fracture Boot as it is a quality boot at a great price.
If you are going to wear a walking boot we recommend you use an arch support in the boot to reduce force on the metatarsals (we usually recommend the FootChair Adjustable Orthotic). This will help spread the force on the bottom of the foot over a larger surface area and protect the bone.
We also always recommend the use of an "Even-up Shoe Balancer"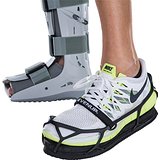 to go on the other shoe in order to keep your knees and hips even when you are wearing the boot. We find that our patients who use an even-up have an easier time walking and less knee, hip and back pain when wearing the boot.
Stress Fracture Prevention
Several studies have shown that orthotics that conform closely to your arch reduce the strain on the metatarsal bones, thus orthotics may reduce the chance of stress fractures. Custom orthotics have been shown to work best, but if you cannot get a custom orthotic you can try a prefabricated orthotic.
Wear a Supportive Prefabricated Orthotic
The best prefabricated orthotic we have found to reduce stress on the metatarsals is the FootChair Podiatrist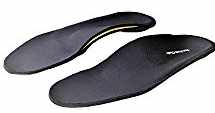 Designed Orthotic. This is our favorite orthotic for metatarsal stress fracture treatment and prevention because it conforms closer to the foot and does a better job than most OTC arch supports at reducing pressure under the metatarsal bones. It has a very supportive arch built-in and includes additional pads that can be added under the cover to increase the arch height offering better metatarsal protection.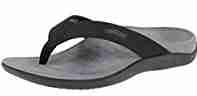 Wear Arch Support Sandals or Slippers
It is a good idea to have arch support most of time to prevent the return of the stress fractures. For patients who don't want to wear a shoe around the house, we suggest they consider Vionic Flip Flop Sandals or Vionic Arch Support Slippers. While flip-flops and slippers will never be as stable as shoes, these have a great arch support and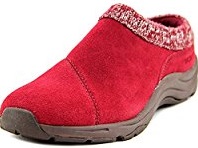 are the best flip-flops we have found.
Take Vitamin D
Taking Vitamin D may help reduce stress fractures. Several studies have shown lower than optimal levels of Vitamin D may increase the risk of stress fractures. The evidence is not conclusive that the use of Vitamin D will prevent stress fractures but it is strong enough that we do recommend the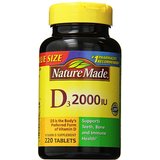 use of Vitamin D supplementation to our patients who have a history of stress fractures. It is worthwhile to have your Vitamin D levels checked to see if they are lower than optimal.
Vitamin D3 is the best Vitamin D supplement. We will usually have our patients take 2000 iu per day of a product like NatureMade Vitamin D3 2000 iu.  We then refer them to their primary care physician for Vitamin D testing a long term plan for supplementation if necessary.
Wear a Stable Shoe
To help prevent stress fractures wear a stable shoe. You can download our list of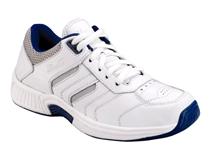 recommended shoes. One of favorite walking shoes for people with a history of metatarsal stress fracture is the Orthofeet Walker shoe. Very stable and offers good cushion.
If you think you may have a stress fracture, or you have previously had one and want to prevent recurrence, contact us for an appointment in our Seattle office.
The products listed on this page are the products we recommend to our patients (and our families) and they are also affiliate links so we may receive a small commission at no additional cost to you if your order from the link.