Knee Scooters
A Unique Alternative to Crutches!
If you have to be off your foot knee scooters are a great way to get around after surgery. Knee scooters allow you to maneuver around but still have the ability to use your hands while standing or walking. If you work in a small area would suggest a scooter with swivel wheels. If you have to go a long way in a straight line would suggest wheels that do not swivel.
Click here if wish to purchase a knee scooter at our online store , figure 1.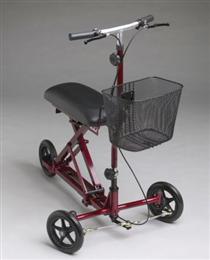 Figure 1 - Scooter for purchase.
If you wish to rent a scooter see the list of suppliers in the area below:


WEBSITE DISCLAIMER
For website errors ONLY email webmaster at WEBMASTER
All pages on this website © 2005-2013
Douglas Hale, DPM & Lawrence Huppin, DPM
Foot and Ankle Center of Washington, Seattle
The material provided on this web site is for informative purposes only.
If you need specific medical advice, please contact the office for an appointment.