Foot Health Product Review by Dr. Huppin and Dr. Hale
See women's slipper recommendation here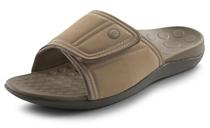 We continue to be impressed with Orthaheel products. This Men's Orthaheel slipper is the most supportive indoor/outdoor slipper we have found. We recommend it regularly to our patients who have foot problems that require support even when walking around the house. This includes people with heel pain, ball of foot pain, top of foot pain and big toe joint pain. This slipper is often a good in-house adjunct to our patients' custom orthotics.
Podiatrist Recommended Slippers – what we like:
EVA midsole has built-in arch support.
Soft, polyurethane upper is comfortable, tough and is easy to clean.
Rubber outsole, with wave pattern tread, helps keep you steady.
We tried them out – very comfortable. Also, our patients so far seem to love them.
Orthaheel Kiwi Sandal: Our Favorite Men's Slipper
This slipper is sure to be an all-around cozy favorite. Indoor/outdoor slip-on style. Best arch support we have found in a slipper.
Order a pair of these supportive and cozy slippers today by clicking here.
Dr. Hale and Dr. Huppin are experts at helping people walk comfortably. If you are having any foot or ankle trouble at all when walking make an appointment to see us in our convenient Seattle office. Be sure to bring your shoes with you.