One of the questions we get asked a lot in our Seattle podiatry clinic is how to trim thick nails. The very best way to clip thick toenails to help the nails look normal and thin is explained below. By following the instructions in our podiatrist's guide to cutting thick and / or fungal nails you can have a nearly normal thickness toenail.
Instructions to Trim Thick Toenails: 6-Step Plan
Get the right tools. This is critical – the right tools make for an easy job clipping even the thickest nails
Nail Grinding Tool: The most effective one we have found is the PediNova Electric Nail and Foot Care Kit – a podiatry-grade electric nail grinder and thinning tool. It comes with bits specifically made to work on thick toenails. The large cone, small cone, and disc bits are made from long lasting sapphire and diamond chips. We have tried many of these units over the years and this is best one we have found and the one we recommend to our patients. The video below shows how to use the Pedinova Nail Grinder.
Heavy duty toenail clippers: Only use toenail clippers – don't try to thin thick toenails with fingernail clippers.
Soak your toes in warm water for five to 10 minutes. This will help soften the nail and allow you to more easily cut the thick nail.
To Thin the Top of the Big Toe Nail: While the nails are still a bit damp, use the Large Sapphire Cone Bit (Figure 2) included with PediNova Electric Nail and Foot Care Kit, to grind the thickened nail from the top. Use gentle pressure and grind it thinner until it is normal thickness or starts to get warm. If it gets warm, stop and then do a little more later or the following day. Continue grinding a little each day until the nail is normal thickness.
To Thin the Sides of the Big Toe Nail: Use the Long Sapphire Bit,(Figure 1 & 3) that comes with the PediNova Electric Nail and Foot Care Kit. Use gentle pressure going up and down the side of the nail. This will thin the sides and help prevent ingrown toenails since the shoe will no longer press into the thickened nail border.

To Thin the Smaller Toenails: Use the Long Sapphire Bit or Small Sapphire Bit (Figure 1 & 3). As above, use gentle pressure and grind the nail until it is normal thickness. To prevent injury, stop grinding if it gets warm then do a little more later that day or after your next bath or shower.

To Shorten the Nail: Use the Sapphire Sanding Disk Bit (Fig 4) to shorten the nail. Hold the disk to the end of the nail. You can also use the nail clippers to remove any loose pieces or portions that extend beyond your toes. Begin clipping the very tip of the toenail. Thick toenails tend to break further in as you clip. Clip shorter and shorter until you have reached your desired length. Clip your toenails straight across. Rounded toenails can lead to ingrown nails.
Get your Pedinova Nail Grinder Here
Video: How to Thin Nails with a Nail Grinder
(Nail treatment starts at around 1:10 on the video)
Nail Polish for Thick and Fungal Toenails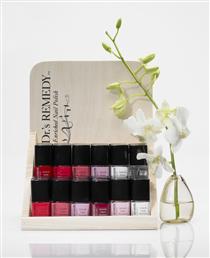 For women, toenail polish can help disguise the nail roughness and thickness and is a nice finishing touch for thick nails. For our patients we recommend Dr.'s Remedy Natural Nail Polish anti-fungal nail polish, It contains Tea Tree Oil and Garlic Bulb Extract (found to have anti-fungal properties). Unlike most nail polishes, it does not contain Formaldehyde (a chemical which has been proven to cause cancer) DBP (a potential developmental and reproductive toxin) and Toluene (a chemical that the EPA restricts in our drinking water because it can cause nervous system disorders as well as damage to the liver and kidneys)
Healthy feet allow for regular exercise and a happy healthy feet. If you have nail problems not relieved by the suggestions above, make an appointment to see us in our Seattle office. We can provide you with conservative treatment options that will relieve your pain.